In July I spent a week on a huge super yacht cruising around Croatia's Adriatic Sea with Life Before Work's (LBW) Yachtlife Tour. Oh my what a week it was! I surprised myself that I even went on this as it's definitely a little outside of my comfort zone. Being introverted while on a yacht for a week with 40 other people had me a little nervous. Turns out my pre-jitters were uncalled for. This was one of my most memorable weeks with the best bunch of people I could have asked for. Here's a little recap of my experience of the Yachtlife Croatia Life Before Work tour.
YachtLife Croatia Life Before Work 
The Tour
The typical LBW Yachtlife Tour lasts 7 nights. Our one was a little different though as we chose week 3, which fell on the same week as Ultra Europe. Because the yachts always depart from Split, and Ultra Festival is in Split, they create an Ultra Add on package that you can choose to do.
July 13th: We rocked up to the nice hostel LBW organised for everyone who chose the Ultra add on (which was about 85% of the group). Everyone got to meet each other and the guides. A group dinner and pub crawl was put on.
July 14th: The first night of Ultra!
July 15th: Everyone checked out of the hostel and relocated to the 2 yachts. We got settled in and met the yacht crew. Dinner was served on the yacht and then everyone headed off for night 2 of Ultra.
July 16th: During the day we set sail along the coast and ended up at a beach bar for the afternoon. The water was gorgeous here, great for swimming! After sailing back to the docks in Split, everyone grabbed a bite to eat and headed off for the last night of Ultra… Okay full disclaimer, I didn't go to the last night of Ultra because I wanted to be top notch for the next day of exploring haha.
July 17th: We left Split and made our way to Hvar. Here we climbed the fortress for the best views on the Island. Everyone could make their own dinner plans but afterwards we all came together on the yachts and pre drank before heading to the Carpe Diem bar. You can check out the video here!
July 18th: At about 6-7am the boat left for Vis. Vis was my favourite island! We rented a vintage convertible VW (others rented scooters or took the tour van) and made our way to a secluded beach. Renting our own car was the best way to see the island for ourselves. Vis has amazing vineyards to drive through. After a group dinner, we pre-gamed on the yachts, before heading to Fort George for a massive party. All the other Yacht cruises were at Fort George too, like Yacht Week and Sail Croatia. It was a massive party and was one of my favourite nights.
July 19th: We left early morning again to head to Lumbarda! This was my favourite day of the tour as the white party they organise on the beach is a blast. The yacht DJs set themselves up on the beach and we take over the place. Everyone was on the same buzz and just went crazy. There is a party organised for that night as well at another venue. Again, I decided not to go out. I finished off the day party on such a high that I felt content with not going out.
July 20th: Our day was spent at Markarska. This is the place where you can get involved in all the water sports. Nate and I went jet skiing and walked around the town. This place is quite bustling in summer and there is a lot to do here if you're not a fan of water sports. That night's party was in a cave. Our guides pulled out a tonne of glow sticks for everyone to dress up with and off we went to rave in a cave.
July 21st: This was our final full day together and the whole day was spent on the yachts. Both yachts tied up together in a secluded bay. We all swam with our floaties, jumped off the boats, and started the party! That evening we had a penguin onesie party and the guides handed out awards for various things.
July 22nd: Checkout of the boat was 9am! Everyone said their goodbyes and went their separate ways, or went together with their new friends.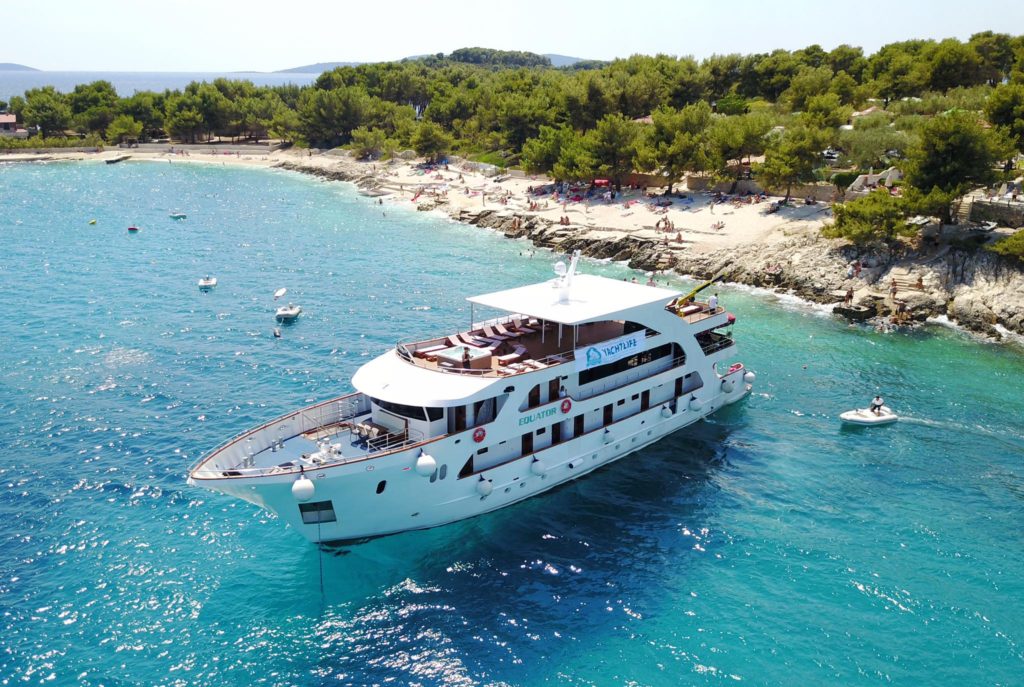 The Boat
Our boats were BOSS! The week 3 boats were called Pearl and Emerald (I was on Emerald). I had no idea they were going to be that nice! Our room was like a hotel room with a huge bed, air con, ensuite, wardrobe, wifi, and desk. There's 2 people per room so if you were a couple or went with a friend, you would get a double bed room. If you were put with a random, you would get a room with 2 singles.
The dining room was large, with about 6 tables of 6. The food served on the boat was delicious, and the bar is well stocked too.
Our boat was 3 stories and with half the rooms in the basement too. The top deck was full of sun loungers, the dj deck, and a spa! The middle and lower floors also had outside chairs and tables to relax in.
Overall I was absolutely blown away by the boat and the crew. I couldn't have asked for better.
The Guides
Guides can either make or break the trip… But all the LBW guides were super fun and new how to cater to all the different types of people on the tour. They made sure the environment was both fun and safe and stepped in when needed. I really do admire the guides on this trip. They had been doing this tour over and over again for the summer, late nights, drinking ect. They must have been tired but they never showed it. The trip was all about showing us a good time, and they did that indeed! Remember the name of the company is Life Before Work and they run by that motto.
The People
The other thing that can make or break the trip, is the group of people you're with. Our group on both the yachts were top notch. The group of 80 is too large to get to know everyone really well within the week, but I definitely made a few good friends and had a blast with everyone else as well.
Most of the people on the tour were Canadians as LBW is a Canadian company. Australians also took over the group. And then there were a few Kiwis and Americans sprinkled in there. At the end of the day, everyone's there for similar reasons and that's why it's easy to get along with everyone.
Yachtlife vs Yachtweek vs Sail Croatia vs Top Deck vs Contiki
There are a fair few Croatia Yacht tours these days. I'm glad I chose to do it with LBW Yachtlife for a few reasons… Mainly because of how nice the boat was and how cool our group was.
The Yachtlife boats were by far the nicest ones in the docks at each place compared to the other ones.
Yachtweek boats are tiny. It's all organised differently so you can't really compare the two. But I know for a fact I would have gotten sea sick on the Yachtweek boats because they rock around a lot more. Plus they're so small, you're always cramped in a small space with other people… Not good for us introverts.
The Sail Croatia and Contiki boats were larger than the Yachtweek ones, but much older than our ones. There was less space on them overall, and less bells and whistles. I'm just acting spoilt, I know. But our boat was the friggin shit! And in the summer Croatian heat, I can't imagine what it was like to not have air con.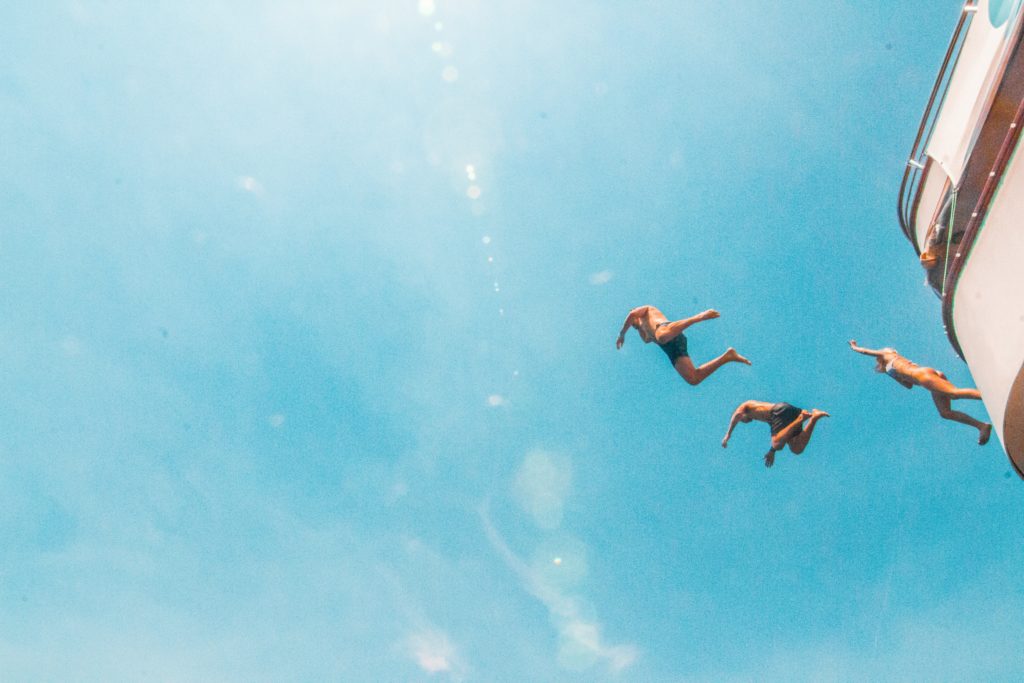 That's the basic run down of what to expect with the Yachtlife Croatia Life Before Work Tour.
If Yachtlife doesn't sound like the kind of thing for you, LBW does offer a bunch of other tours all around the world which I recommend for sure. This is a tour company I really resonate with and I love what they're all about.
If Yachtlife is something you wanna do, then make it happen! And also go checkout my post 'Tips for Surviving Yachtlife Croatia' to make sure you're prepared!