Okay, it's no secret I love wine. So when I hear about a winery bike tour in Wachau Valley, I'm all ears. For those wine lovers visiting Vienna, Austria, I totally recommend putting this tour on your to-do list. I mean a day of wine, gorgeous scenery, wine, biking, wine, food, and wine (have I said wine already?), it's the recipe for a perfect day!
Winery Bike Tour Wachau Valley
Because I'm a lover of convenience, I went on the winery bike tour with Vienna Explorer. They're highly rated on Trip Advisor with a 5-star rating so I knew I was in for a good time. Here's some basic info about the tour:
Cost = 64 Euro per person

It's a full day tour. You meet at the office before 9:30am and it can take up to 10.5 hours for the whole tour.

No minimum numbers needed- always a bonus!

This tour only operates between April 1st and October 15th (2017 dates)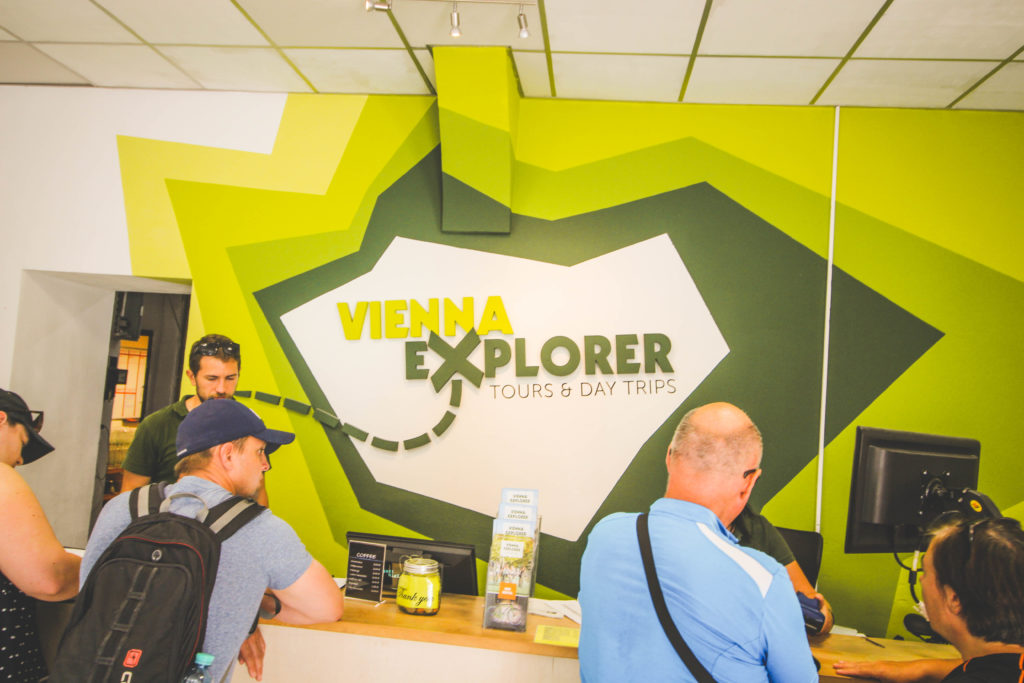 What's Included?
Wachau Valley is about an hour train ride outside of Vienna. All transport out to Wachau Valley and back to Vienna are included in the cost.
Your bike rental with a basket and poncho (incase it rains) is all included. As well as the guide. Our guide was handsome young man who knew how to keep the group having fun while moving fast so we could visit as many wineries as we could.
And 2-3 wine tastings are included. It depends on how fast the group moves.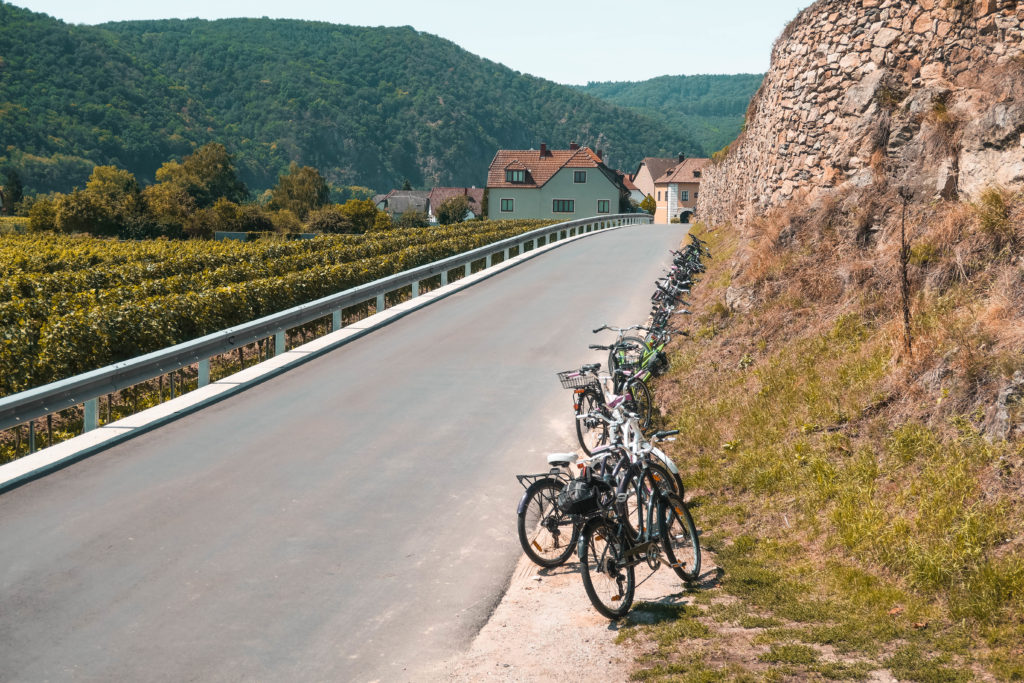 Not Included:
Your lunch at a local restaurant for 10 Euro per person (plus drinks). And also the tips for your guide at the end of the tour.
What To Expect:
If you're going in peak summer like I did, then expect a damn hot day! Light clothing is a good choice. Remember most of the day you are biking, so exercise gear would be the most comfy. I know, I know, it's that tough decision between those cute 'Insta worthy' outfits, or the practical comfortable clothes. I tried to choose an in between. Just check the weather report before going and pack a jacket if you need.
Wear durable footwear too. I was wearing sandals and my feet kept sweating and slipping all over the place (lol gross). One lady was in high heels and made it look like a breeze (hats off to her), but if you can, I do suggest enclosed footwear.
Now, this tour is pretty fast paced because the wineries are far apart from one another. If you struggle with biking, maybe don't do this tour because you'll end up holding up the group. If you're fine on a bike, then you'll keep up no problem.
There is the option to hang back after the first winery and explore an old castle. Then you just meet up with the group on their way back.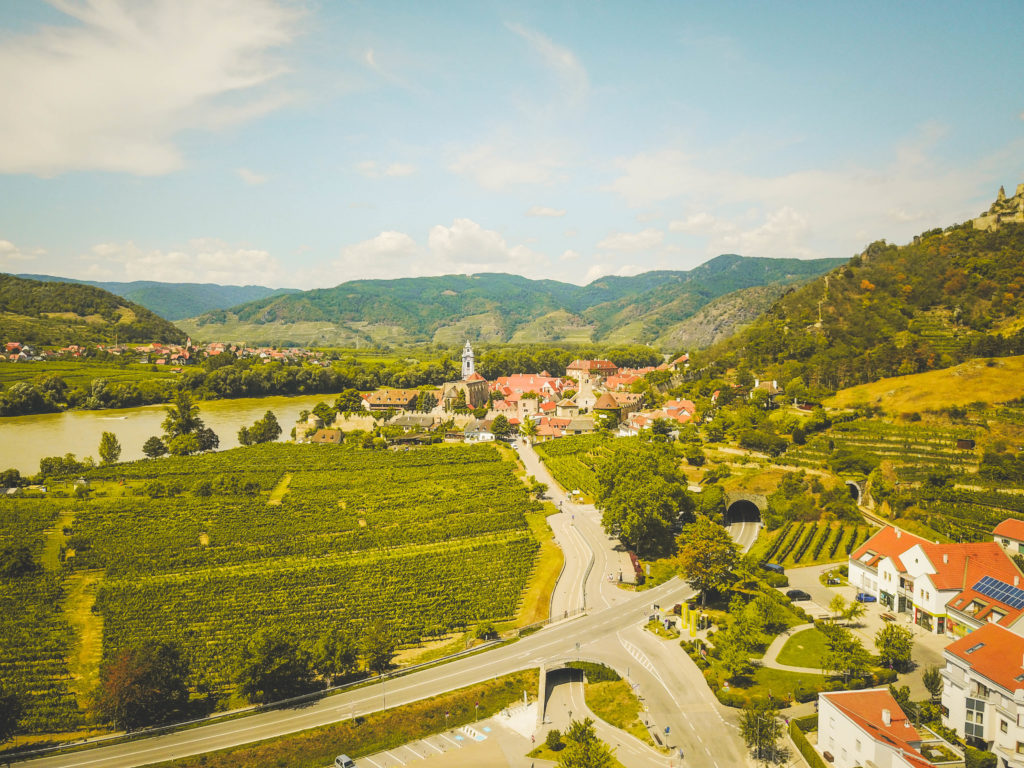 Pack some swim gears too as if there's time, you can have a swim in the Danube river. If it's hot, you'll definitely want to have a dip. I regret not bringing along my bikinis; it was seriously sweltering by the afternoon.
Oh and one last thing, be sure to pack a water bottle! I forgot to bring one and was so dehydrated for the day. Especially as wine isn't the most hydrating drink.
My Highlights:
The winery bike tour in Wachau Valley is not just good for the wine, it's equally as fantastic for the scenery. This region is gorgeous… Well I think all 'wine regions' are gorgeous, aren't they!? There's just something about biking through vineyards in the country. What makes it even better is that it's in Austria! The entire time I was just thinking how friggin cool it was that I was biking through Vineyards in a little valley in Austria… One of those 'Fuck my life is awesome!' moments, ya know.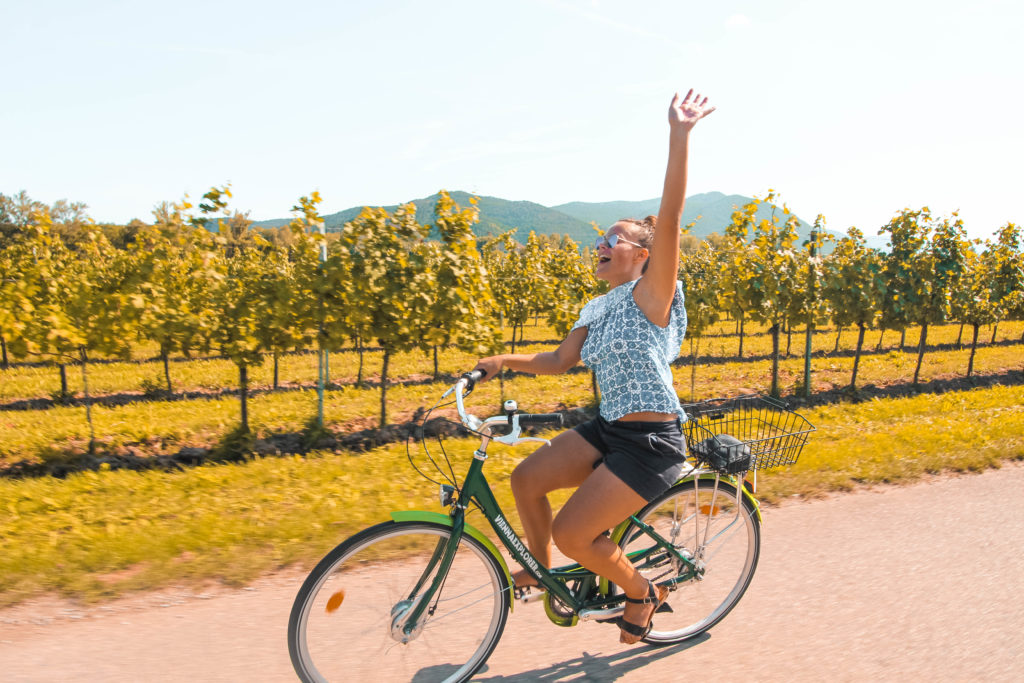 The wine itself was really great. The majority of the tastings were white wines as Austria doesn't produce a lot of reds. Being a solid red drinker I was a little worried I wouldn't enjoy the tastings, but it surprised me! The whites were some of the best I've had (not that I've had many haha). And after a solid biking session, it's super refreshing too.
The final thing I would like to commend about our tour was our guide, Tomáš. He had a great sense of humour and a clear passion for wine too… Which is definitely important for a winery tour guide 😉 And ladies might I add, he was rather handsome! Our group was quite large on our tour, but he knew how to keep everyone moving and keep us all entertained throughout the day. Which can be tough for such a long tour.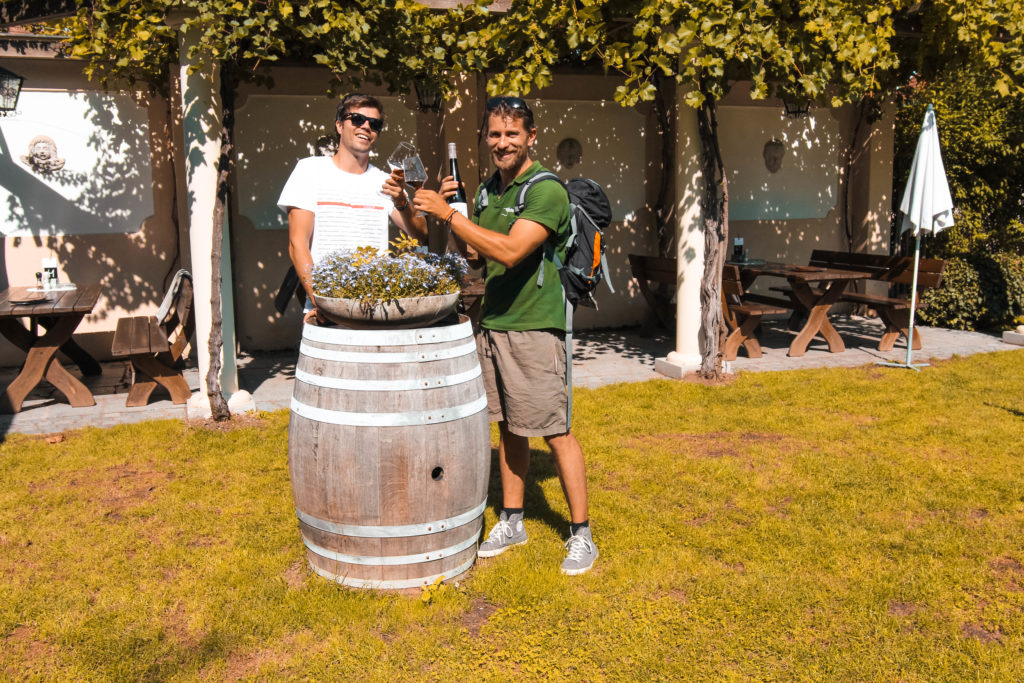 All in all it was a fabulous day doing the winery bike tour in Wachau Valley with Vienna Explorer. It's such a beautiful region and a nice escape from the city should you feel you need it. If you have enough time in Vienna to take a tour, I recommend it for sure! You can check out our video of the day here.
Have you done a winery tour before? Where's been your favourite?
I was invited on this tour by Vienna Explorer. However, all my opinions included in this post are my own.