I guess you can call Rotorua the adventure town of New Zealand's North Island. I went and spent a couple of days here to try out only a fraction of what this place has to offer. So… Here are a couple of things to do in Rotorua, New Zealand!
Activities: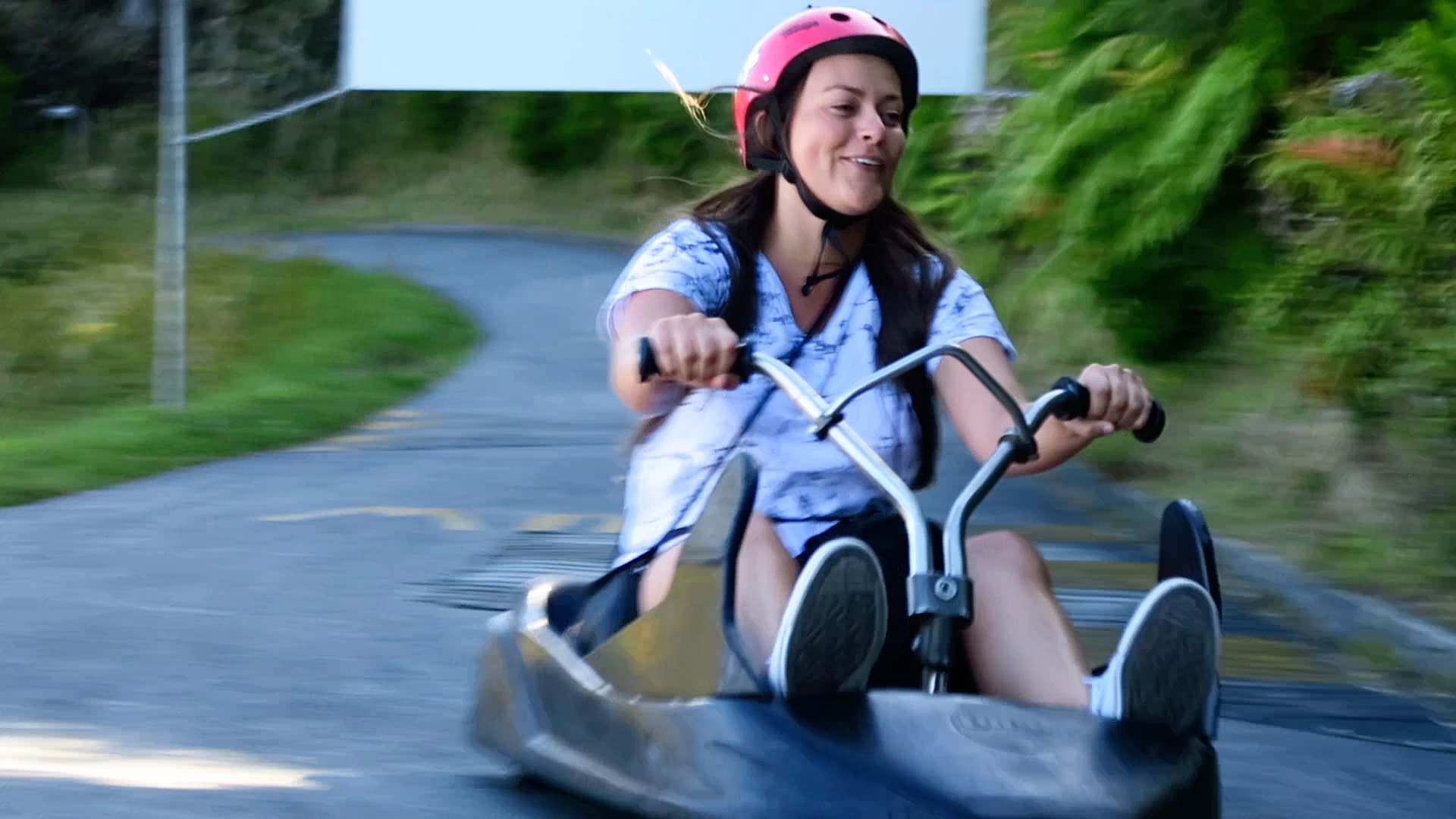 Skyline Rotorua:
Now this is something you definitely need to have at the top of your list… Hence why I'm listing it first haha. Skyline Rotorua has a few different activities you can do; the main ones being luging, ziplining, a gondola ride, a restaurant, wine tasting, the sky swing, star gazing, and mountain biking.
It all goes down at the top of a hill, so you kind of have to take the gondola up and down. We took the gondola up and did 5 rounds of luging and a zip line with the free fall at the end.
I was a little nervous to go luging at the beginning basically because I thought I would lose control and be thrown over the side of the barrier. But all was good and in no time I found myself hooning down the advanced track.
After the luge, we chucked on our zipline gears and cruised 80km/hour across the Skyline Park and finished off with a backwards free fall off a tree house (weirdest feeling ever… I almost didn't do it!).
You can finish off your day with a nice cold beer at the Stratosfare restaurant over looking the lake. Perfecto!
Check out a breakdown of their activities and prices over on their website: www.skyline.co.nz/rotorua/
Here's a video of our time at Skyline Rotorua! 
Real Life Mario Carts | World Nate

It's like playing Mario Carts… But in real life! …..Throw this one on the #BucketList for sure. Cheers Skyline Luge Rotorua great time

Posted by World Nate on Wednesday, January 11, 2017
Zorbing:
OH MY GOSH what a fun time this was! It was a bit of a cold morning when we arrived, but they actually fill the Zorbs up with warm water to slosh around in on the ride down.
Again… I was a little apprehensive doing this (I sound like such a whimp!)… I've just never been one to enjoy water going up my nose. But it wasn't really like that at all. It was actually hilarious- I have no better way to explain it.
You can go 3 people in one Zorb at a time. Or 2… Or 1. Whatever you choose, you're just gonna be laughing your head off. There's about 4 tracks which you can choose from. Some have more corners and a big drop and two of them are just straight  runs.
We did this with Zorb Rotorua and I recommend them for sure. The staff a fun and look out for your safety. Plus theres lots of changing rooms and areas to chill out and watch if you like.
Here's their website for more info: https://www.zorb.com/
And here's a video of the fun we had here: 

Wai-O-Tapu Thermal Wonderland:
If you enjoy a leisurely stroll through some amazing natural thermal parks, then this will be your kinda thing.
It can take about 1.5- 2 hours to walk the entire park. Or you can do a smaller loop if you're pressed for time.
The most breathtaking areas are the Champagne Pool and the Artist's Palette Pool. These are stunning to look at and it's hard to believe that it's all natural. There are also countless natural geysers and mud pools in the park.
Check out their website here if you want more info: http://www.waiotapu.co.nz/
Otherwise, check out our vlog of our time there: 
Where to stay?
Aura Accommodation
For our trip, we stayed at Aura Accommodation Rotorua. This place has a cool vibe! It's recently been taken over by new younger owners and they've recently renovated the whole thing.
There's a heated outdoor pool, a bbq area (as well as kitchens in the room), and two naturally heated mineral spas to relax in after a long day.

The staff were super helpful with activities to do in the area, plus there's bikes you can hire to get around the town easier. Though this place is pretty centrally located in the town and its about a 2 minute walk to the lake. Easy peasy!
Aura is budget friendly, especially if you're splitting with friends! So it's definitely a good option if you want somewhere nice with good vibes, plus won't be hefty on ya pockets!
Check them out here: http://aurarotorua.co.nz/
(We show you around Aura in the Wai-O-Tapu video above)
That should set you up nicely for a couple of Things to do in Rotorua, New Zealand! Enjoy your trip!
Save this post by pinning the image below!