Chances are you've probably heard about Expedia… But you might not have heard about Expedia's cheaper and HOTTER little brother… HOTWIRE.

Honestly, the deals I've gotten on this site have been ridiculous, saving me hundreds of dollars on accommodation and transport.
The catch with Hotwire though is that you don't know which Hotel you're actually booking until the transaction has already gone through.
You see, hotels don't book out every night… But the hotel doesn't like leaving copious amounts of rooms unused night after night… So they offer super low rates to try and fill them up.
In saying that, they don't like advertising prices as low as these, so they use Hotwire to hide their identity until the room is booked.
I always find it exciting not knowing where I'm booking… Obviously I'm easily entertained 😉
So How Do You Use Hotwire?
It's relatively similar to other accommodation/travel booking sites. You can book hotels, flights, rental cars, and vacation packages. But the best deals are usually for the hotels and sometimes the rental cars. Flight prices usually stay consistent with Expedia's from what I've seen (don't hold me to that- it's always worth checking out Hotwire when booking flights too).
Here's how you find the deals though…
Let's use a search for Las Vegas Hotels for Oct 17-18th as an example:
I go to www.hotwire.com and type in 'Las Vegas' for my destination and put in the specific dates, then press search.
It will bring up a list of hotels that have big savings on them.

With the listings, remember you don't get to see which hotel it is, you only get to see the star rating of the hotel, the percentage of people who recommend the hotel, and also the relative area within the city/chosen destination (to refine your search to a more specific location, click on one of the green areas on the map. This will refine the shown listings to that area).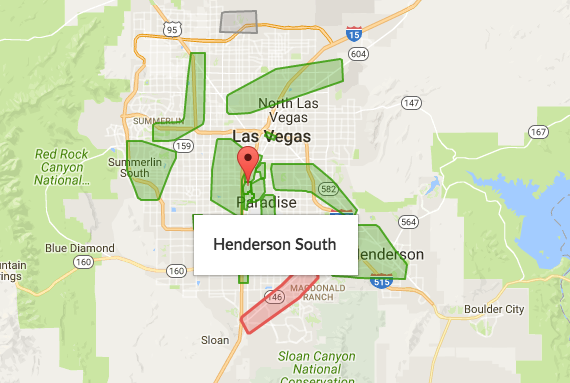 If you click into one of the deals, sometimes it will show you what hotel the last person got once their booking went through.
Here, I clicked on one of the 5 star hotel deals and it says the last person got the Trump International Hotel (from my experience you usually get the same hotel- but it can change…). It says the special rate is for $183NZD ($130USD) per night and has a 90% recommendation rate… Not bad!!
So let's say I'm happy with this deal… I like the overall review rating it shows and the approximate location works for me… So I click BOOK NOW!
The one thing you need to remember is the shown rates are before tax… So when you make it to the checkout page, you'll see the rate with tax added…. It can be a bit of a slap to the face sometimes but it still works out cheaper than normal which I'll show you in a minute.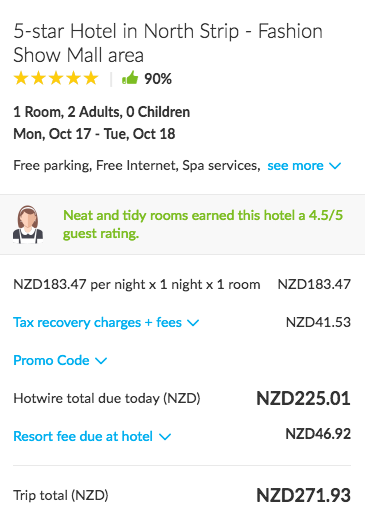 So on the checkout page my total is $225NZD plus another $47NZD I have to pay in resort fees upon arrival… So the absolute total is $271NZD ($192USD).
As soon as your payment is processed, the new page reveals your secret hotel and all of your booking info. They'll also email you the confirmation.
Woohoo, wasn't that thrilling!!
Now, let's check out what you would have paid if you booked through Expedia or directly through the Trump Hotel's website: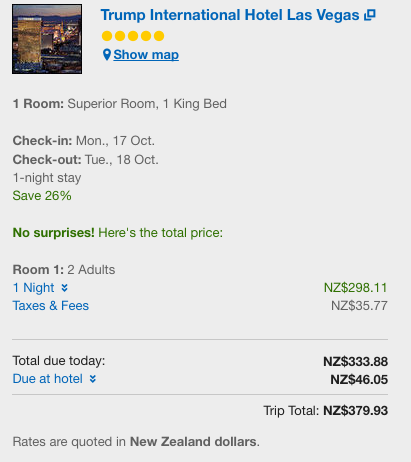 Expedia: $333.88NZD plus $46 resort fee on arrival… So $379.93NZD ($270USD) = $109 ($77USD) difference from Hotwire.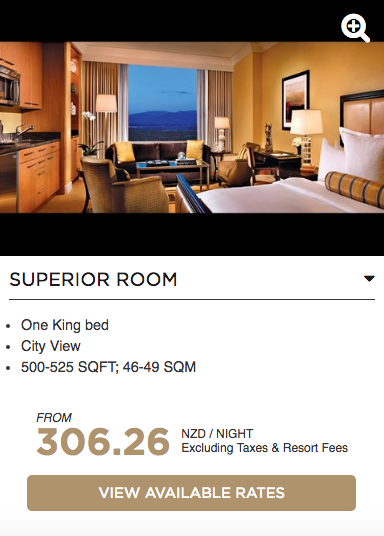 Trump website: $306NZD WITHOUT taxes or resort fees. So $326 + $46 come to a total of $372NZD ($264USD) = $101 ($72USD) difference from Hotwire.
This is a case where the direct hotel website is actually less than booking with Expedia. So if you're ever using Expedia, sometimes it's worth comparing with the hotel's website.
I understand this luxury hotel Hotwire rate is still expensive for some… So let's look at one of the cheaper deals!

So here's one I clicked into… A 3.5 star hotel for $38NZD per night. There is a 65% recommendation on it and the last person to book this deal got the Stratosphere Hotel.
So again, let's pretend we're happy with the deal and want to book now.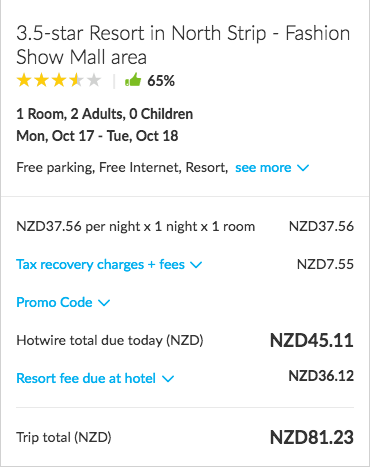 The total on Hotwire comes to $45.11NZD ($32USD- man NZD conversions suck…) Plus you gotta pay a resort fee of $36 on arrival, so the total for the stay is $81.23NZD ($57.53USD) per night. Not too shabby for the great location and for 3.5 stars!
Now let's compare to Expedia and the Stratosphere Hotel website.

Expedia: $129NZD ($91.51USD) plus resort fee of $36 on arrival, so a total of $165NZD ($117USD) = $83.77 ($60USD) difference from Hotwire.

Stratosphere Hotel Website: $134NZD total ($95.19USD) = $52.77 ($37.66) difference from Hotwire!
Also another case where Expedia comes to more than the actual hotel website… What's going on Expedia! Step your shit up!
Basically Hotwire is friggin fantastic!
And you can optimise it even more by looking at their price trends feature to see when the prices are likely to spike or drop.

If I have a trip coming up and I need to book accommodation, I always check in to Hotwire everyday to see how the prices are going. When I see a big price drop I snatch the deal up straight away! I always end up saving loads! That's more cash to spend on other activities and a great way to make traveling last longer.
So head over to Hotwire, create an account and see what luxury you can afford for less 😉
Happy Booking!