These Songshan District highlights are a great way to spend a day in Taipei. And you're also never too far from the surrounding areas!
When first looking for accommodation in Taipei I was hoping for a cool place in Ximending area. It seemed like that was the spot to be! You hear of the cool shopping, nice restaurants… And well that's probably all haha. But after a little more research I realised Ximending had a bit of competition… Cue Songshan District (pronounced Shongshan. It's like Songshan but with a lisp).
Songshan was the perfect location for my 3 nights in Taipei and I could have easily stayed longer. Thanks to the MRT station in Songshan, it makes it ridiculously easy and cheap to get around the rest of the city and explore everything you want to do, see and eat in Taipei. Shilin night market is an easy train ride away. As is Elephant Hill, Jiufen, Taipei Zoo, Taipei 101, and Beitou. But what is totally underrated is what you can find on Songshan's back doorstep. And this is what this post is all about… Here's a few Songshan District highlights to make your days fly by!
Songshan District Highlights
Wufenpu Wholesale Garment Market: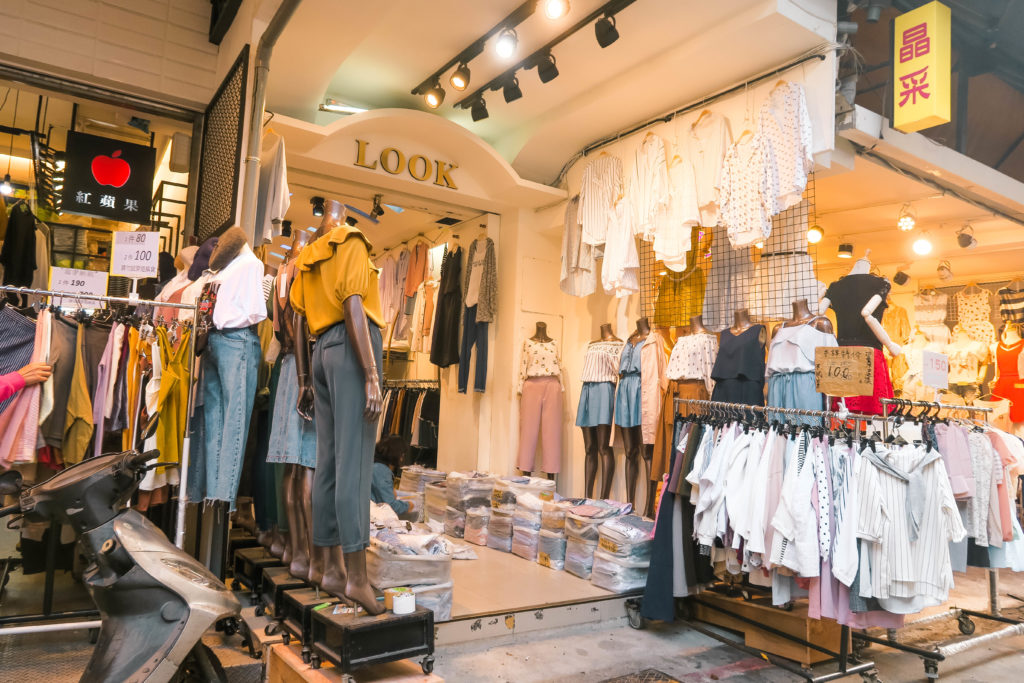 Okay so you might find Asia's/ South East Asia's markets to be impressive. But they ain't got nothing on Wufenpu! I mean we're talking streets and streets filled with stores upon stores of whole sale clothing that are exactly the same as the clothes in beautiful stores marked at full price. Think $5 denim jeans, beautiful dresses, cute tops. It's all there. You can get lost in the maze that is Wufenpu!
Apparently Tuesdays and Sundays are the best times to go. New stock arrives on Monday, making Tuesday the best day for getting first dibs on the new stuff. And Sundays are the days for getting even better bargains before the restock on the Monday. If you can't make Tuesday or Sunday, I wouldn't fret. Any day of the week offers countless clothes at low prices.
The markets are located on Zhongpo N. Rd, in Songshan District. They're hard to miss!
Raohe Night Market: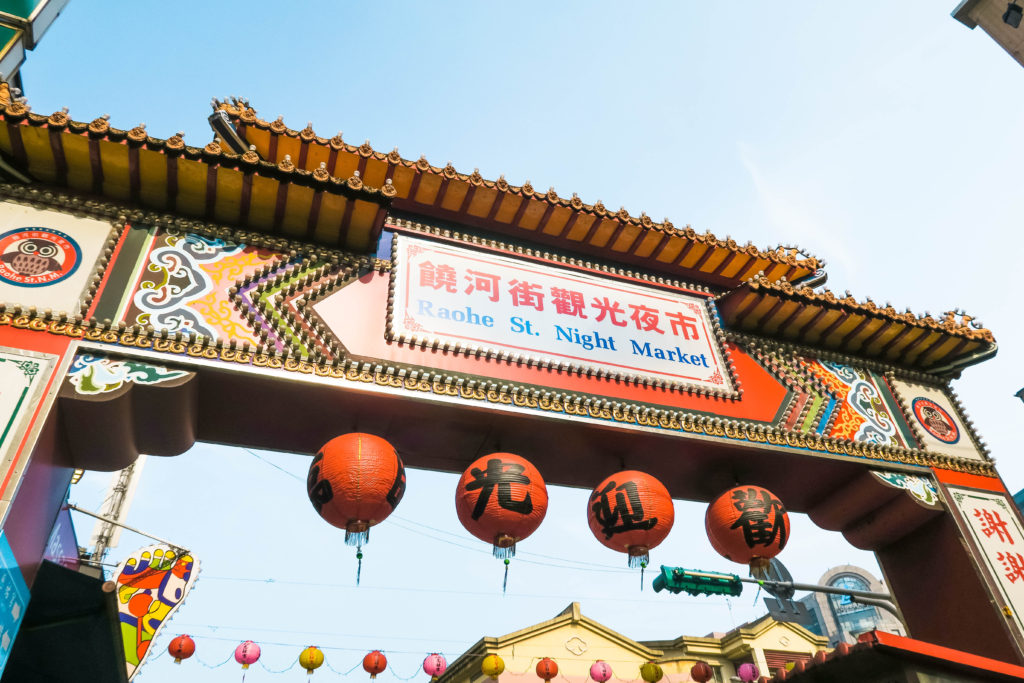 Spend your first night in Taipei tasting all the delicious food Taiwan has to offer at the Raohe Night Market. It's a great hit to the senses as one of the first things to do when arriving into Taiwan.
I found Raohe Night Market to be a good lead up before jumping into Shilin Night Market the following evening. As an introvert, markets can sometimes be quite overwhelming. And pair that with the insane population (compared to New Zealand anyway), you are going to be sardined most of the time. But hey, it's all part of the Asian night market experience!
Be sure to try the dumplings (amazing!), and the steamed pork bun near the entrance of the market. Here's a tip though, at night, the line for the steamed pork buns is ridiculous. I didn't even consider lining up and waiting. But the next day we went down the same street during the afternoon and he was set up selling the same buns and prepping for the evening. No line whatsoever!
Keelung River & Rainbow Bridge: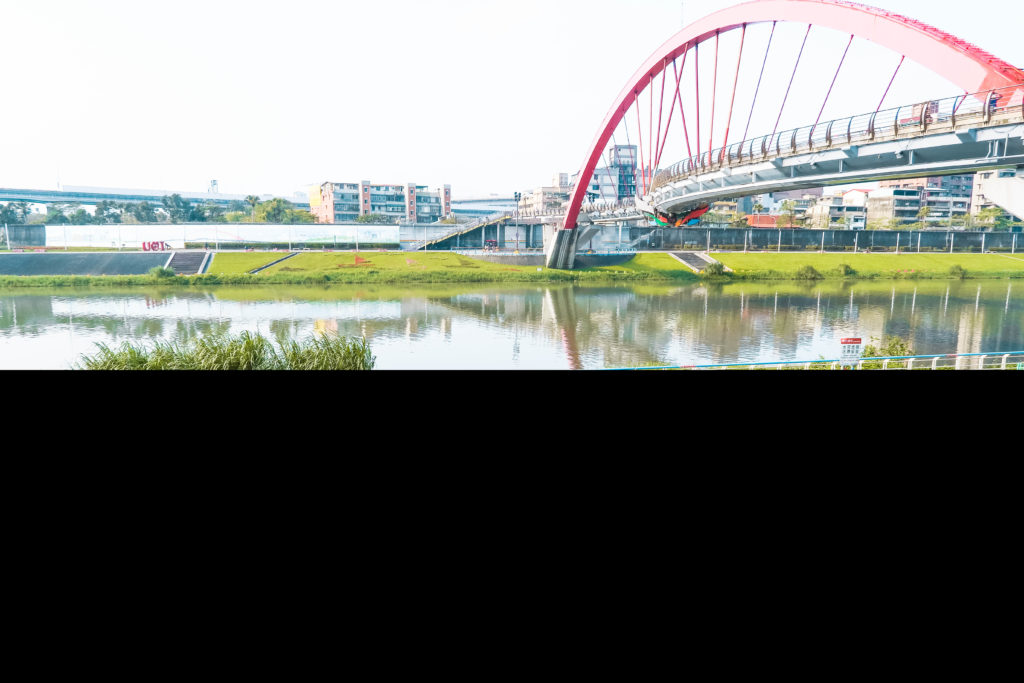 Keelung River runs past Songshan District, and it's quite the romantic area to say the least. Large footpaths and bike lanes are set up so you can walk/jog/bike a long the river. There's numerous 'Love' statues, and love seats lining the river where you can chill out in the sun or go for some photos.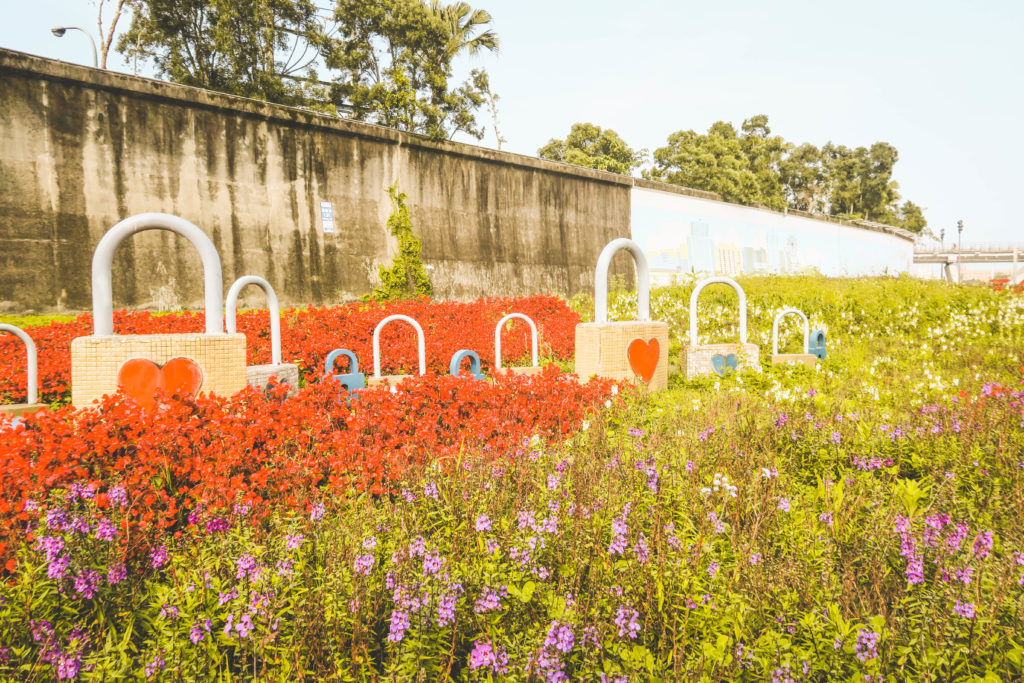 The 'S' shaped rainbow bridge can be accessed from the same street as Raohe Night Market and will take you to the other side of the river.  From Raohe Street, just look for a circular whole in the wall and that will lead to the bridge.
Ciyou Temple: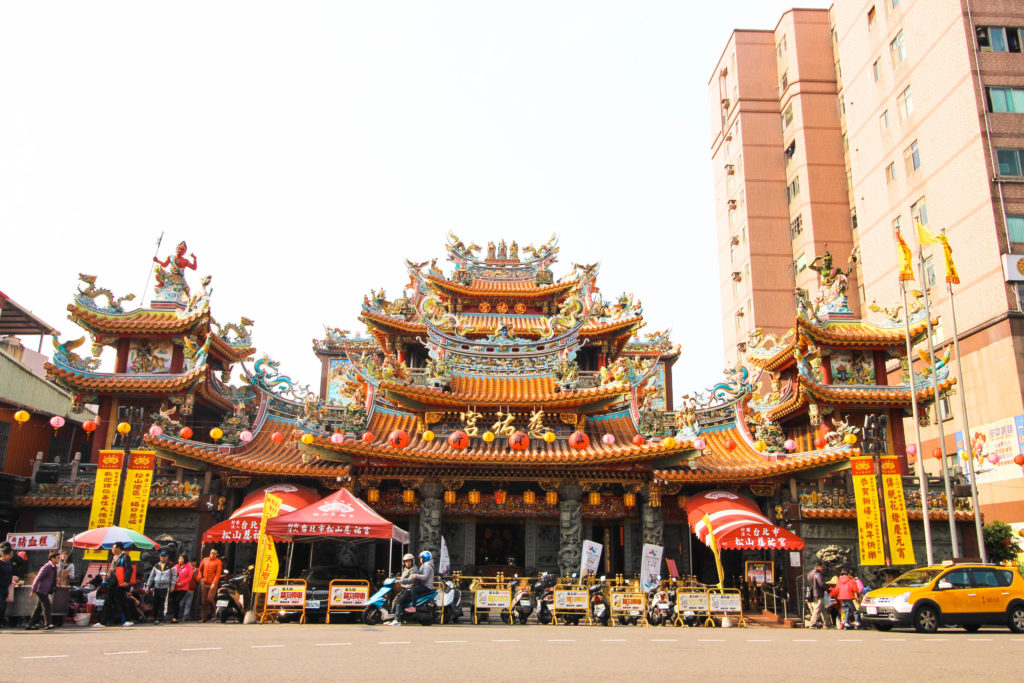 Now this is one impressive temple! It's located right next to the main entrance of Raohe Night Market (everything is so close together in Songshan; it's great!), making it very difficult to miss.
There's 6 floors to explore in this temple and is open for tourists to enter and explore. Please be respectful of the rules and dress codes when going inside  as many locals come here throughout the day for their prayers.
Songshan was such a great area to stay in when in Taipei as everything is located a short walk away. Plus the new MRT will get you from A to B with no hassle. I stayed at amba Taipei Songshan Hotel and it was beautiful with some of the best views in Taipei in my opinion! You can read my review here.
Do you have any Songshan District highlights? Let me know in the comments!