In October of 2017 we set out on an epic Portugal road trip. We had 2 full weeks of driving a camper van from Faro, all the way up to Porto. And honestly, 2 weeks just didn't feel long enough. I've put together our two week Portugal road trip itinerary as a guide for you to plan yours.
You may notice that ours was heavily focused towards surfing/bodyboarding and beaches. Now and then I'll mention other spots to add in if you would rather more inland activities and less surfing and beaches.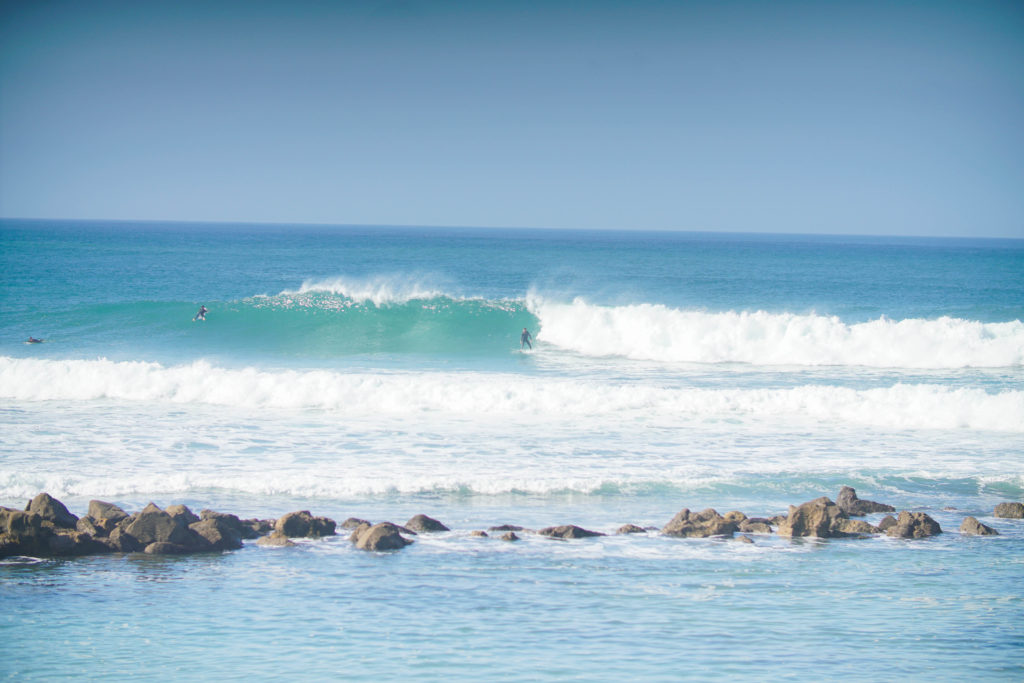 Now, let's get into the Portugal road trip itinerary! I'll put them in order of Faro to Porto as that is the route we took. Do note that we were around the Algarve area during the time of the hurricane running through Spain and Ireland so due to the swell, there were some activities we were unable to do. But I'll be sure to mention those that you might like to add in to your own itinerary. Or just jump on over to this post here to get my favourite Portugal must see places.
Portugal Road Trip Itinerary – 2 weeks
Day 1: Arrive Into Faro & Pick Up Van
As soon as we picked up the van in Faro and had made our stops for essential supplies (e.g. wine), we headed to Faro Island for sunset. When you drive over the bridge, just drive straight into the car park on the beach front. Try to get here a bit before sunset as the parking lot will be less busy than earlier in the afternoon.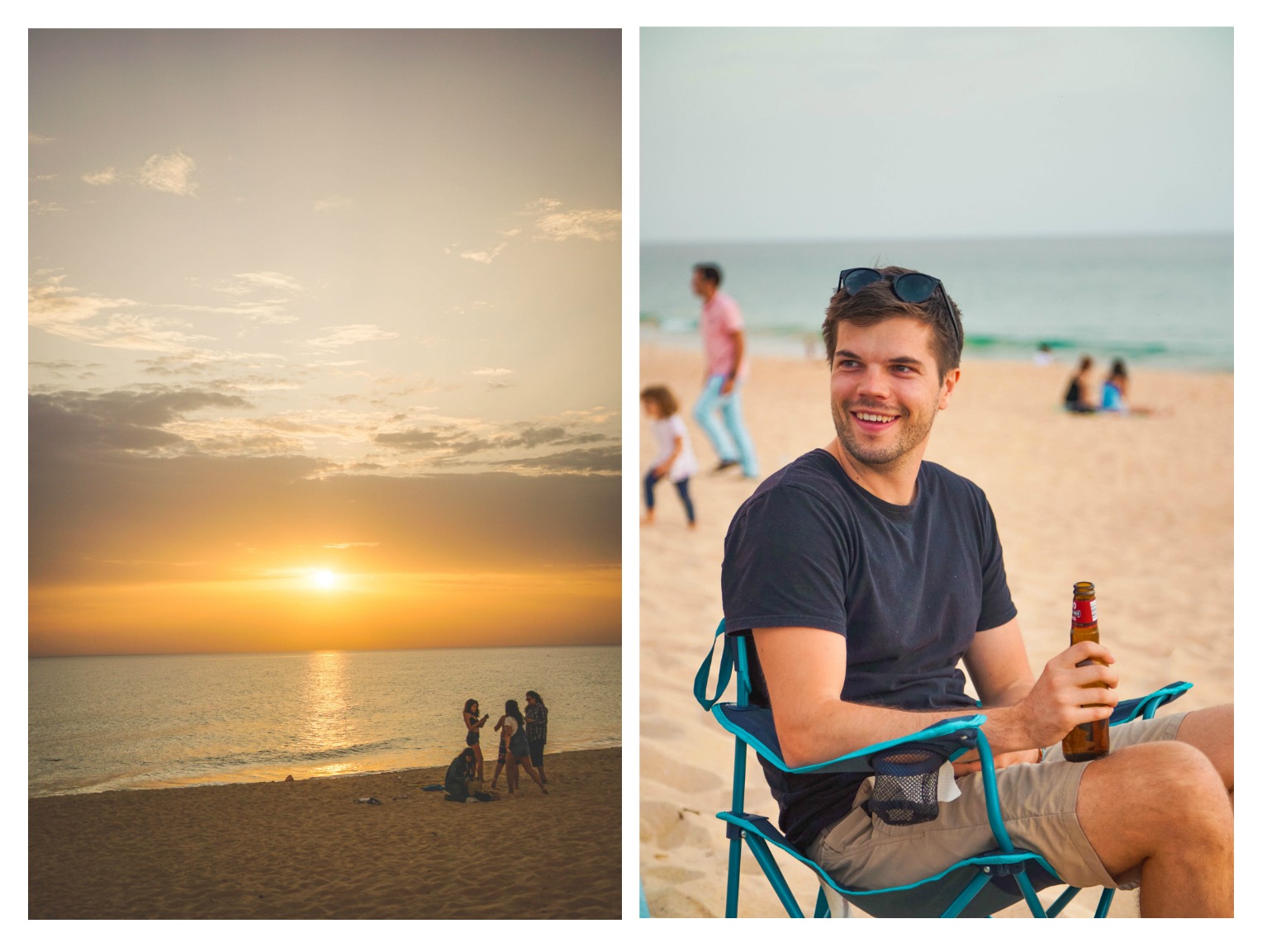 Take whatever park you can then take a chair or towels to the beach with some beers. The sunsets here are beautiful! As is the long stretch of yellow sand beach. Once it gets dark and more cars leave, you can move your camper van to the parks closest to the beach front and then camp up here for the night. There are public toilets that are open here all night too, which is a big plus!
Day 2: Alvor – Algarve Coast
On the way to Alvor I suggest to go to Benagil Cave. We couldn't get to it because of the hurricane; it made the swell a little unsafe. Instead we slowly made our way up along the coast to Alvor.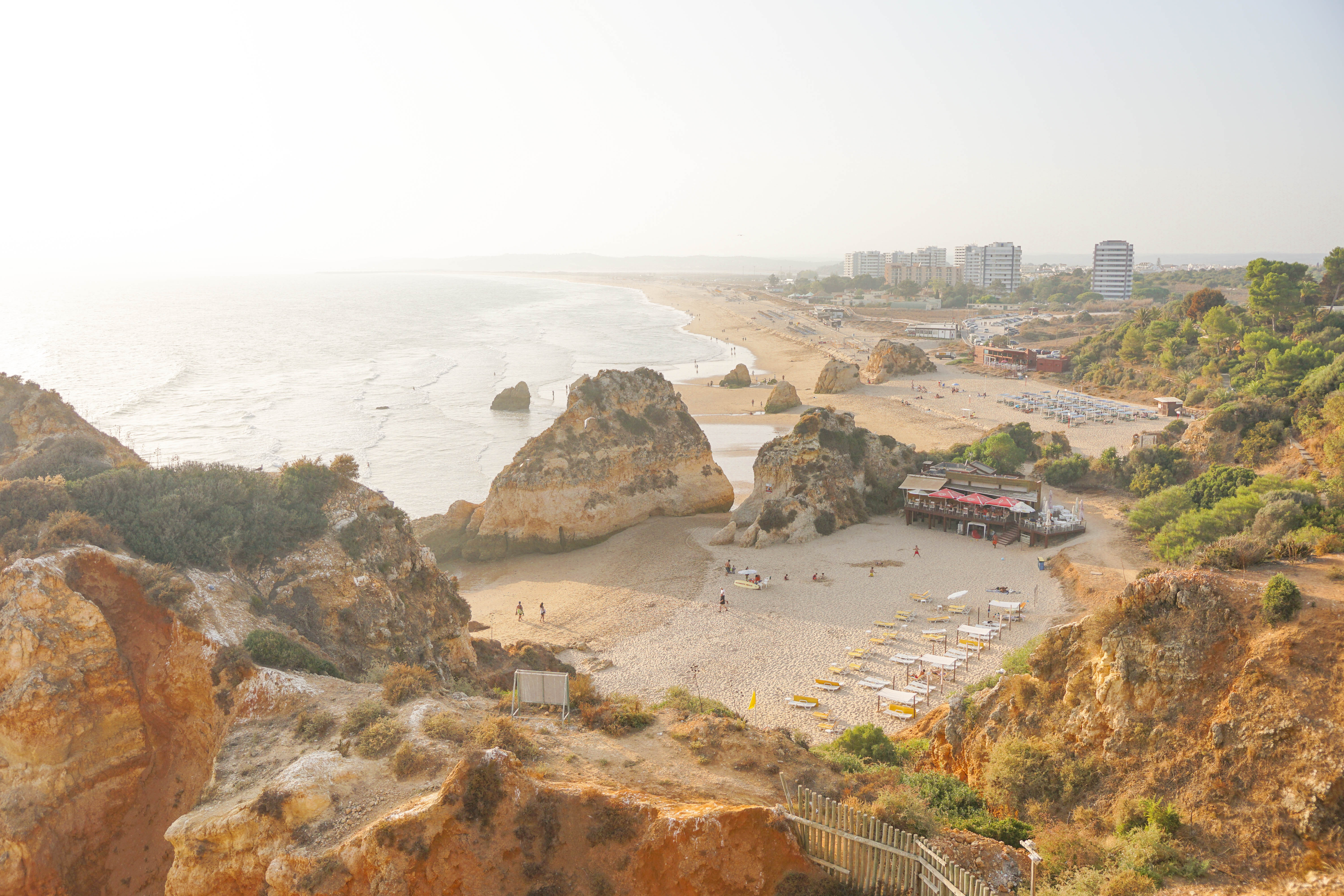 The beach here was beautiful (you'll come to find all Portugal's beaches are beautiful haha). Take a walk along the beach and walk through the rock formations that make up the Algarve Coast. There's also some beach bars hidden in the rocks, perfect for some beers at sunset!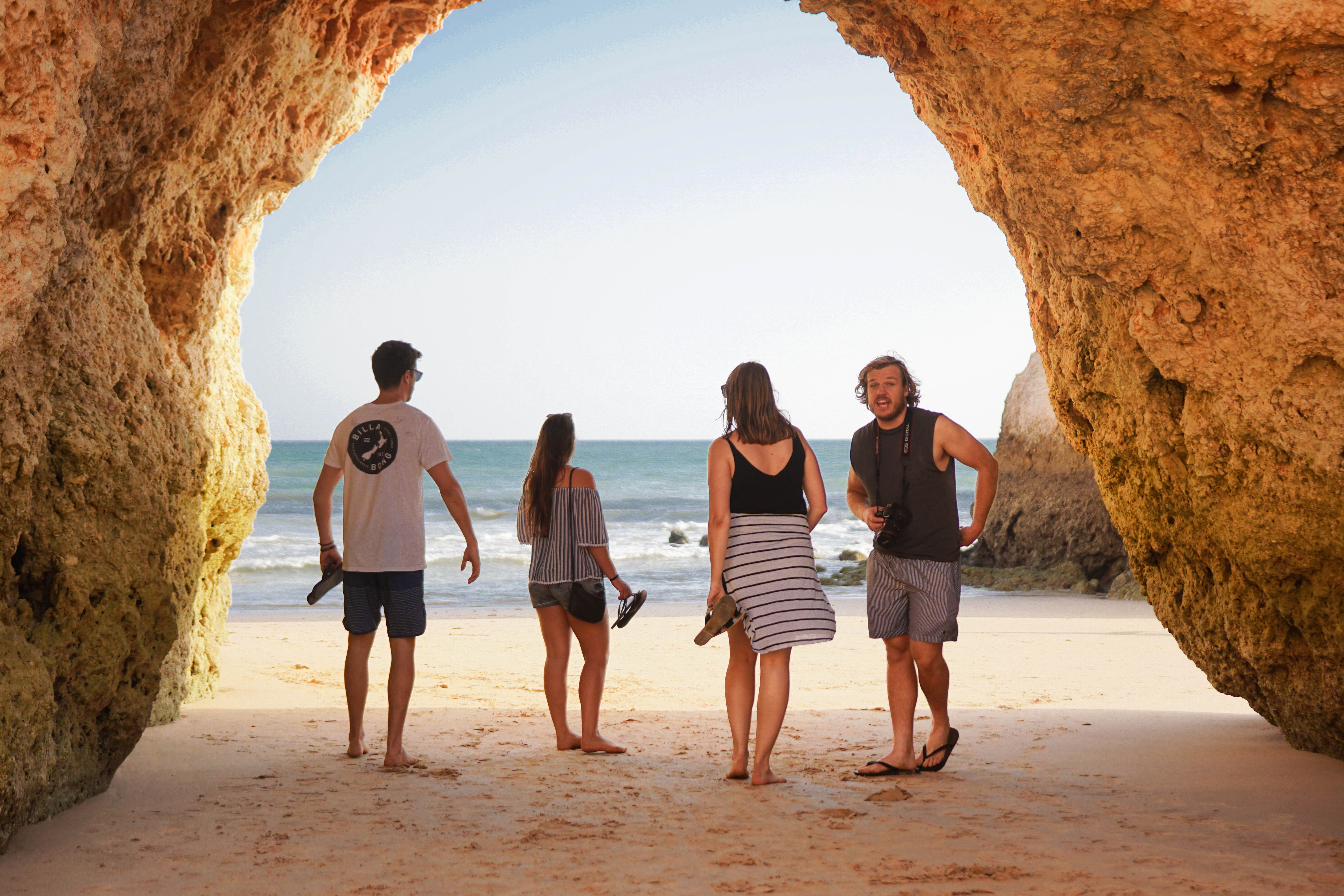 We stayed in a large car park overnight near a beach restaurant. During the restaurant opening hours, we were able to use their toilets (accessible from outside of the restaurant), but once they close later in the night, they lock the bathrooms.
Day 3: Cliff Drive + Amado Beach + Sagres + Figueira
This was a fabulous day! Leaving Alvor and heading towards Figueira (though we didn't know that was going to be our ending destination for the day).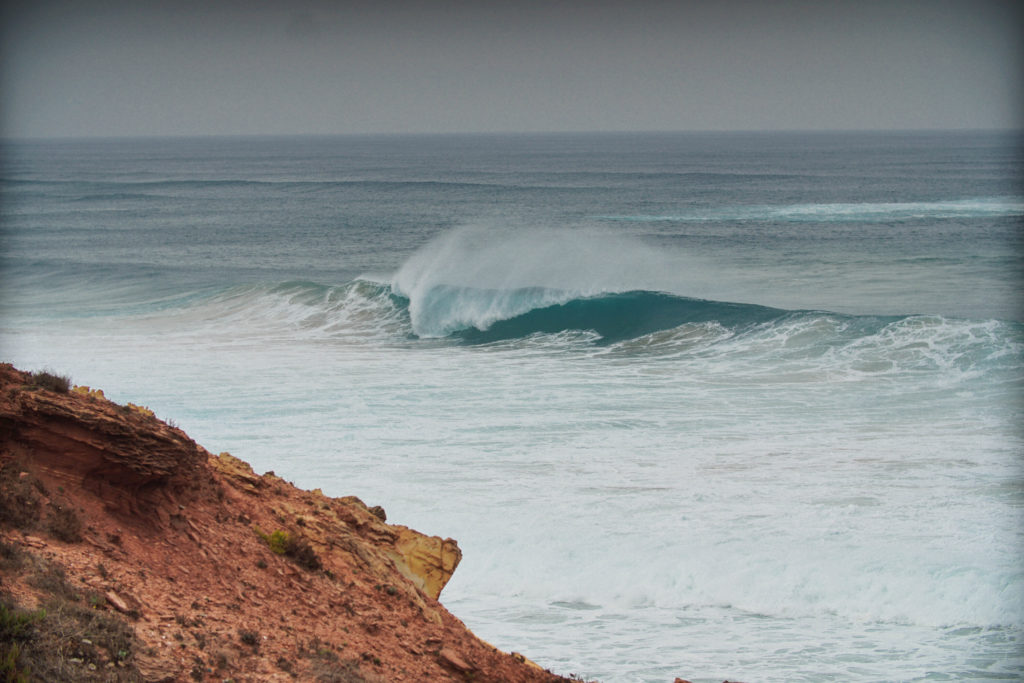 You must do the Carrapateira Cliff Drive on the way to Amado beach. These views of the cliffs and ocean are breath taking. Amado beach is also a popular surf spot for seasoned surfers and beginner lessons. Plus it's just a cool place to hang out in general.
After a few hours in Amado we headed to Sagres, another popular surfer destination with a cute town plus an ancient-like fortress.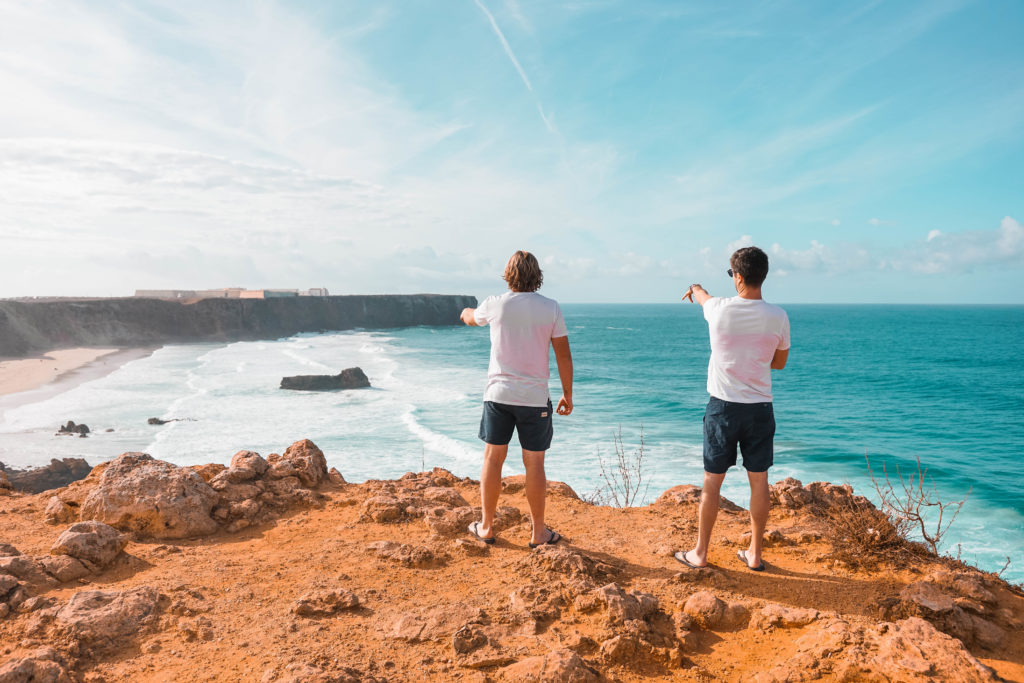 Figueira is about a 15 minute drive from Sagres, so this is where we decided to spend the night. We stayed at Figueira Caravan Park in one of their powered sites so we could charge up a few things.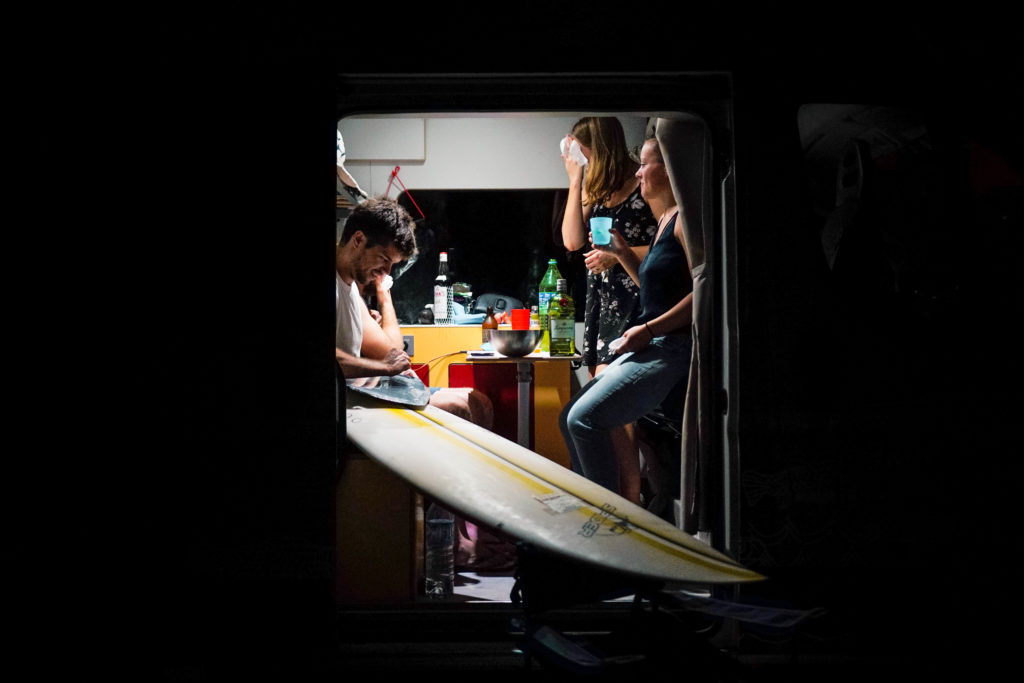 They have hot showers and toilets their too, plus a water hose to fill up the camper's water tank. Be sure to head to the local restaurant, 'Restaurante O Sapinho' for dinner. They have great food and service and it feels like a real local experience.
Day 4 + 5: Lagos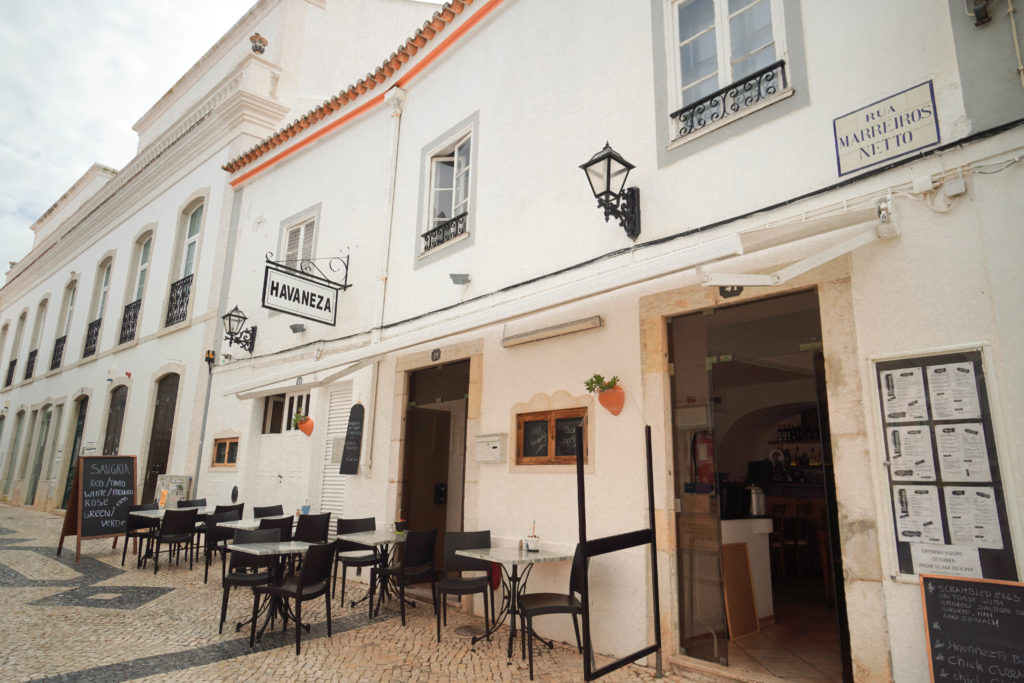 We spent 2 nights in Lagos and stayed at Camping Trinidade. It has terrible reviews on Google, but we found it not bad. There is a very baron dusty field next door which was empty when we stayed. But during the busy season they may open that up to fit more people in… If that's the case I don't recommend that area. But we had a good spot with electricity, hot showers and bathrooms. No seats on toilets, but hey, you can get your squats in for the day!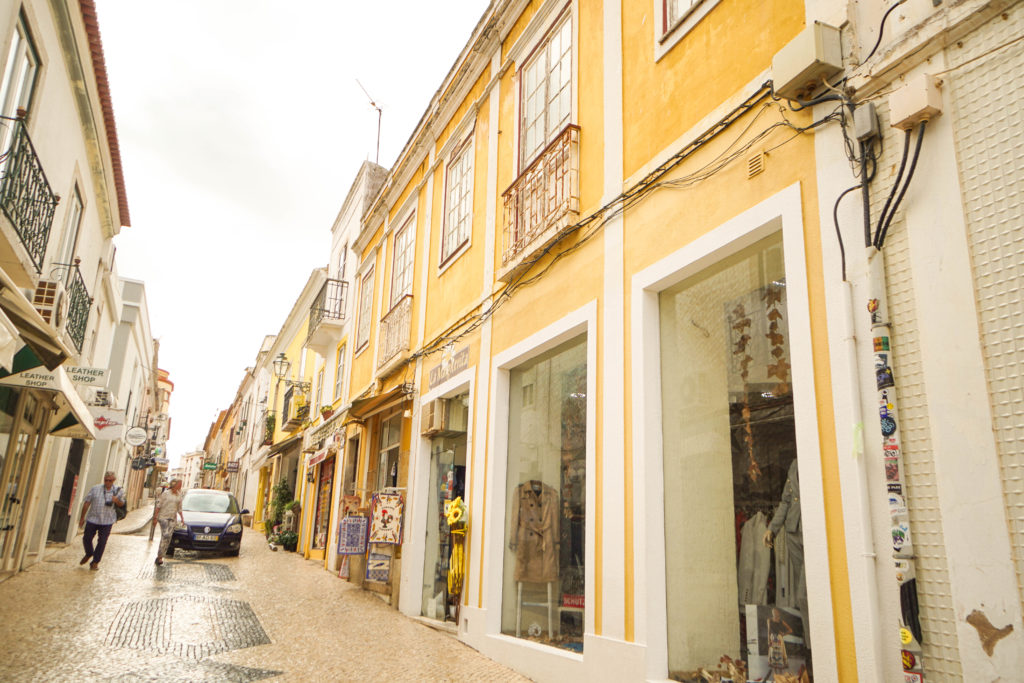 This night we went out on the town. Lagos is quite famous for it's nightlife, and it did not disappoint!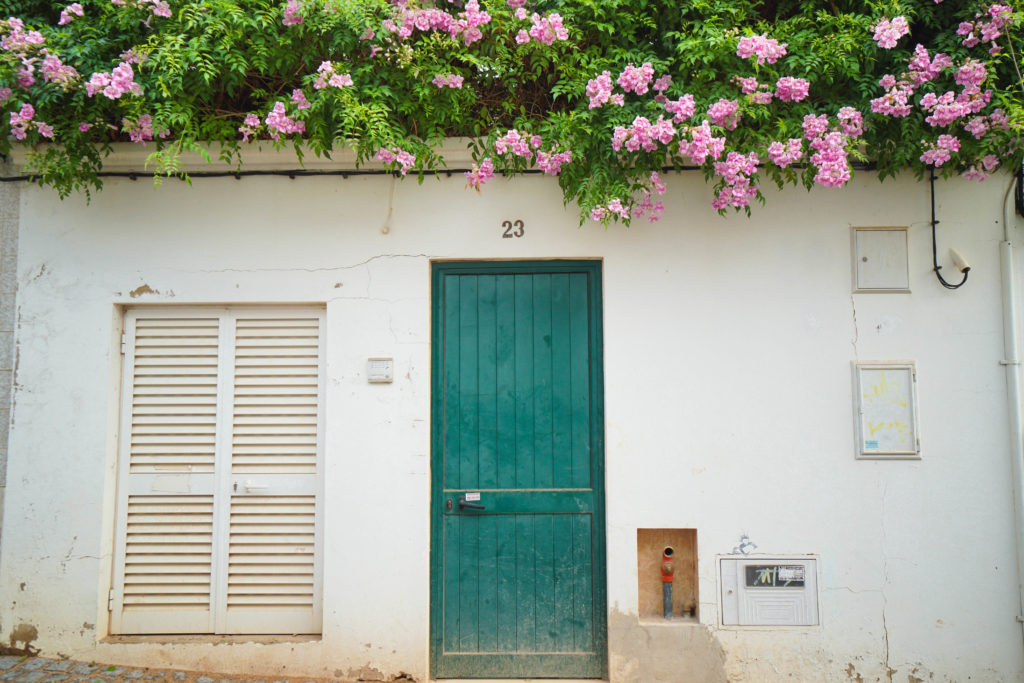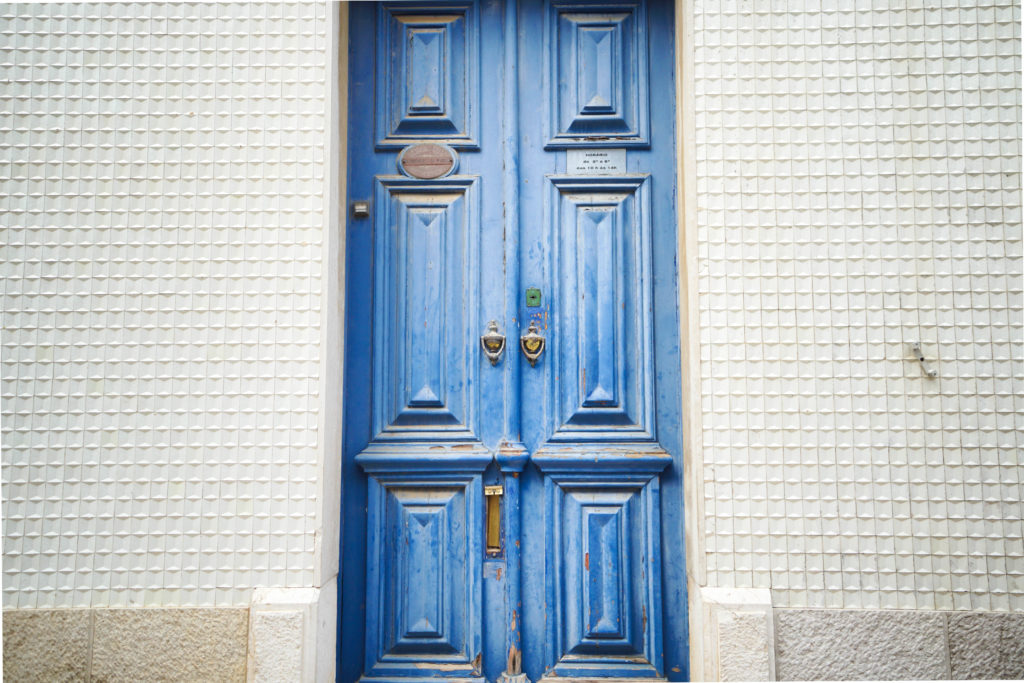 Sadly, our only full day in Lagos was spent hungover in the camp ground. On the plus side, it rained the whole day so we didn't feel too guilty 😉 I definitely suggest spending 2 nights in Lagos. Don't waste away your days like me though. It's such a beautiful little down, with many narrow cobblestone streets to explore, as well as the beach. I fell in love with the doors in Lagos; so colourful and unique!
Day 6: Secret Beach + Praia de Sao Torpes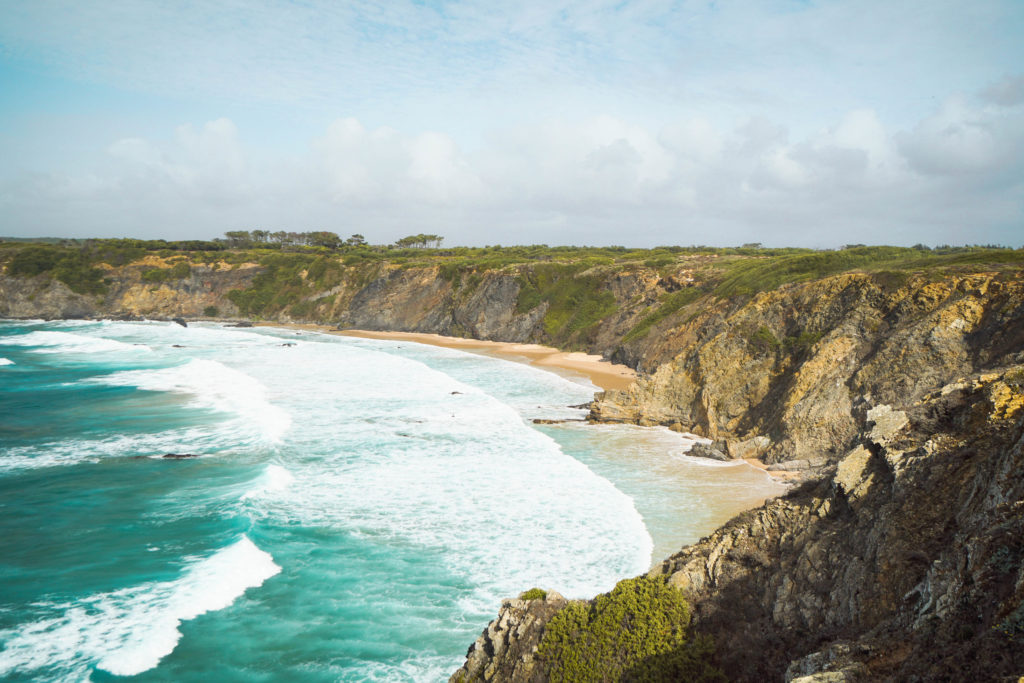 After a hearty breakfast and a wander around Lagos town, we headed in search for a secret beach recommended by an Insta pal of mine. The rules were that I'm not allowed to disclose it to anyone though… So I'll stay true to my promise. But when you think about Portugal's vast coastline, you can no doubt go in search of your own little secluded, secret beach.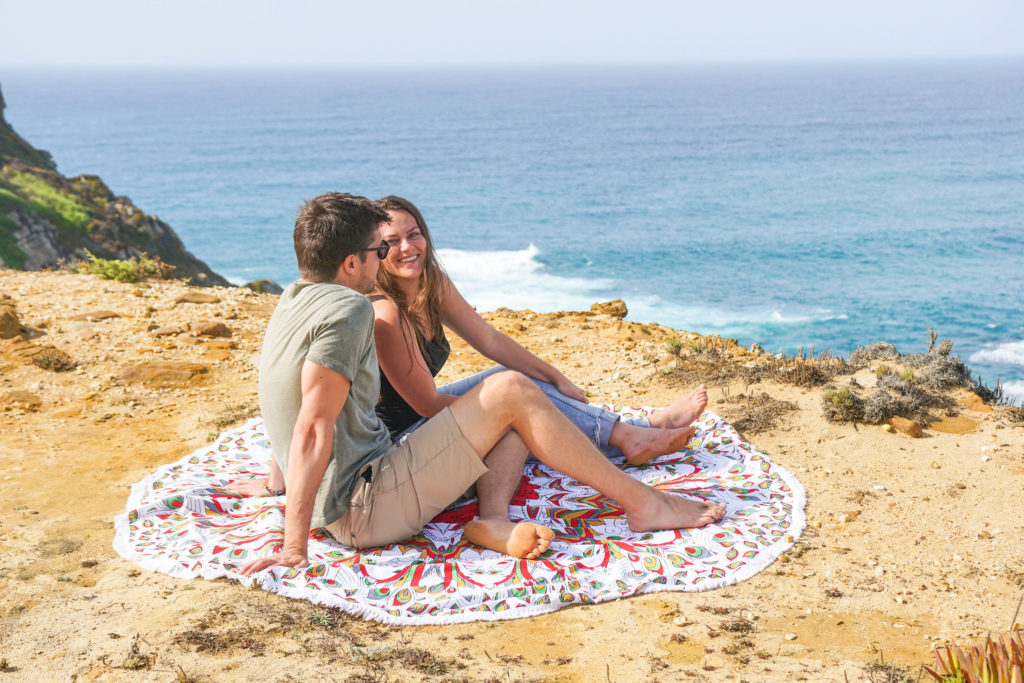 We found the beach, but could not for the life of us, figure out a way to get down to it from the cliff. Instead we set up a picnic on the cliffs and had lunch with a view with no one else around. Paradise!
Continuing along the coast, we made it to Praia de Sao Torpes for sunset and the boys went for a surf. There are several car parks you can park in for the night. There are no bathrooms though, so be prepared for that 😉 There is a restaurant right on the waterfront but it was closed the night we were there. It's the perfect spot for sunset and to wind down for the day.
Day 7 + 8: Antonio da Caparica + Lisbon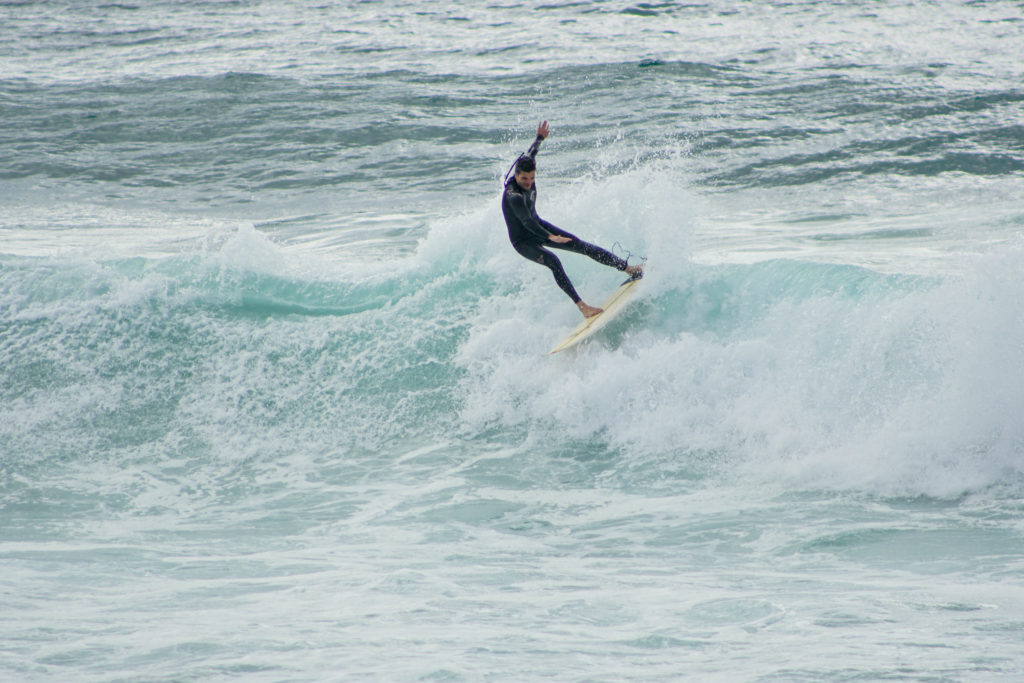 Praia de Santo in Antonio da Caparica is where we stopped for some good surf. There is a long stretch of beach with man made rock walls protruding out into the shore every couple of hundred metres. The walls help with the breaks of the waves. So if the swell is good and you are nearby, stop to check it out. If you're not a surfer, there are many restaurants and cafes lining the shore to relax in. We stopped here for about 2 hours before continuing on to Lisbon.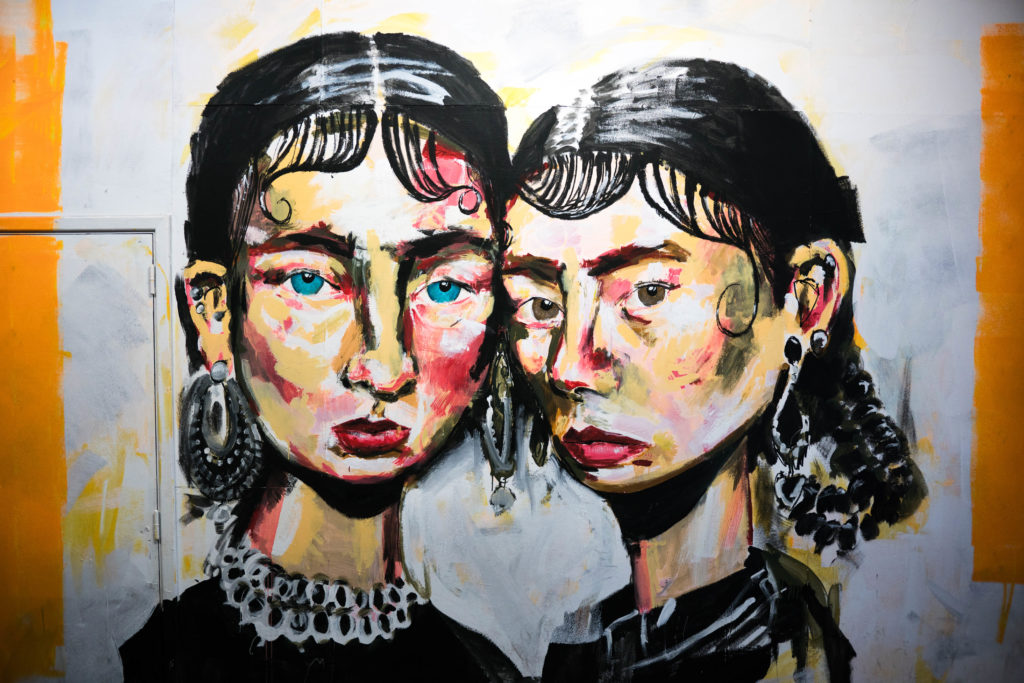 For our first night in Lisbon we stayed near the city centre; just parked up on the side of a street next to the port. This way we could easily walk into town and look around. Please note to try and avoid driving in Lisbon during afternoon rush hour traffic. It's the cause for a heart attack… And quite possibly a car crash!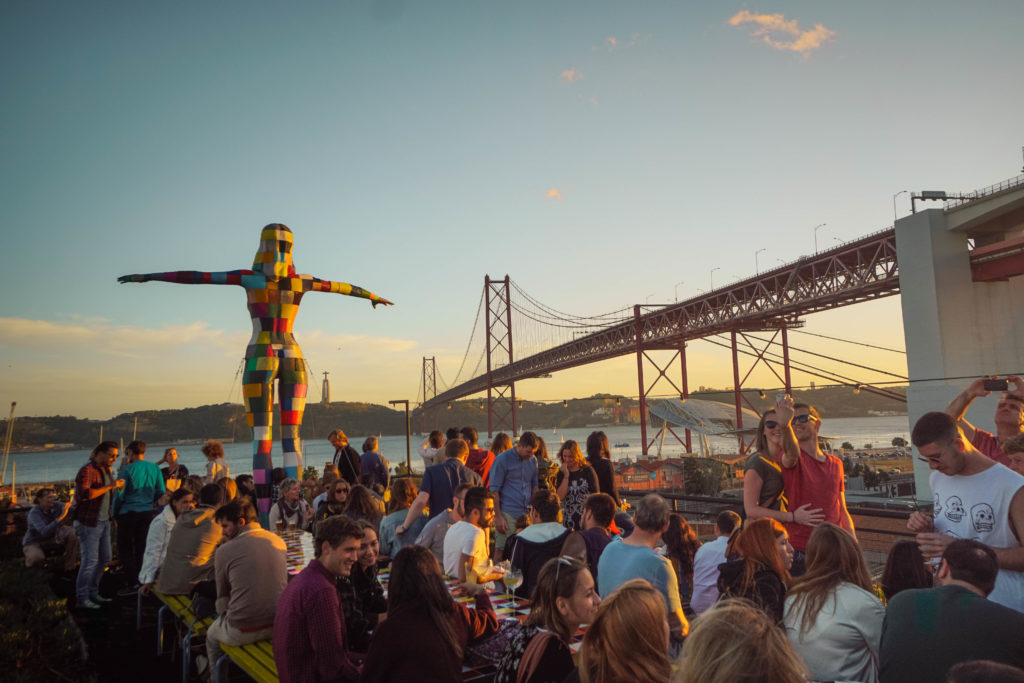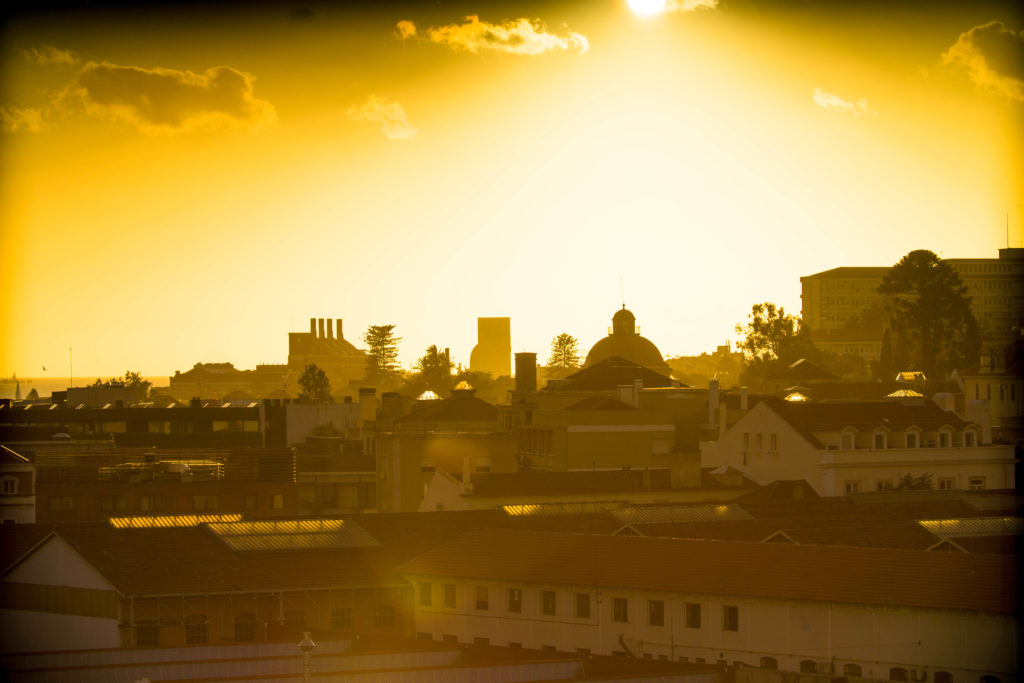 The second night we stayed at Lisboa Campground which was a little further out of the town. It was a really nice campground with washing machines and all facilities. From here, when we went into town we just caught an Uber. Make sure you head to LX Factory for sunset and dinner. It's a very trendy part of Lisbon. There's a great roof top bar that's the perfect sunset spot.
Day 9: Praia de Carcavelos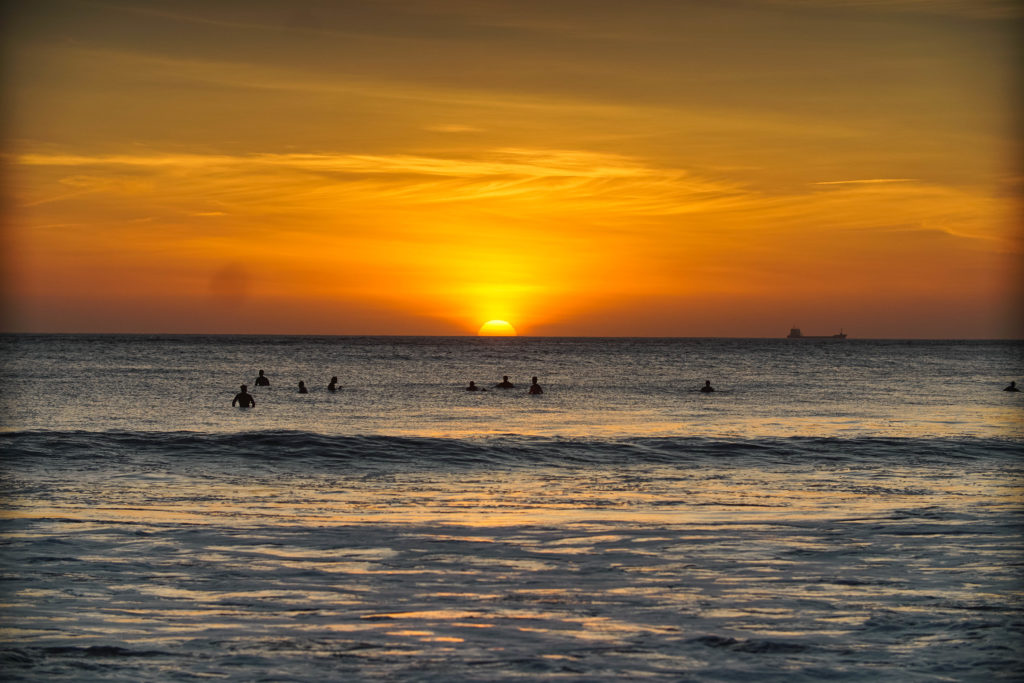 This area definitely seems a little more commercial than the other beaches I have mentioned. Again, the surf here was great and the boys went multiple times throughout the day, so we decided to set up camp here for the night. Opposite the beach, on the other side of the busy street is a dirt carpark. This is where we parked and camped for the night. There aren't any public bathrooms (just a heads up!).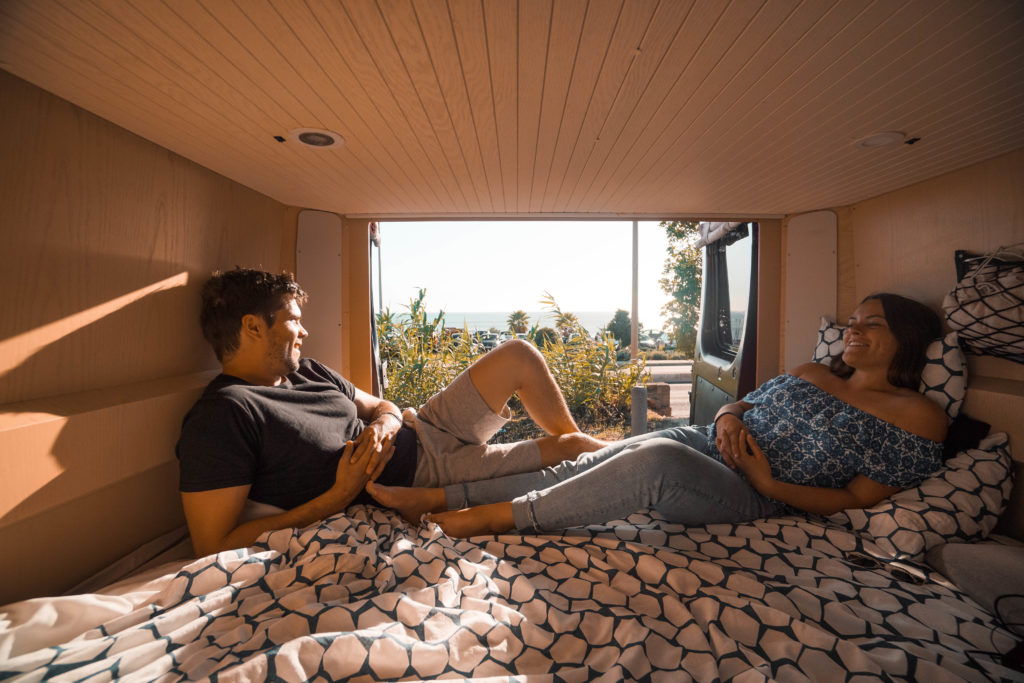 The beachfront is dotted with restaurants and shops though. There was a range of cheaper places to eat, or some more luxurious restaurants to choose from as well.
This whole region seemed very lovely. I would have liked to have spent more time exploring the other places in Cascais; next time it is!
Day 10 + 11: Sintra + Ericeira
The end destination for the day was Ericeira and the boys wanted to get there ASAP due to good surf reports. But I had heard a lot about Sintra, so we stopped on the way to Ericeira to check it out. To put it nicely… Sintra was an absolute shit show…
Traffic is crazy and finding a car park with a camper van proved difficult. Nevertheless we found one and explored Sintra by foot. There is a beautiful Disney-like castle at the top of the mountain you can go to, called Pena Palace. This one is not like the other classic castles you see throughout Europe. Pena Palace reflects the 19th Century Romanticism inspired architecture with bright colours of red and yellow. Definitely worth a look if you have time. Sadly we didn't have the time to go to the castle. Instead we quickly scoffed back some lunch and continued on to Ericeira….The surf was calling!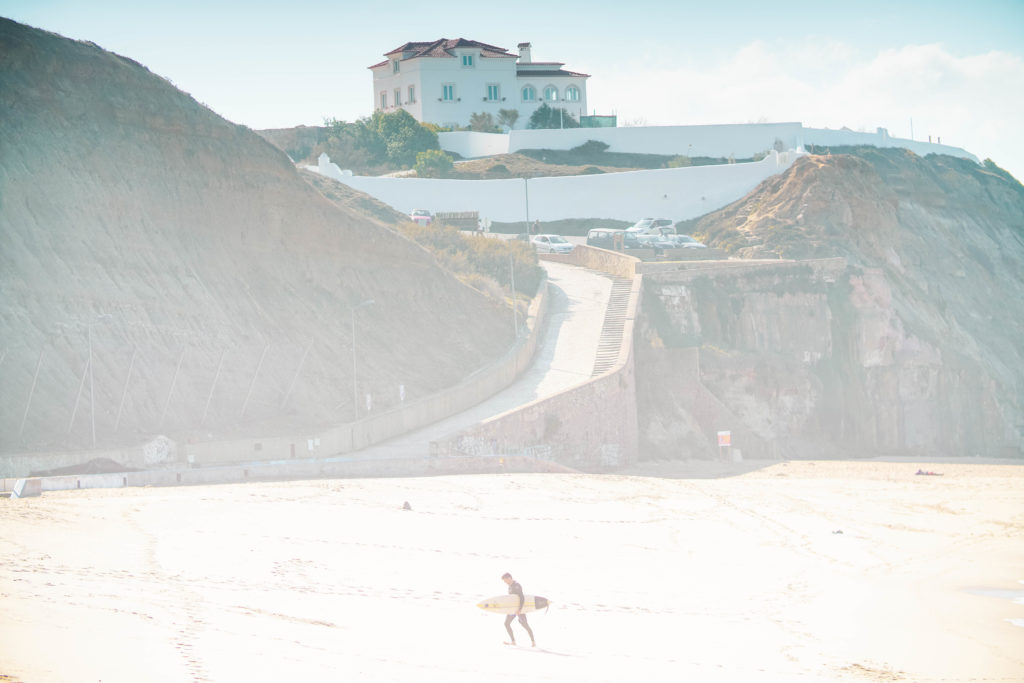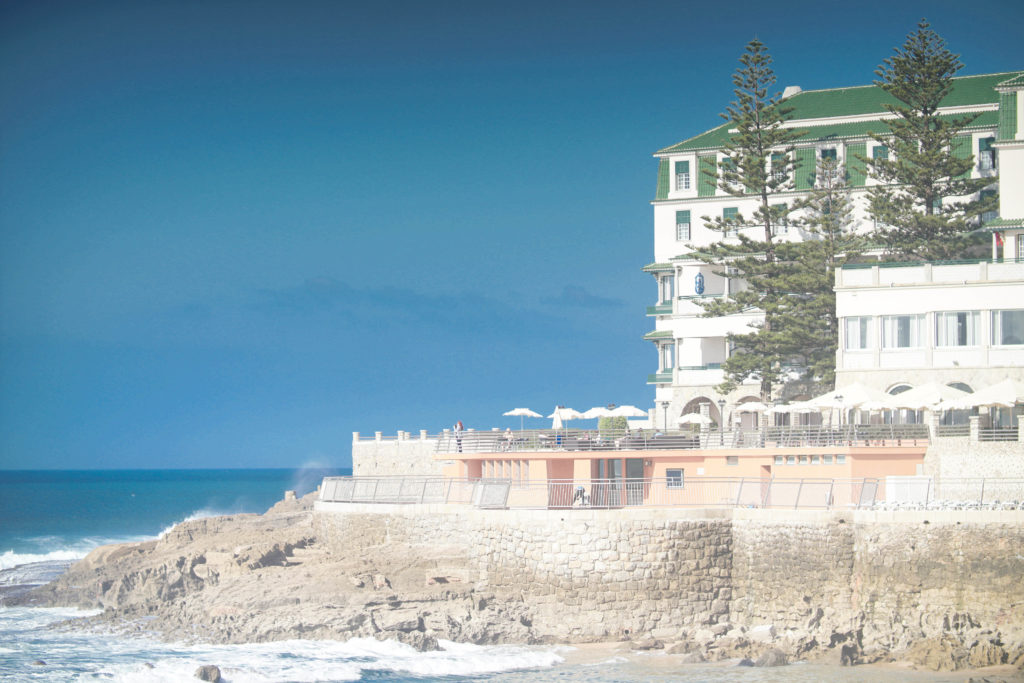 Arriving in Ericeira blew my mind. It immediately became my favourite place of the trip so far. The town is a decent size with a lot to explore. The beaches are beautiful. The colours of the town are gorgeous… Think the countries of Greece and Mexico got together and had a baby… This is it.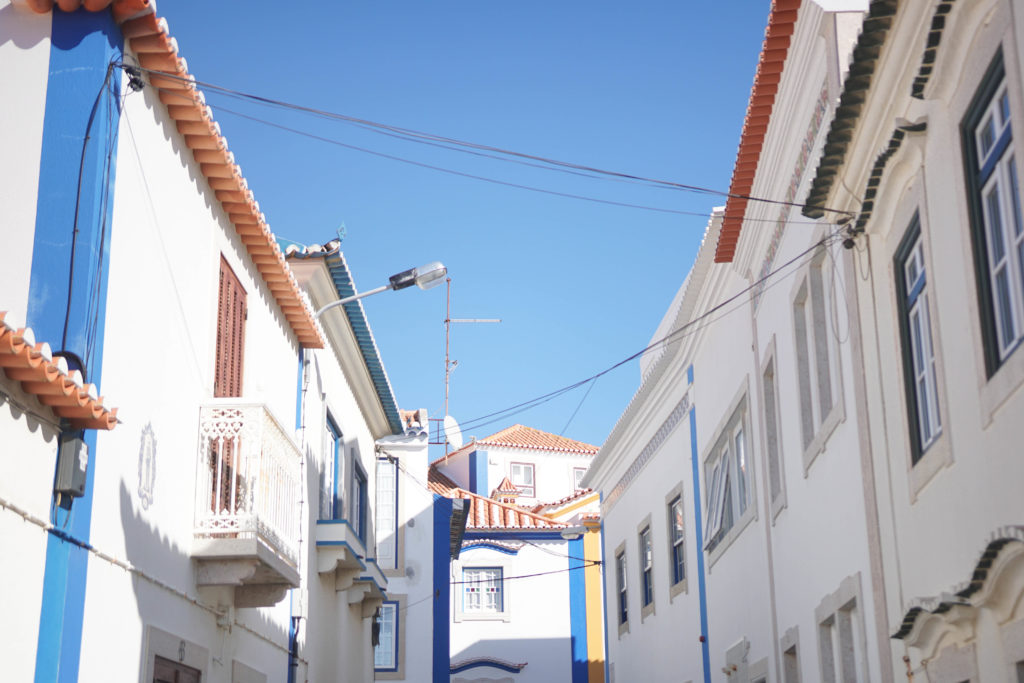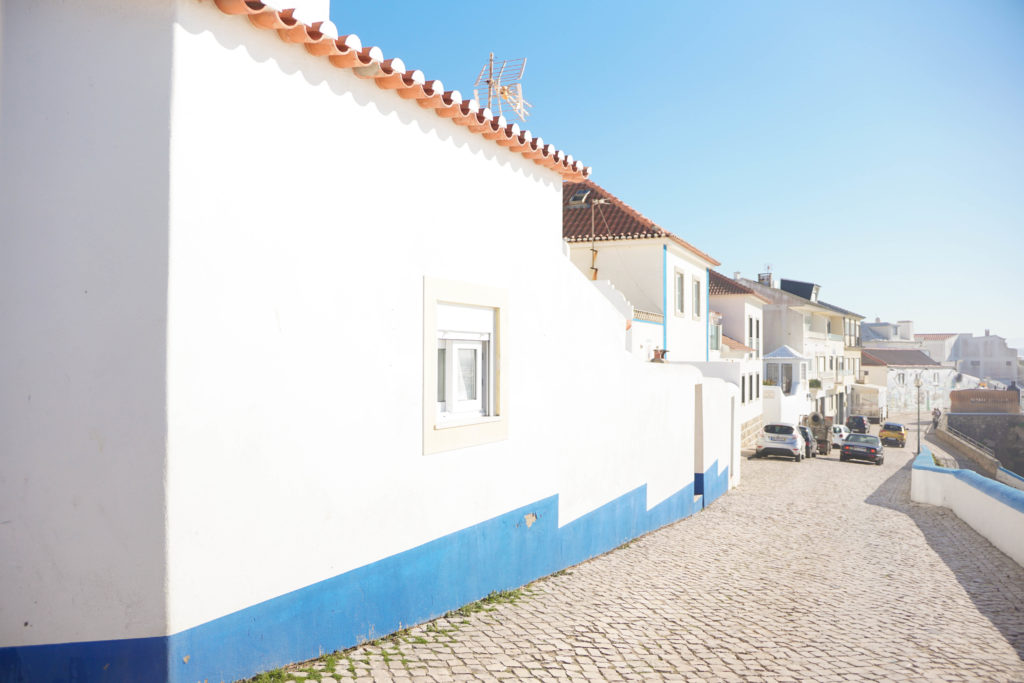 We stayed in Ericeira for 2 nights. One night was in the Pico de Futuro parking lot; a small car park over looking the ocean. My favourite sunset was on this evening. There's also several bars and restaurants close by to walk to.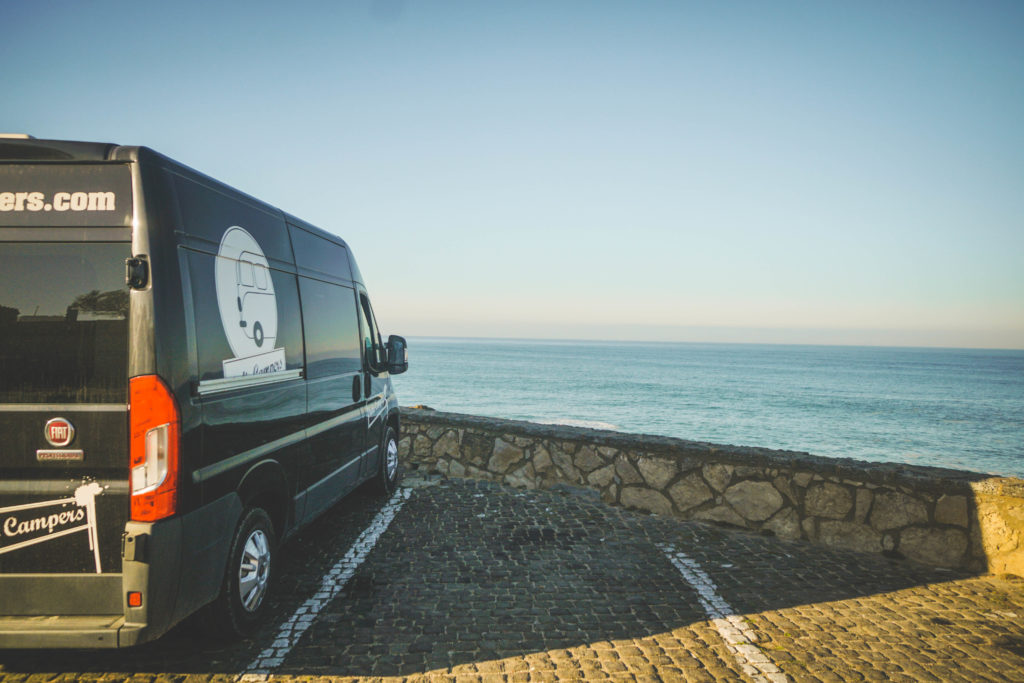 The second night and the majority of the day was spent at Praia de Empa. This is a really popular surf spot. There is a car park on the cliff, overlooking the waves and is quite the popular spot throughout the day. We did take a trip out to the nearest Mc Donald's to charge up the gadgets, and do some work.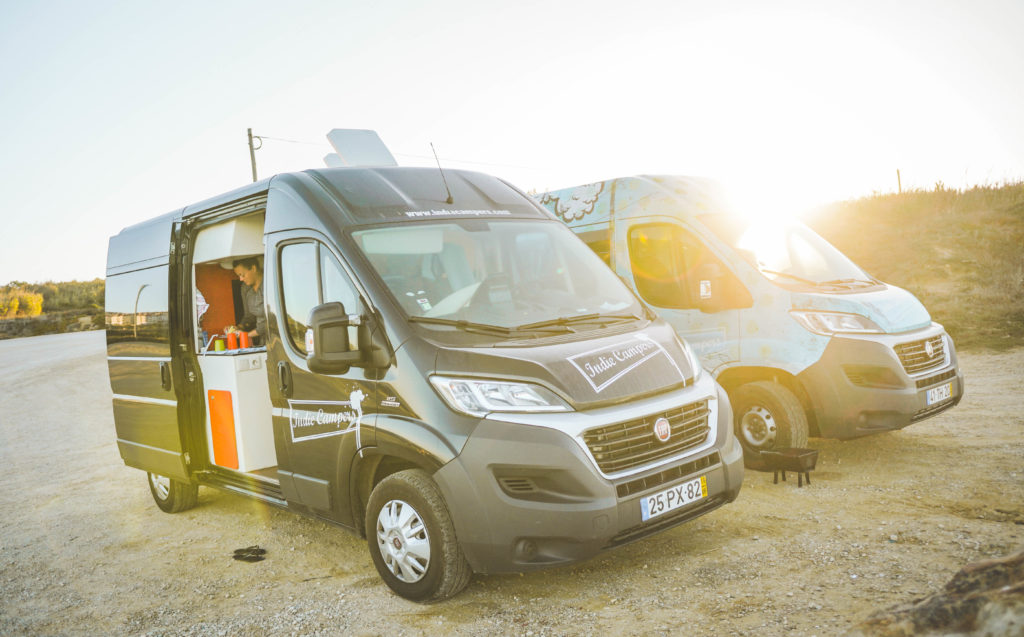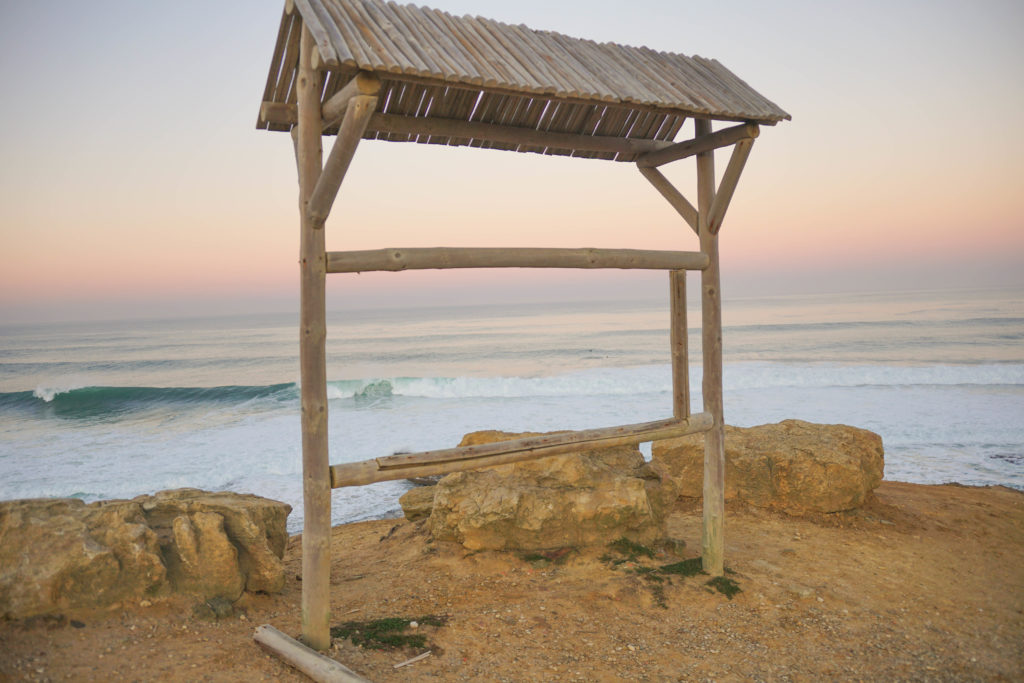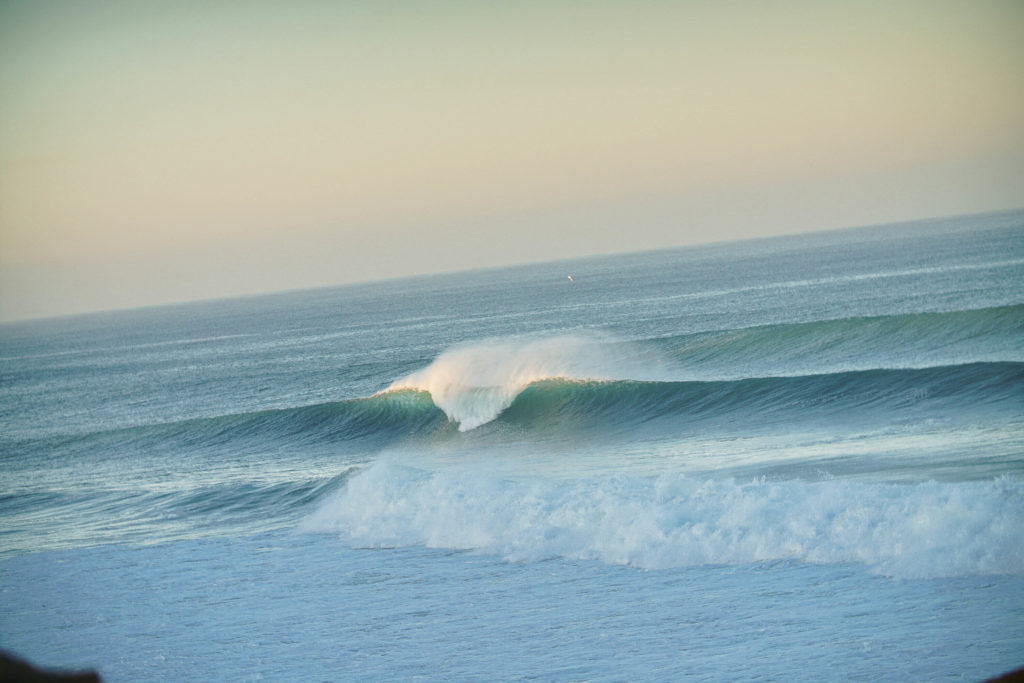 Day 12: Peniche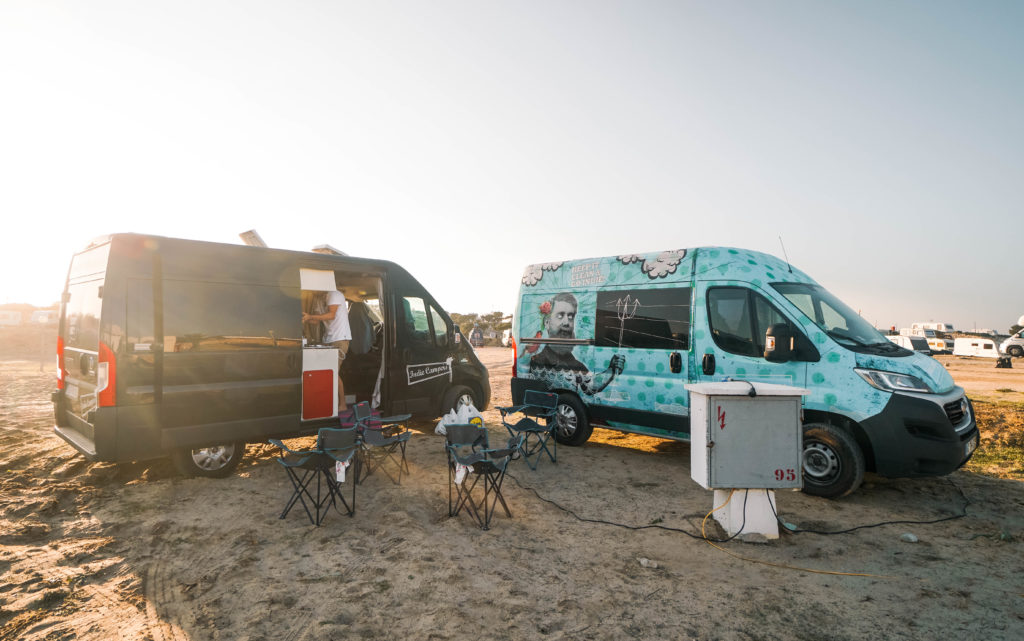 Peniche will definitely be on your list of places to go if you're a surfer. It's where Supertubos Beach is and many surf tournaments are held here. We stayed in Peniche for one night at Parque de Campismo Municipal de Peniche. Here we got a powered site to charge up the batteries and electronics.
Day 13: Baleal Island + Nazare
Baleal Island is a super small island connected by a road along the sand on a narrow beach in Peniche. We took a drive along here in the morning on the way out and stopped for brunch at one of the beach cafes. You don't need to stay long but it's fun driving over to the island and back.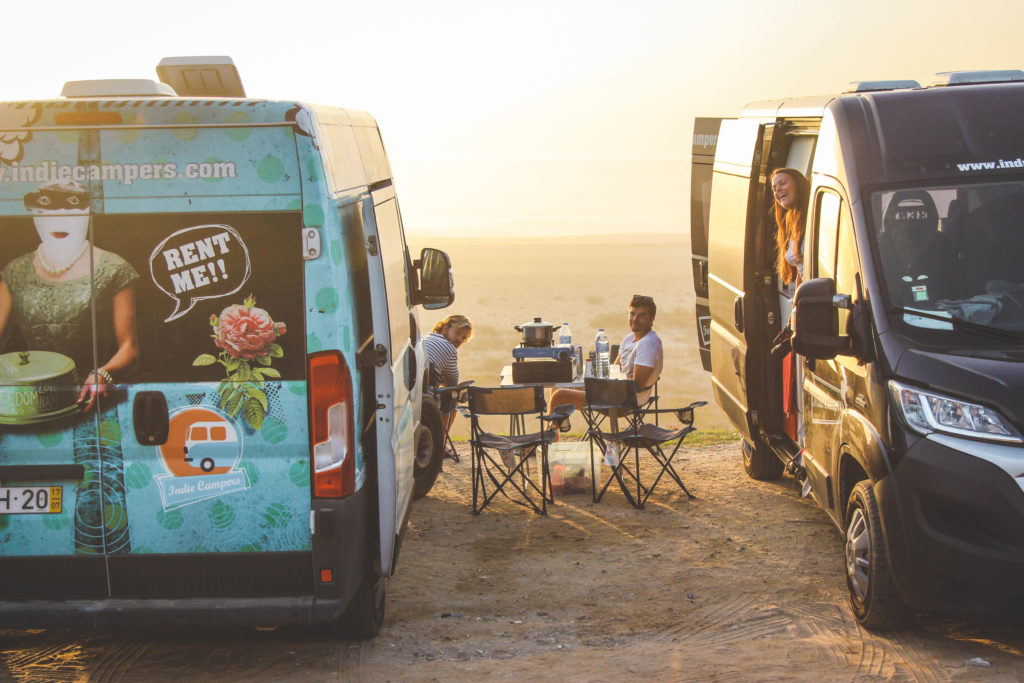 When we made it to Nazare, the swell was pretty big. There were some surfers practicing their jet ski tow-ins which was great to watch. Plus there were some pro body boarders out there too. The waves here were the biggest I've seen in my life. This is where a few big wave surfing comps are held, so the waves we saw were only a fraction of the size of what they can get to. If you have the chance to see the big waves in Nazare, definitely do it! It would be a once in your lifetime kinda thing.
Day 14: Porto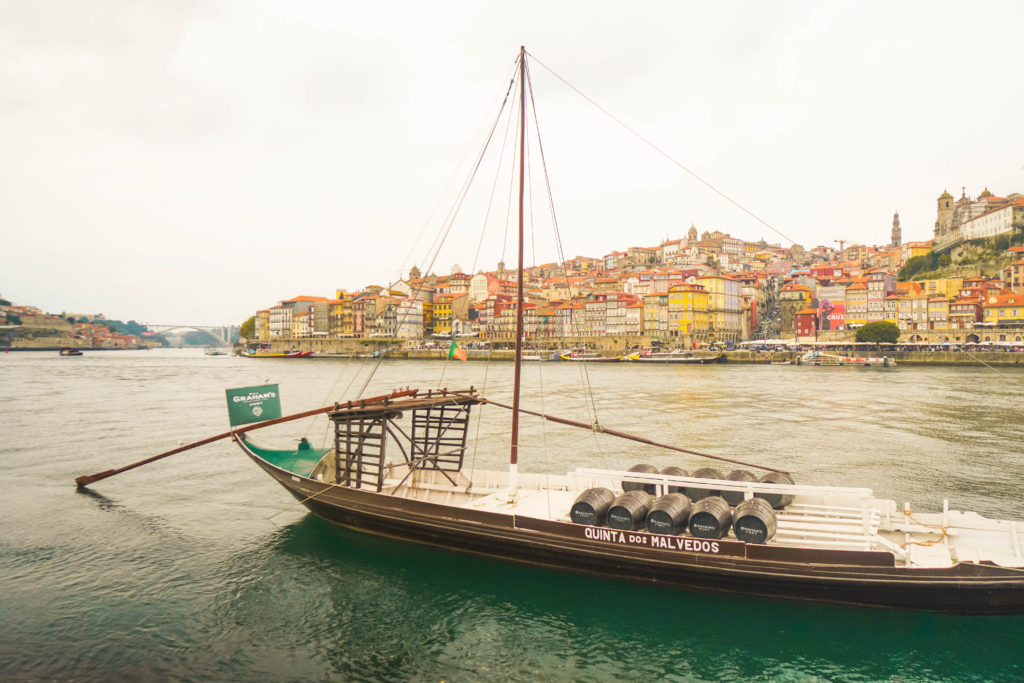 The clock was ticking and it was our last night with the van! We boosted up to Porto, only just making it there in time for sunset. We had a week in Porto afterwards though, so we didn't bother going all the way into Porto City. Instead we parked up at Mermaid Beach for the night where we went to a nice restaurant for dinner then basically got drunk and celebrated our last night with our friends!… And woke up to a flat tyre the next morning…. Not key.
I suggest to spend at least 2 nights in Porto. Give yourself a full day to explore the beautiful city and do a Port Wine tour and tasting.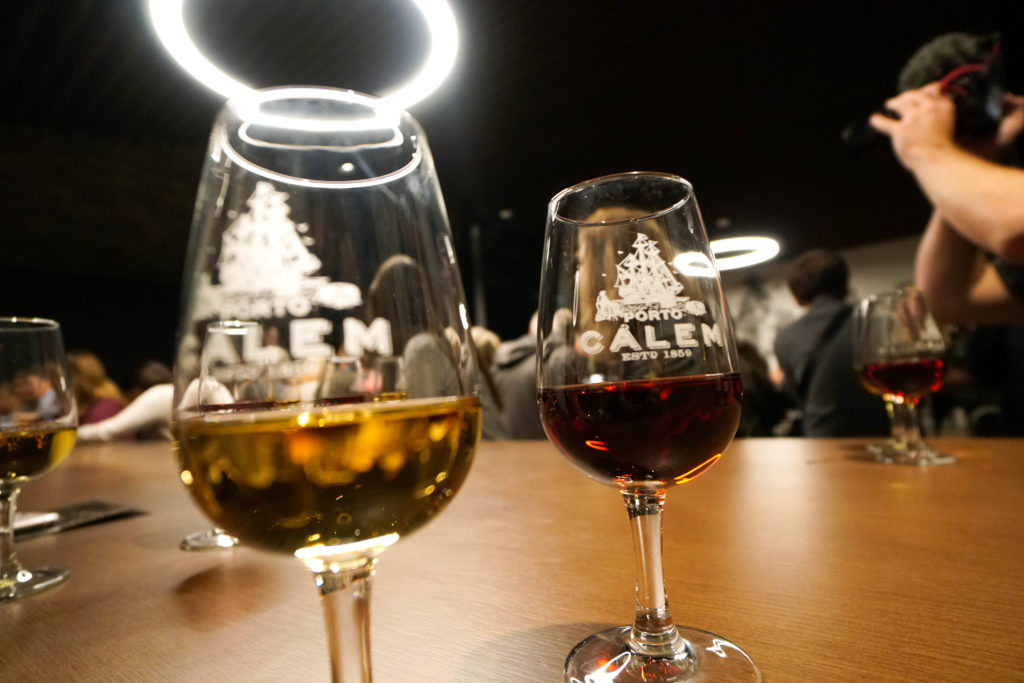 Now this was just our itinerary for our trip which we made up a long the way. As I mentioned, it was a surf/bodyboard trip, so the itinerary is all about finding the best waves.
For those that aren't on a surf focused Portugal road trip, I suggest to spend more time in Sintra, Porto, Lagos, and even go further up north to Peneda-Gerês National Park.
Cut out Praia de Sao Torpes and Praia de Carcavelos. I do still suggest Cascais area as it was beautiful there… I may be bias though as it reminded me of my home town. Also Ericeira is a must! And don't forget Benagil Cave in the Algarve region.
Actually, just read my Portugal Road Trip 14 Must See Places for my top recommendations 🙂
Also, if you're considering renting an Indie Campers van for your road trip, be sure to check out my Indie Campers Review post here… We had a pretty rough time with them 🙁
Have a great trip in Portugal and be sure to comment with anything you suggest for others to check out while in Portugal too!
Hannah