Penang Accommodation For Luxury Travelers
Penang is officially one of my favourite destinations in not only Malaysia, but in South East Asia as a whole. It has everything you look for when traveling; it's clean, great food, great prices, great people, great activities, and great accommodation!
When I travel, having accommodation that I love and feel comfortable in is important. So when I found this amazing apartment while scrolling through Airbnb, well… I was sold! There was no other option for me. Here's a little sneak peek of the Penang Airbnb apartment we called home during our Penang visit.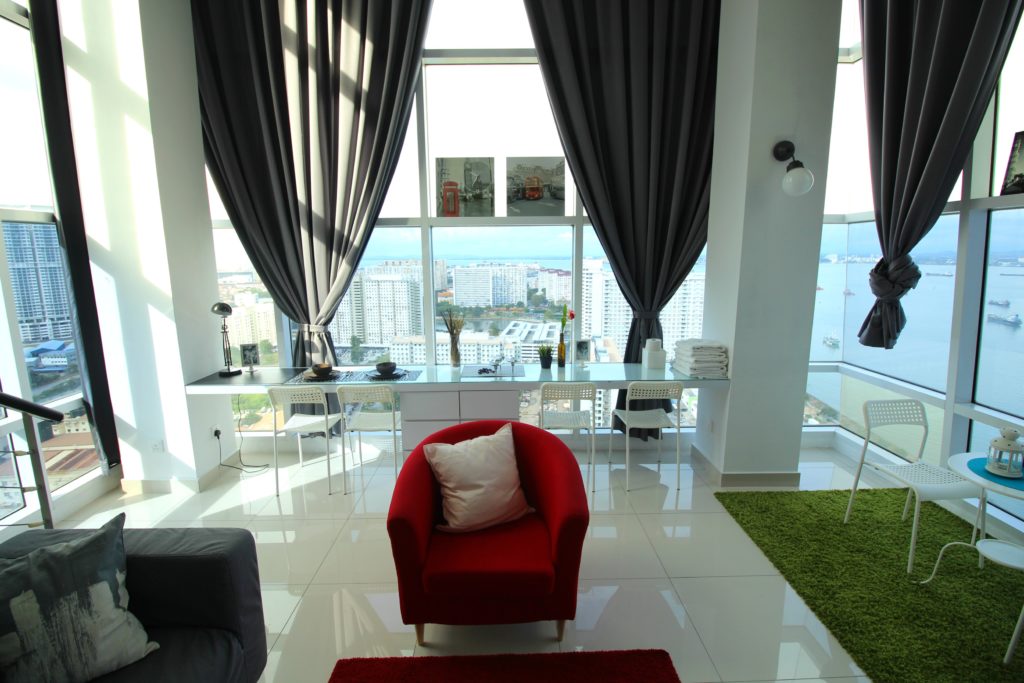 THE APARTMENT
This apartment is in the relatively new complex called Maritime Suites. There are two towers to the complex, and we were in Tower B…. On the 16th floor- woohoo!
The main living area of the apartment has floor to ceiling windows; giving you the best view in Penang (in my opinion). We had a clear view over the ocean as well as a view out over the city and nearby mountains. We really did get the best of both worlds for the views. Plus it makes for impressive storm watching!
Everything was open and spacious especially for a 2 bedroom apartment with 2 bathrooms. Nothing felt cramped at all as you sometimes might get with other apartments. Downstairs has the main living area, a small kitchen area, a bathroom, and the second bedroom with 2 single beds. Upstairs is a loft style, spacious bedroom with an ensuite and desk area. There are glass sliding doors so you can shut out the noise from downstairs or choose to keep it all open.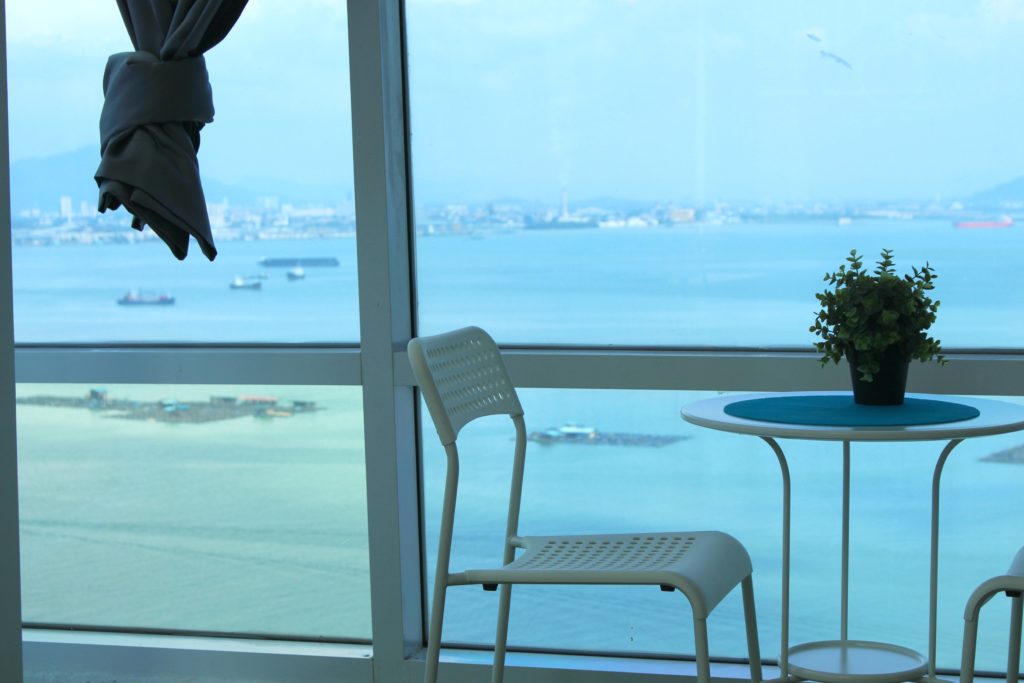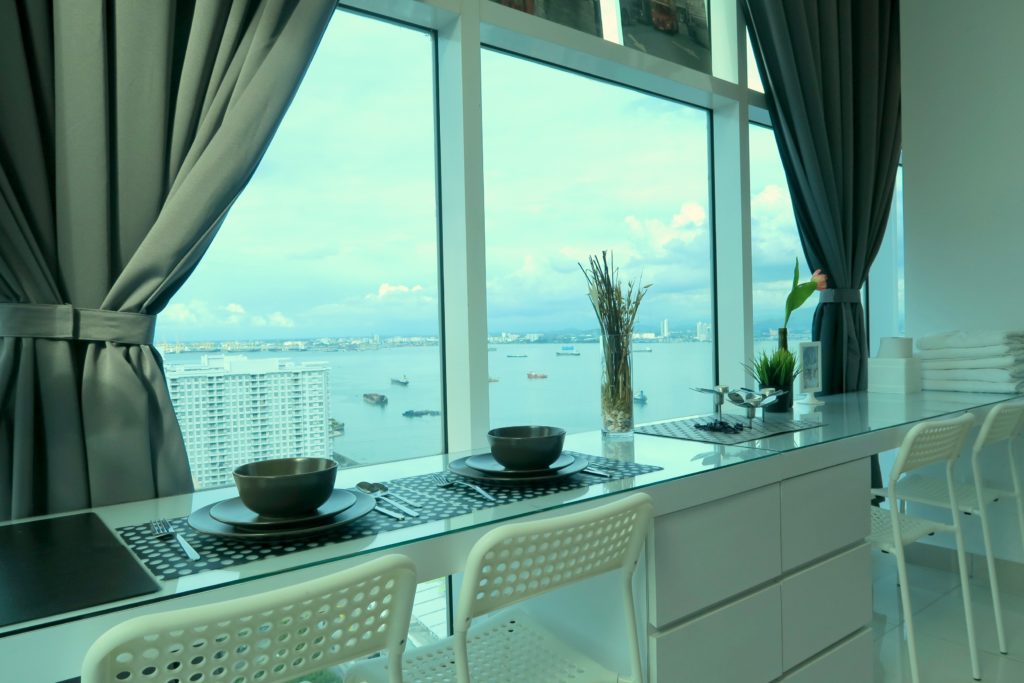 The entire place is decorated gorgeously! The main feature of the apartment is obviously the living area with the floor to ceiling windows and the owners have decorated nicely around this feature. There is a bench bar running along the main windowed wall where you can eat and work etc. Otherwise, there is a couch and armchairs to relax in while still being able to enjoy the view.
A lot of the time we worked from the window bench bar and I never wanted to leave my seat, it was too epic!
THE COMPLEX'S FACILITIES
The pool is one of the standout facilities of the Maritime suites. I believe it was off the 5th floor (I can't quite remember which floor…) but it has an infinity pool overlooking the city and ocean. Both Tower A and Tower B have their own pools, so you're not sharing with too many people. There are a couple of sun lounges up here also if you can brave the Penang heat and sunbathe.
The gym is also in the same vicinity and looks over the pool area. It's a gym designed for your basic workout. It has about 2 treadmills, a cross trainer and some machines. It is a small room, but you can definitely get the blood pumping in here. There was no more than 1 other person using the  gym at the same time as me.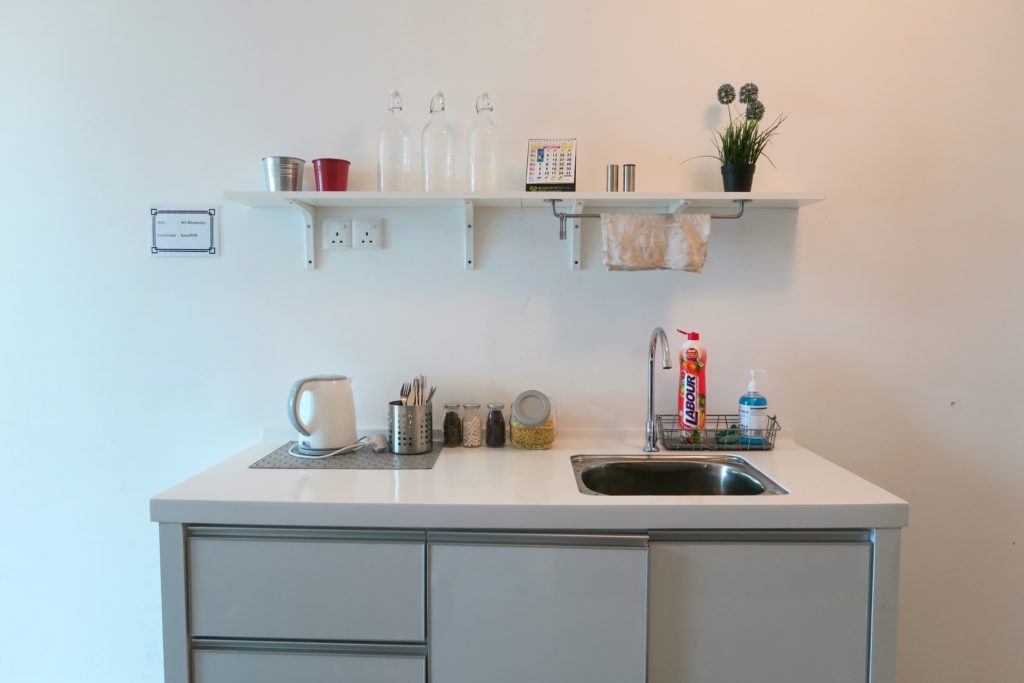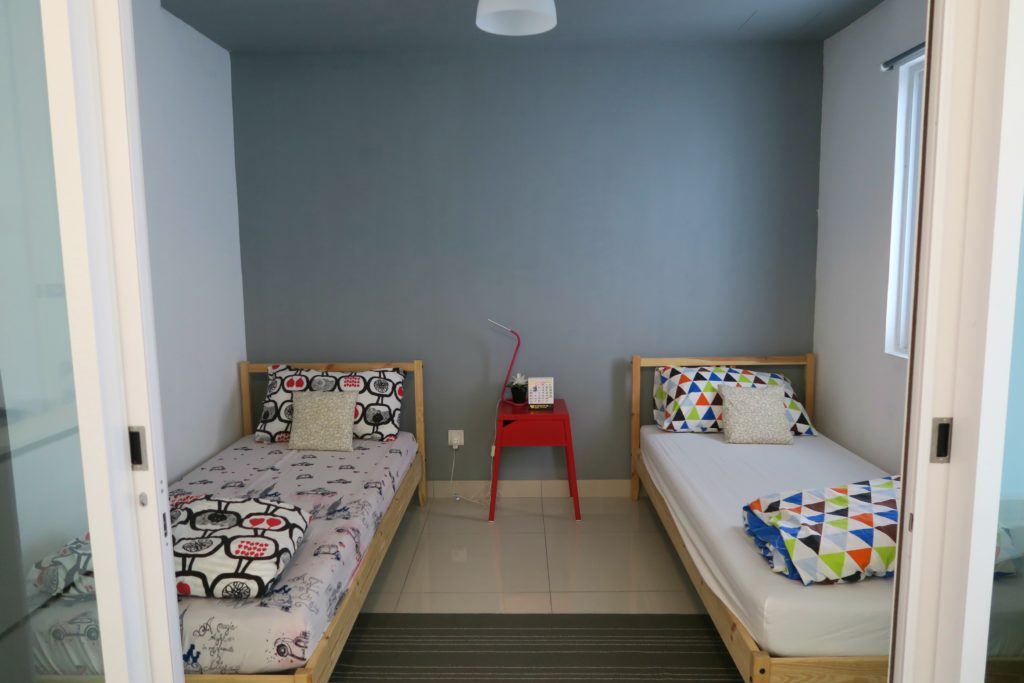 On level 24 there is a rooftop garden area with some tables and chairs. It's the top floor of the tower and looks over the ocean. I never saw anyone up here, so if you want a bit of self reflection time, keep this spot in mind.
Maritime has their own entire food court/automall. So right downstairs there are countless restaurants of all types of food, cafes such as Starbucks, bars, and a spa with reasonably priced massages. For our first night we opted for a Thai DIY BBQ. That made for a hilarious experience for us as we had no idea what to do. And in turn it made for a hilarious experience for the staff who got to witness it all! All the restaurants were priced pretty cheaply (you do get a range of places here from upper class to easy eating). You can tell the Maritime area was a very nice area, but the prices stayed decently cheap. You can easily grab a meal with a drink for $6 pp…. This is why I love Penang!
SAFETY & SECURITY
Like a said before, Maritime is a very nice location (you'll see that as you pass by all the BMWs, Mercedes, and the odd Lambo in the Automall parking lot) and I felt safe here the entire time. Actually Malaysia as a whole I found to be a very safe country, similar to Singapore. If you're a female traveling alone or maybe you have small kids, this place is absolutely perfect. The apartment building also has security out the front and you have to scan your pass before being able to access the elevators.
LOCATION
Penang isn't a large island overall. It doesn't take too long to get from A to B (except maybe if you're battling the 5pm traffic). So even though Maritime is a little out of the popular George Town, it's super easy to get to. In fact, I preferred being a little outside of all the craziness. Ubers in Penang are among the cheapest i've ever seen; with the cost to getting to George Town only coming to about $2-3 … If that!
Staying at the apartment it was easy to access transportation, have countless food options, there's a laundromat a 5 minute walk away, and the waterfront is on your doorstep. The track along the waterfront also makes for a good sunrise jog (sunrise isn't till almost 7:30am so it's not too hard to actually wake up for the sunrise!).
Overall, this has been one of my most favourite accommodations during my 2 years of traveling. If there's one bad thing to say about this place it's that the apartment was too nice to actually want to leave and go exploring haha! I would easily book this place for a couple of months and live here a while. I totally recommend to put this place down as your accommodation option for Penang.
You can check out the listing on Airbnb here.
And remember if you don't have Airbnb yet, you can sign up here and get $50(NZD) off your first stay! That's like a free night's stay!
Enjoy your time in Penang 🙂
I was lucky enough to be invited as a guest by Alvin and Danny to stay in this beautiful apartment. But as always, all opinions are my own.