My Paris to Nice road trip has been one of my highlights of this European adventure in 2017. I spent a lot of time planning this France road trip; it was my first time coming to France and I was after the perfect mix of classic French culture and beautiful scenery. In my opinion, I feel I hit the nail on the head with this itinerary!
10 Days In France
For a road trip, you will want to allow yourself at least 10 days in France. In these 10 days we only went to 4 different spots, having to miss out some other top picks (which I will mention later on for those with more time to spend in France).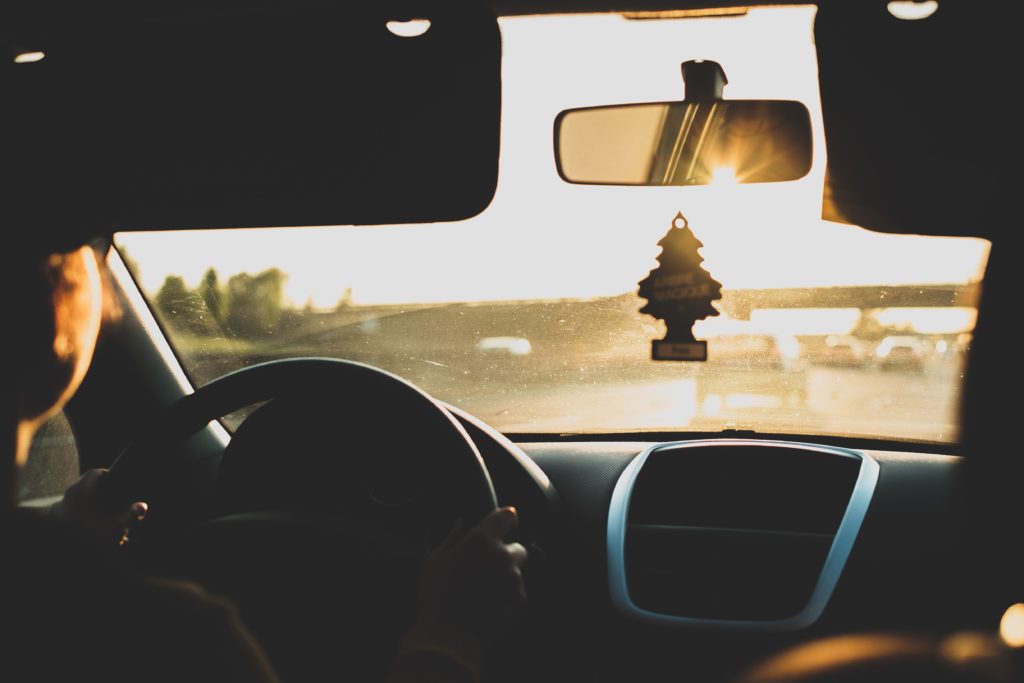 France Road Trip
Remember if you're starting in Paris and flying out of Nice, you will only need to hire a car from the day you plan to leave Paris, till the day you plan to arrive in Nice. Both Paris and Nice have great train systems so you can get around easily. A car would go to waste in these two cities. You may as well save some cash and not hire a car for those days.
I used AutoEurope for my car rental booking. This is the site I use for all my car rentals as I find they give the best price and customer service. They're a third party site that finds you deals with rental companies such as Hertz, Europcar, and the rest.
In France they do drive on the right side of the road (not ideal being from New Zealand where we drive on the left!). Also, we didn't need an International Driving Permit (IDP/international license) when renting the car. Though, most recommend you have one just incase. We had no issues during our Paris to Nice road trip.
France Road Trip Itinerary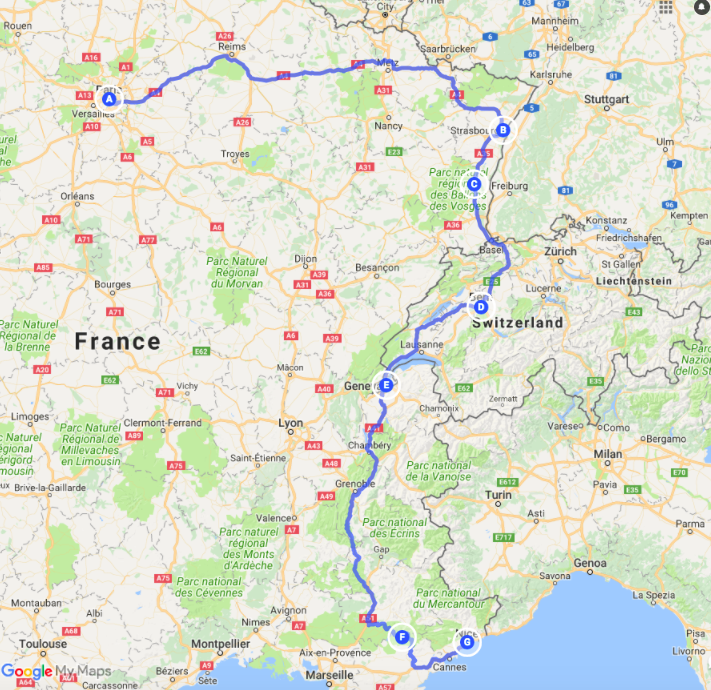 A = Paris / B= Strasbourg / C= Colmar / D= Bern / E= Geneva / F= Verdon Gorge / G= Nice
Paris To Nice Road Trip
3 Nights In Paris
Paris is a big city! If you've never been to Paris before, like I hadn't, then 3 nights in Paris should be perfect for you. That gives you 2 full days to explore!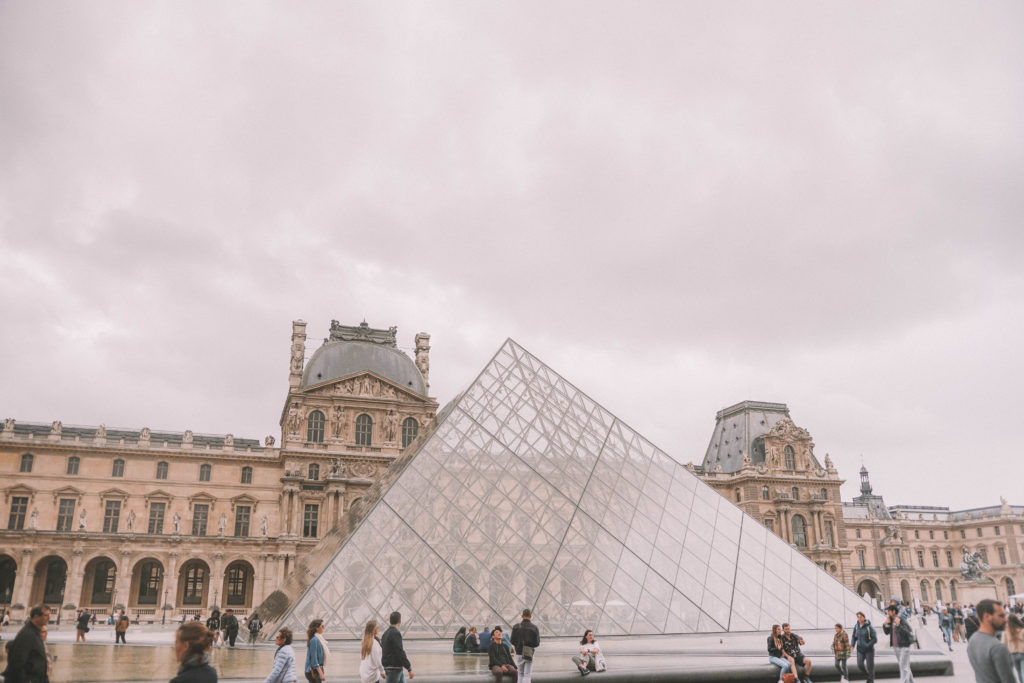 Day 0: Arrive into Paris and make your way to your accommodation.
Day 1 & 2: Spend your days exploring Paris! Some hot spots include the Eiffel Tower (duh.), Sacre Coeur basilica, Montmartre, Arc de Triomphe, Louvre, the Catacombs, the Latin Quarter, and the Notre Dame… Just to name a few!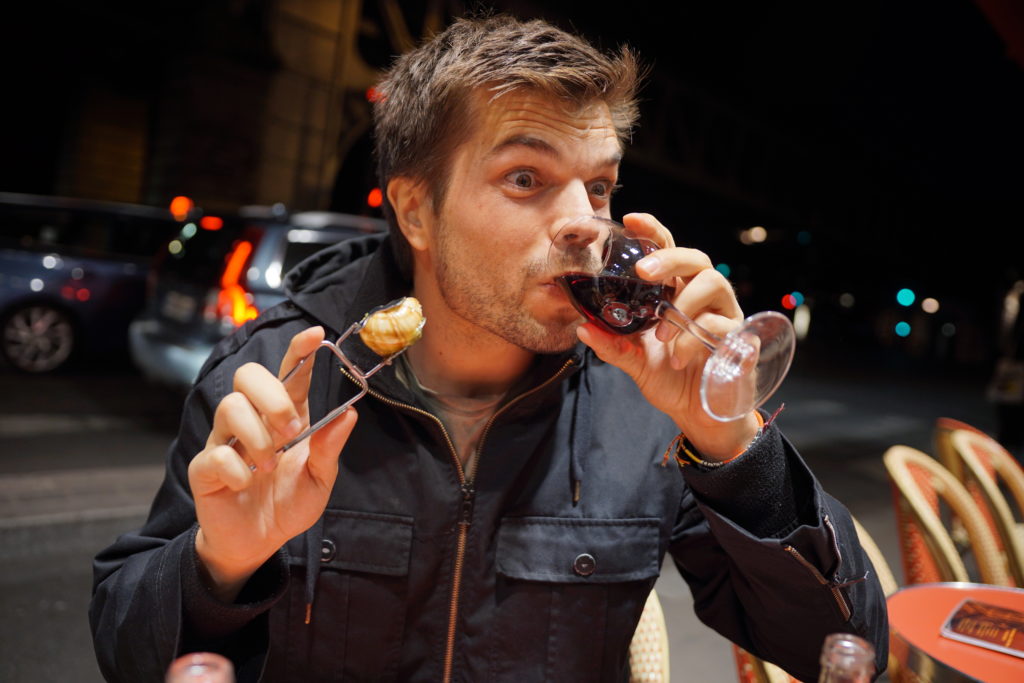 Here's my post on how I winged my time in Paris (if you're like me and useless at planning!). We did a hilarious city tour in a 2CV, ate snails, watched the Eiffel Tower sparkle at night, and tried macaroons for the first time! You can also watch our Paris video here.
For accommodation we stayed at Hotel Gustave. We wanted somewhere close to the Eiffel Tower and the train system to make our time here easier and Hotel Gustave was perfect for this. Here's my review of our stay!
2 Nights In Colmar
Day 3: It's time to pick up the rental car in the morning and make your way to the most picturesque town you may ever see… Colmar! (Drive A to C on the map)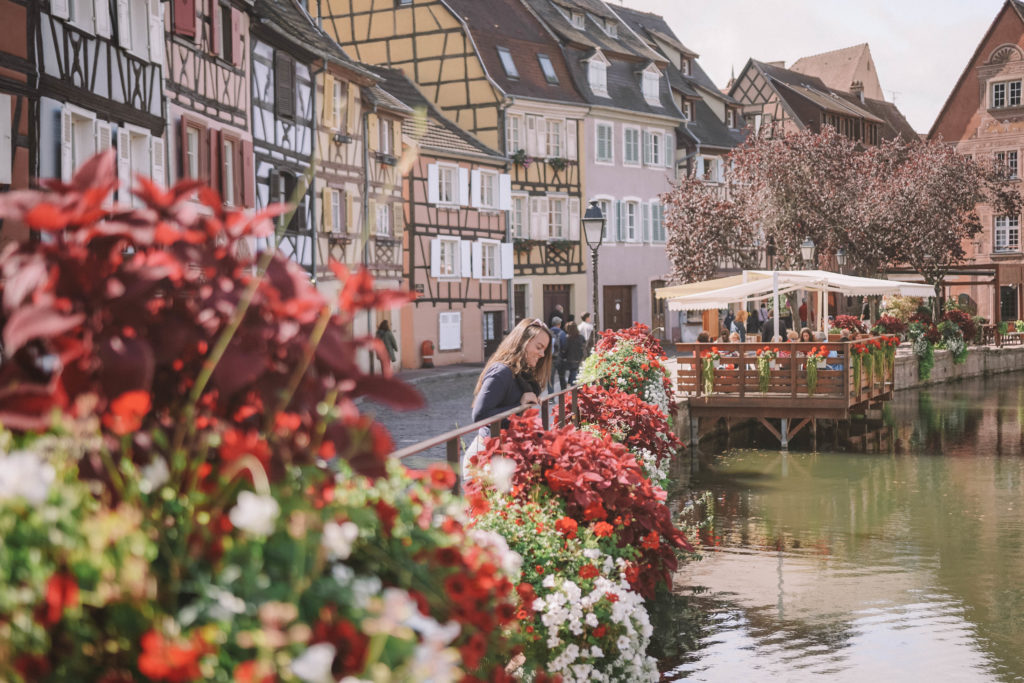 Colmar is about a 5.5 hour drive East of Paris. It's right near the German border; which becomes obvious once you see the blend of French/German architecture and culture. You can check out my thoughts and photos of Colmar over on my post here. It really has become one of my favourite European towns… You can tell from my excitement in our Colmar video haha.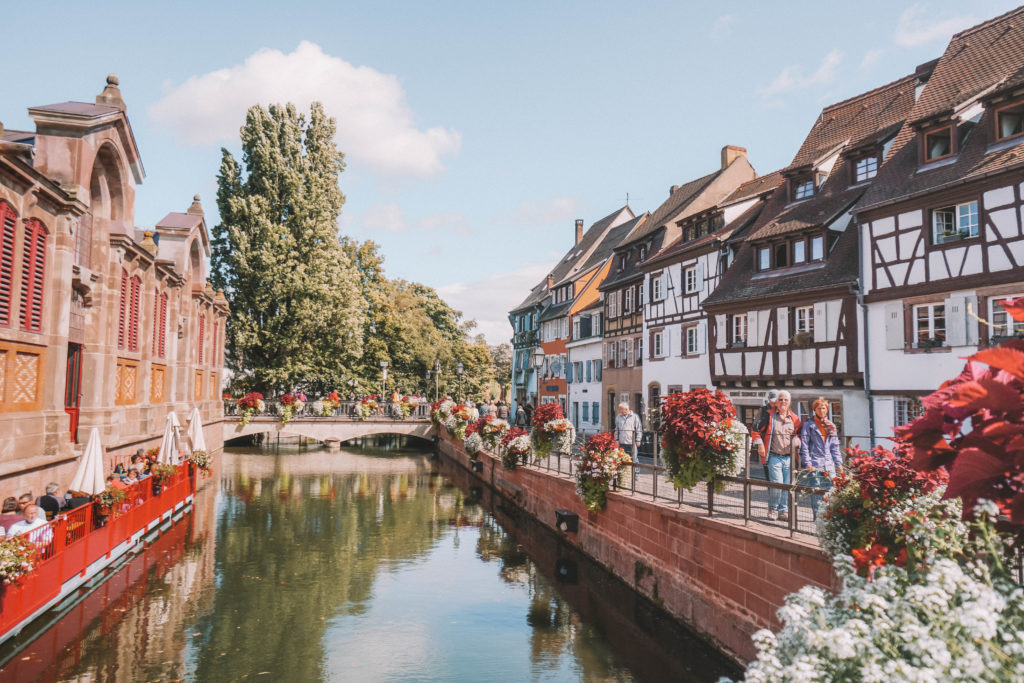 One of the routes from Paris to Colmar takes you through the neighbouring town of Strasbourg. It's one hour north of Colmar, and is super beautiful! If you have time, take a little stop in Strasbourg before continuing to Colmar. (Point B on the map)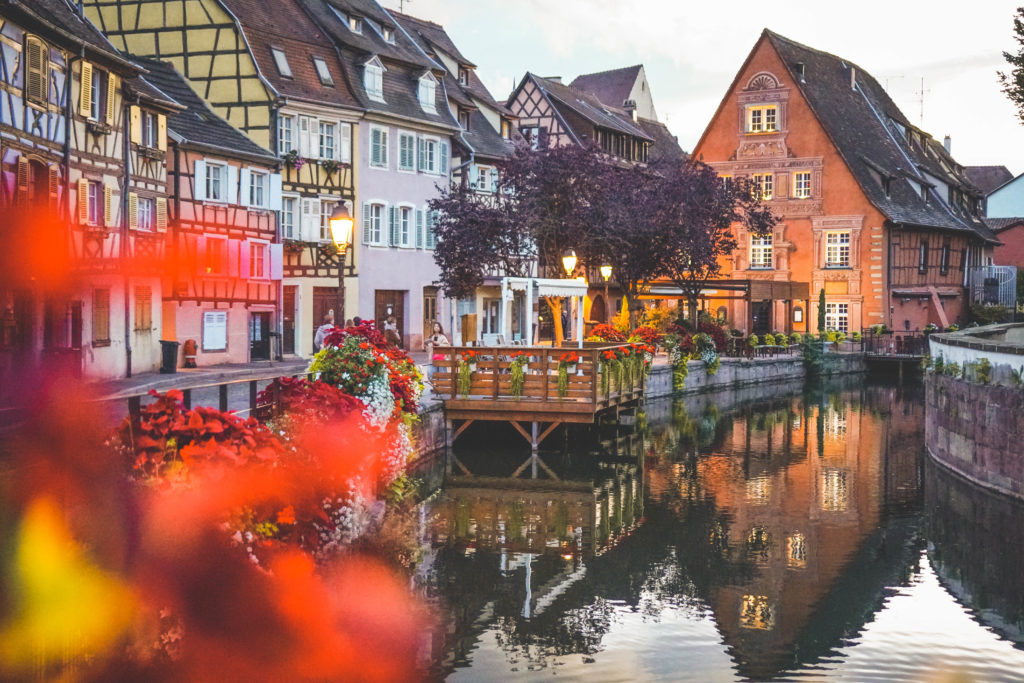 Day 4: Spend the day exploring the quaint cobblestone streets of Colmar. Take a boat cruise through the canals, have lunch in one of the many cafes, and take copious amounts of photos of the gorgeous buildings!
*We spent 2 nights in Colmar, but you can see everything in one afternoon and evening if you leave Paris early in the morning.
3 Nights In Verdon Gorge 
Day 5: Drive from Colmar to Verdon Gorge via Switzerland! (Point C to F on map)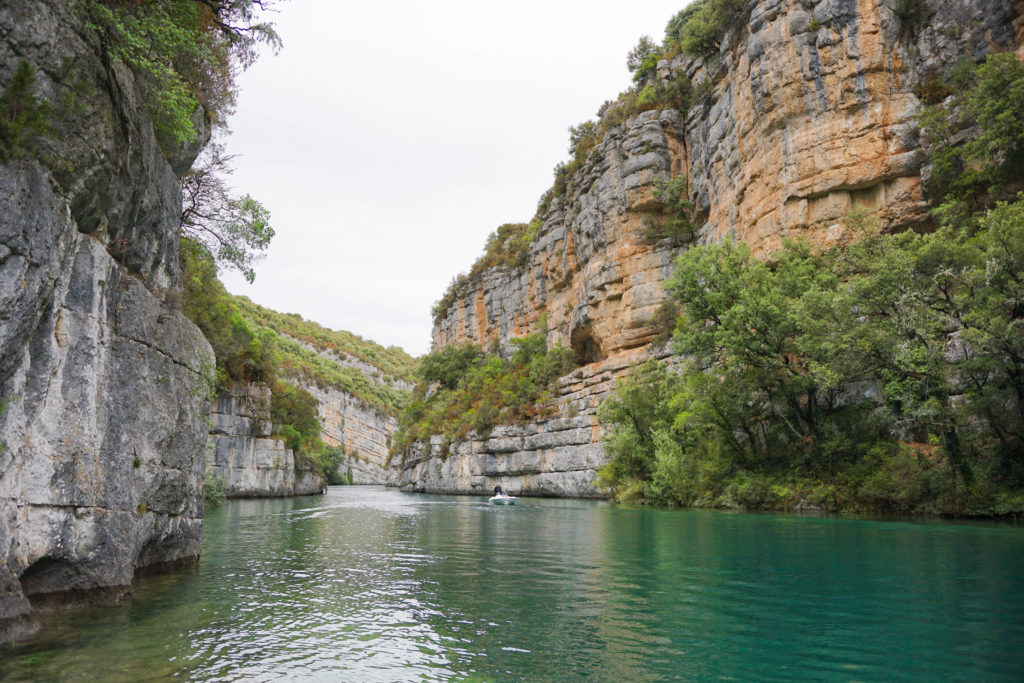 This beautiful drive takes you through the Swiss cities of Bern (D), and Geneva (E). You can see the video of our drive over on Nate's Facebook here.
*Warning this is a long drive. It took us 13 hours to get from Colmar to Verdon Gorge; stopping several times in Switzerland along the way. The direct drive from Colmar to Verdon Gorge via Switzerland is about 8.5 hours.
**If a long drive like this does not appeal to you, either knock one night off Colmar, Verdon Gorge, or Nice, and add in one night half way between Colmar and Verdon Gorge. Annecy is a good option to stay. This is one place I would have loved to have come to if we had the time.
Day 6: After a good sleep, pick a hike to do for the day. Verdon Gorge is perfect for hiking. If you have time before/after the hike, explore nearby villages like Castellene. Unwind after the hike with drinks, dinner, and hopefully a beautiful sunset!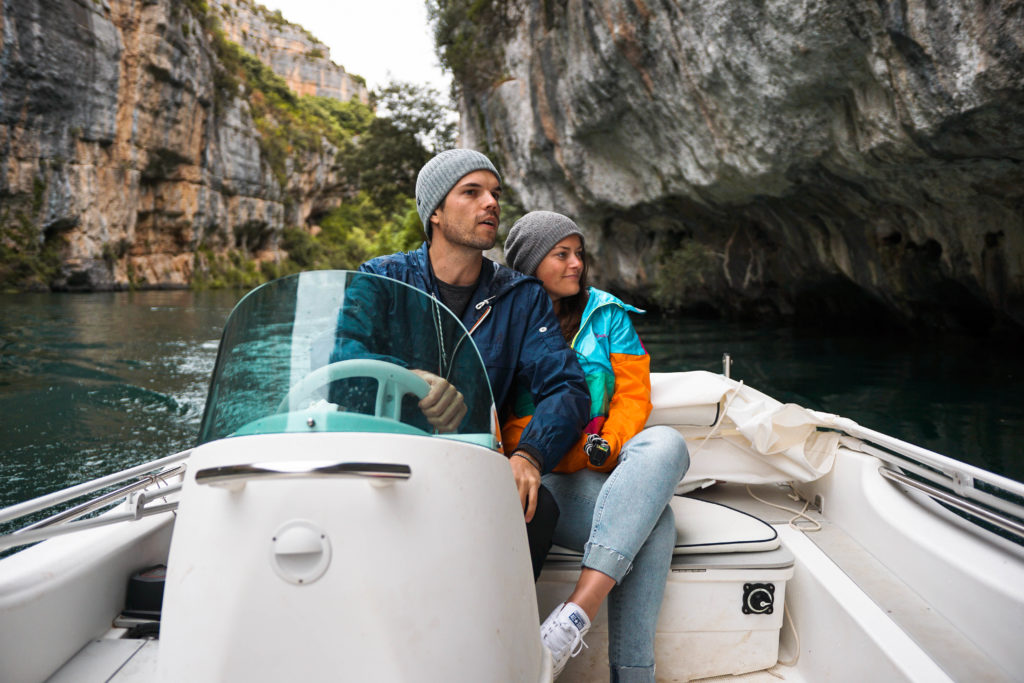 Day 7: One thing you must do in Verdon Gorge is hire a boat (or kayak) and explore the gorge on your own. Allow at least a few hours for this.
For more activities and info on Verdon Gorge, check out my guide to the gorge here and our video on the gorge here.
3 Nights In Nice
Day 8: Drive the final 2.5 hour leg to Nice. (Point F to G on the map)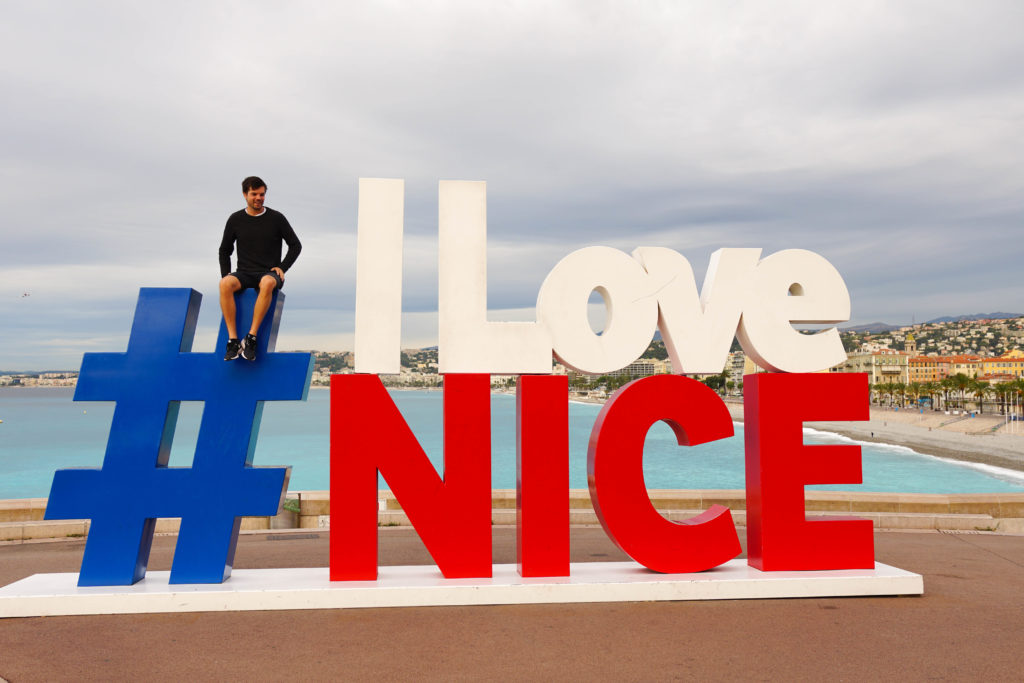 If you have time, you can drive through Cannes and Antibes. Drop your luggage at your accommodation then continue to drop off your rental car at your organised end point. Train or Uber back to your accommodation and unwind for the day.
Day 9: Explore Nice! Beautiful beaches, cool shops, restaurants, and an incredible old town! You can easily lose a day here sightseeing and relaxing on the beach.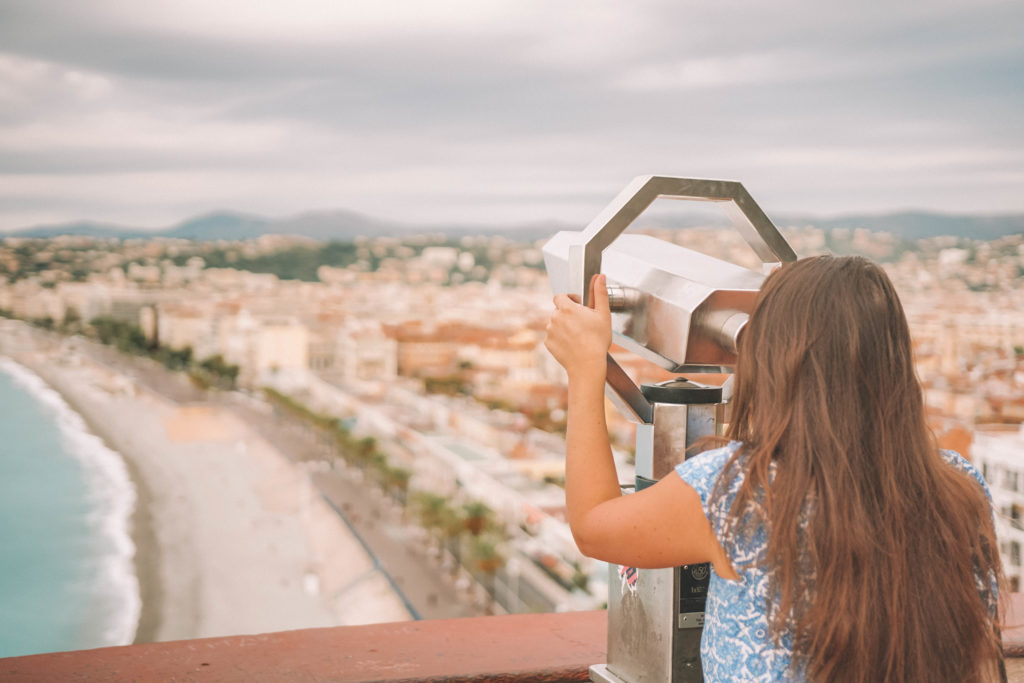 Day 10: Take a trip to Monaco!
Nice To Monaco Day Trip 
One popular thing to do when in Nice is take a day trip to Monaco… It's right next door, so why not?? All you have to do is jump on the train for 30 mins, and you're there!
One tip would be to book the train tickets online if you can. The lines for the ticket machines when we came to the station were crazy! Heading back the other way was fine though.
If you're not too sure what to do in Monaco, it is easier to jump on one of the hop on hop off buses. I know, I know, they're super touristy… But embrace it! It makes getting around so much easier. And you can't deny you learn a lot too!
Here's our vlog of our Nice to Monaco day trip.
For our accommodation in Nice, we used Airbnb. I found it a lot more cheaper than a hotel. Especially for the fact you get a house/apartment. We stayed right in the old town which was the perfect location!
*If you're not yet registered on Airbnb, you can sign up with my referral link here and get at least $25USD off your first stay.
Additional Places For Your Itinerary
Champagne

Strasbourg

Annecy

Marseille

Cannes

Antibes
Enjoy your France road trip!
PIN IT!