Just before Christmas we were invited to Morzine, France for a luxury ski getaway with TG Ski; a luxury ski chalet company that operates in both Morzine and Meribel. Being a complete ski novice… Well, a complete snow novice if I'm to be totally honest, I thought I would share my experience in Morzine with TG Ski to perhaps help other newbies plan for a snow trip. It really was a winter weekend to remember.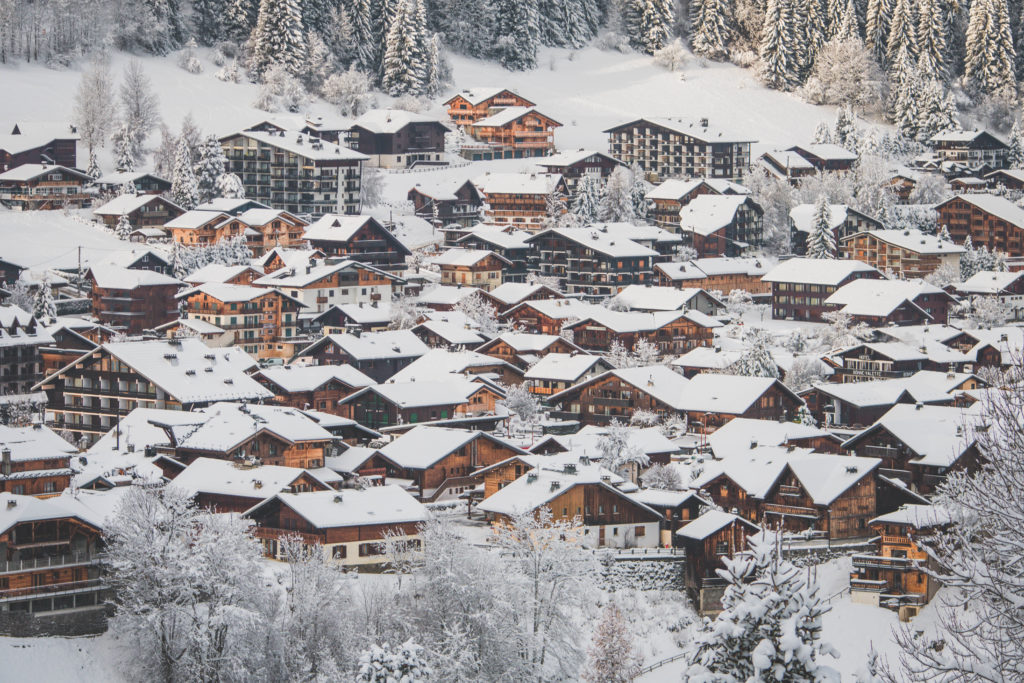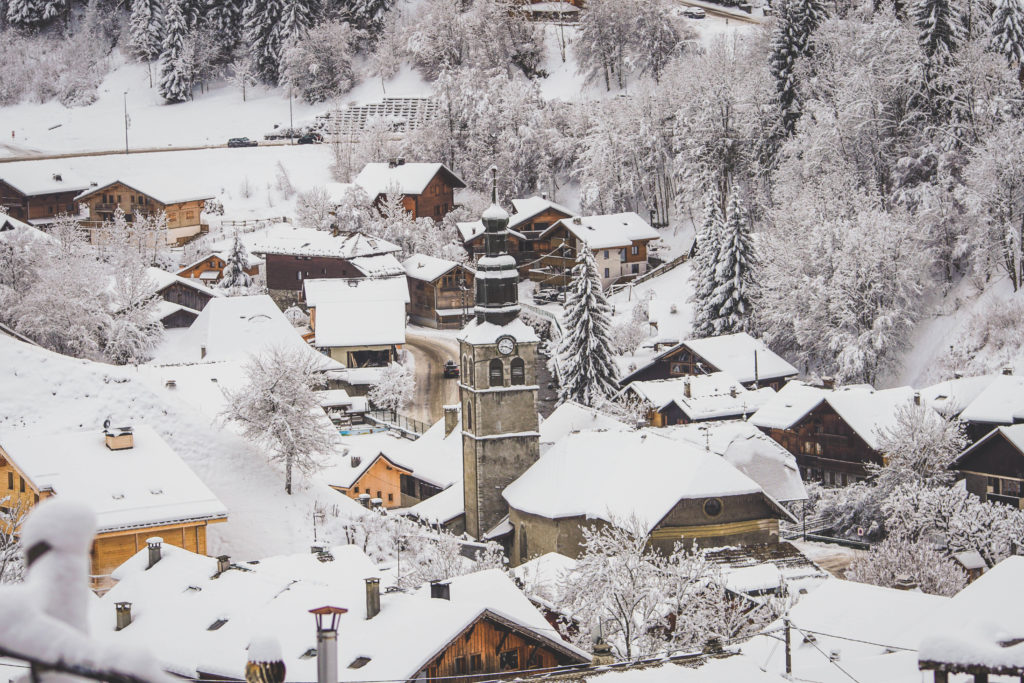 GETTING THERE
Flying with Easy Jet from London, we arrived into Geneva at about 8:30pm. TG Ski had already organised a transfer for us, so in no time we found ourselves in the van and making our way out of Switzerland and into the French Alps! Our chalet was about an hour and 10 minute drive from Geneva airport, and the further we drove, the thicker the snow became. By the time we made it to Morzine, I was bouncing in my seat with excitement. I had never seen so much snow in my life… And it was only the beginning!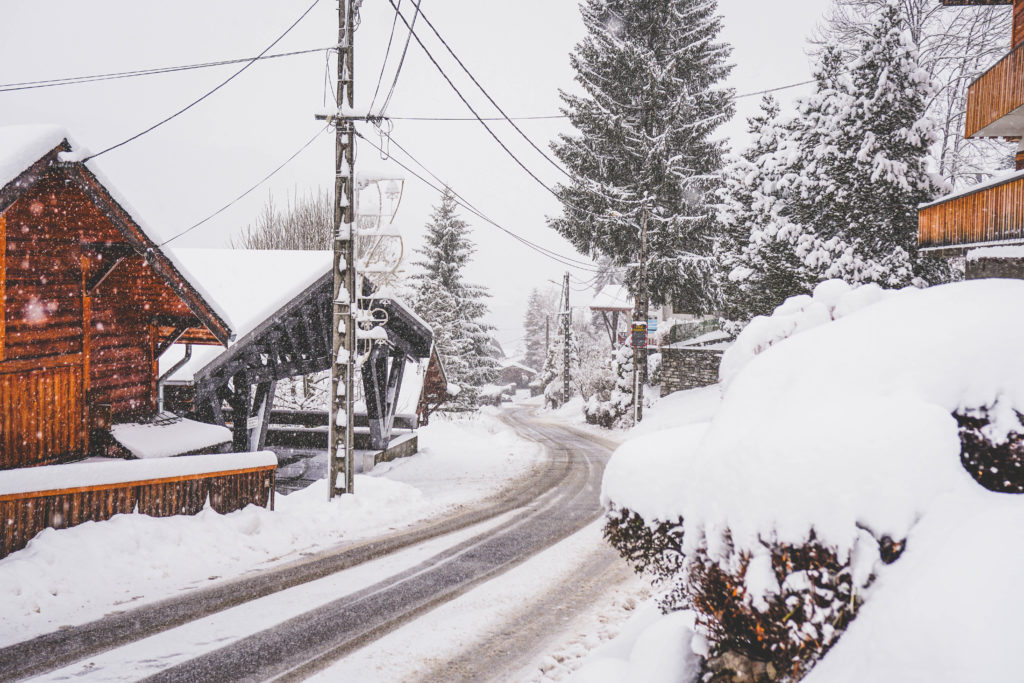 Arriving to our chalet, we were greeted with champagne in the main dining and lounge area. We met our chalet's front of house staff, Emily and Ross, and the in house chef, Pierre. Though we arrived in late and missed dinner, we did make it in time for the cheese boards. The cheeses were exquisite (big cheese lover here), and I followed it with some delicious red wine that was flowing at the table. I can happily say, this arrival was the best I've had 😉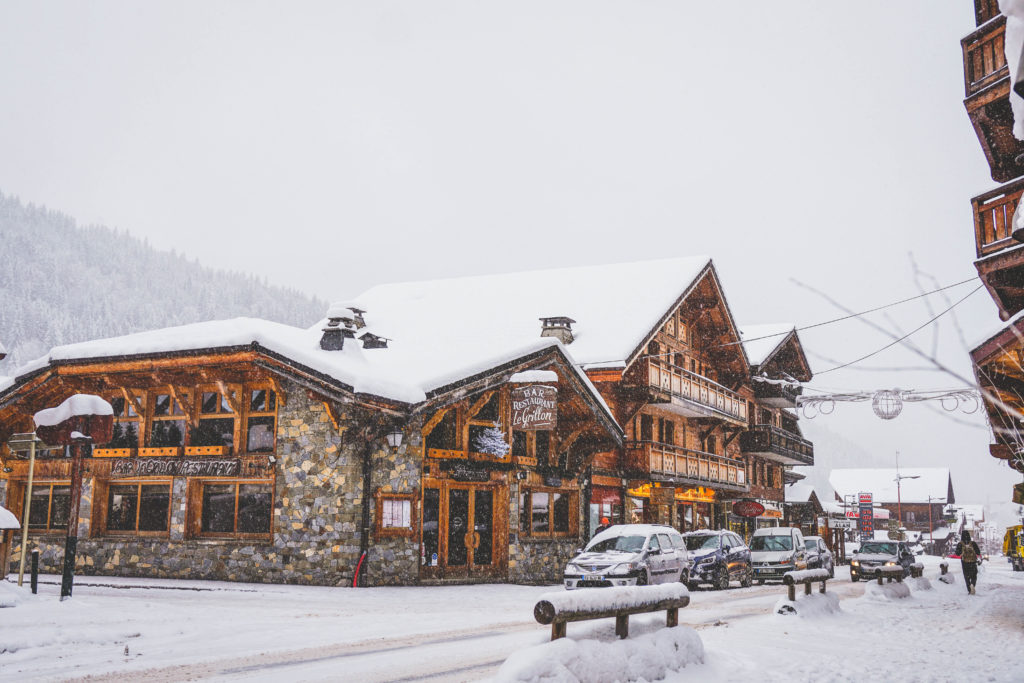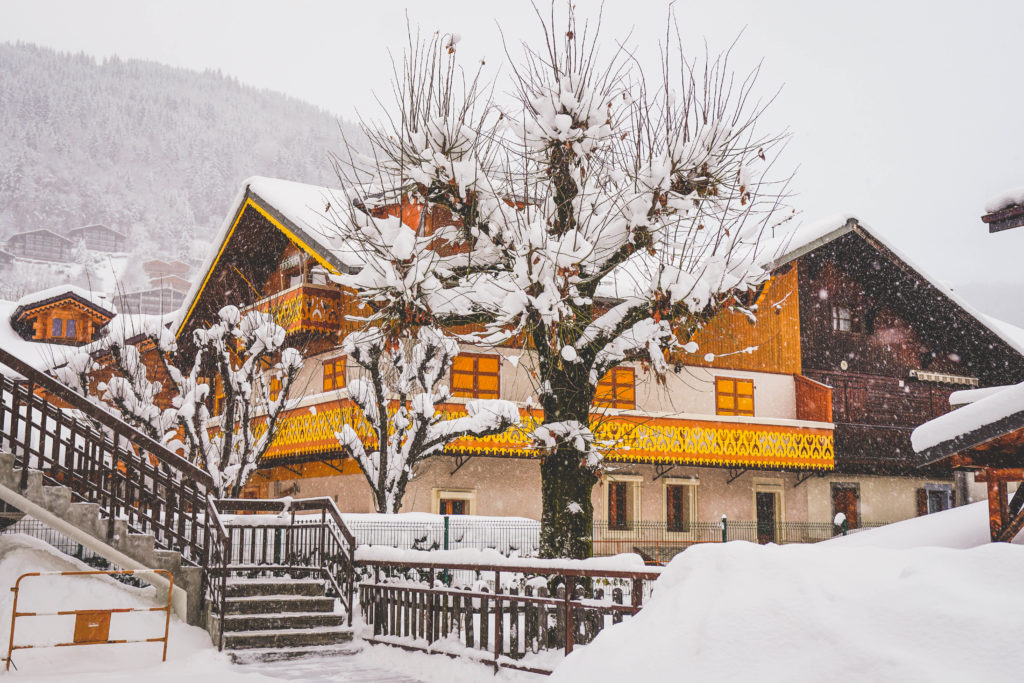 WAKEUP CALL & BREAKFAST
We let Emily know that she could wake us with a cup of coffee in the morning, so at 8am there was a light knock on the door and two steaming cups of coffee sitting, waiting for us. A good start to the day if you ask me! Opening our curtains we were greeted by the spectacular view over Morzine and the surrounding mountains. Stepping onto the icy balcony with no shoes on was a refreshing wake to the senses.
Making our way out to the dining room, the table was set with a continental breakfast. There were fresh berry smoothies, orange juice, tea, coffee, nutella crepes (YUM), croissants, cereals, and breads. Pierre came out and let us know what was on the menu for the cooked breakfast. Salmon, eggs, and asparagus – count me in! I basically ate everything on the table and didn't regret one bite!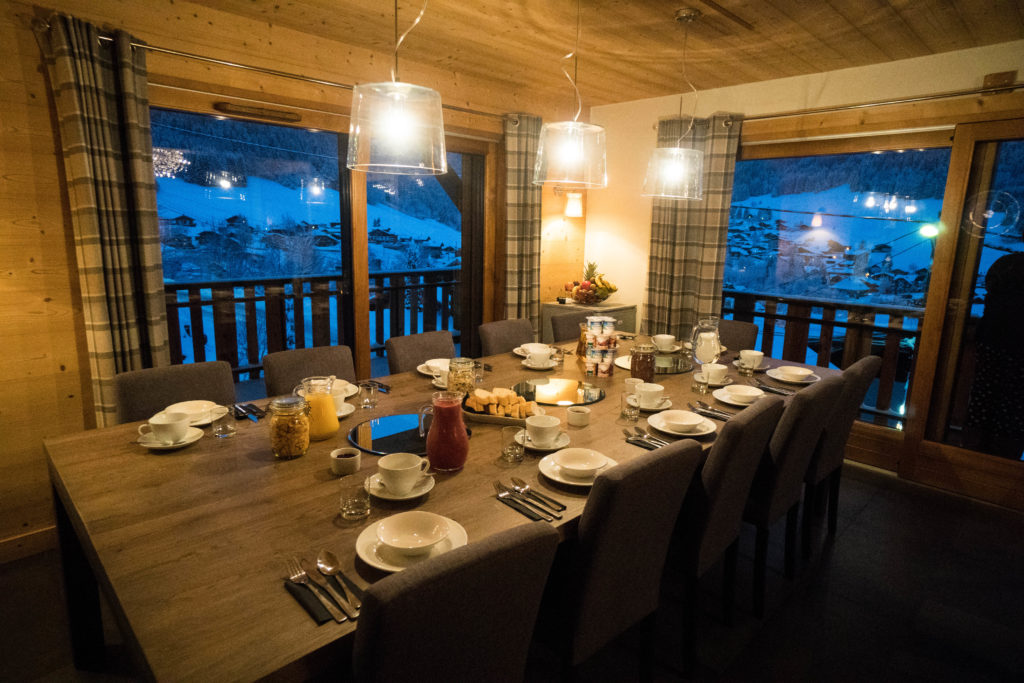 The view from the dining room table is gorgeous as well. You can watch the first light of day touch the mountains and spread over Morzine. To say it was a breakfast to remember is an understatement!
SKIING IN MORZINE
Straight after breakfast we were fitted for our skis and boots. Downstairs of the chalet is a large entrance area with a separate boot and cloakroom. This is where we were fitted for our gear (prior to arriving, TG Ski arranged for Doorstep Skis to come and fit us). This was super handy to have them turn up and not have to go somewhere to get it done. As a newbie to all of this, it really put the pressure off and we could just enjoy our morning at the chalet instead of running about town finding somewhere to hire from.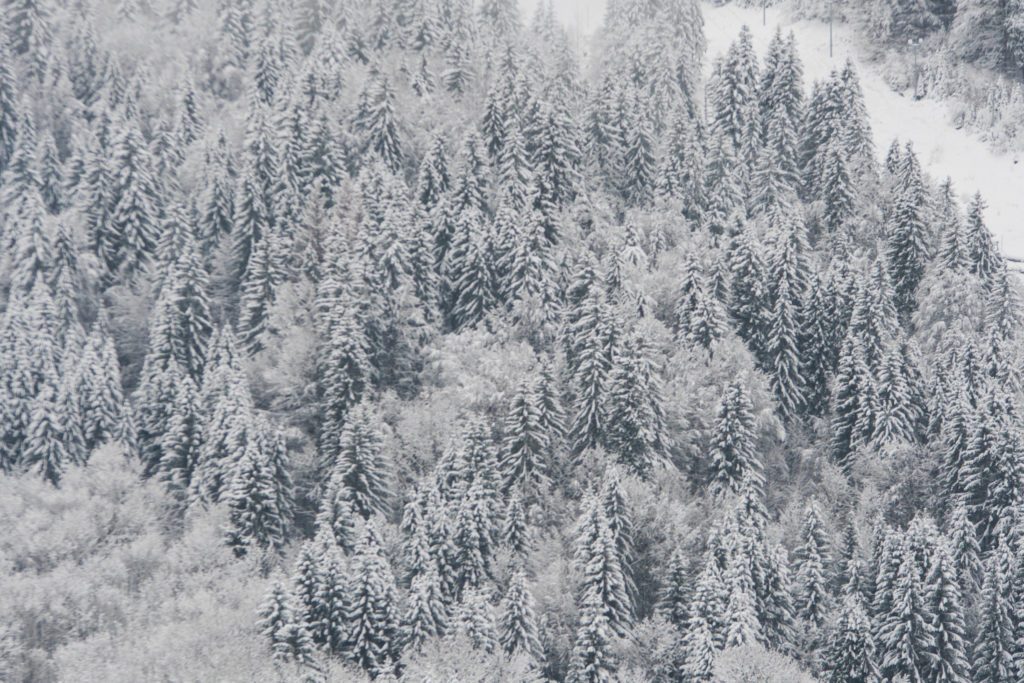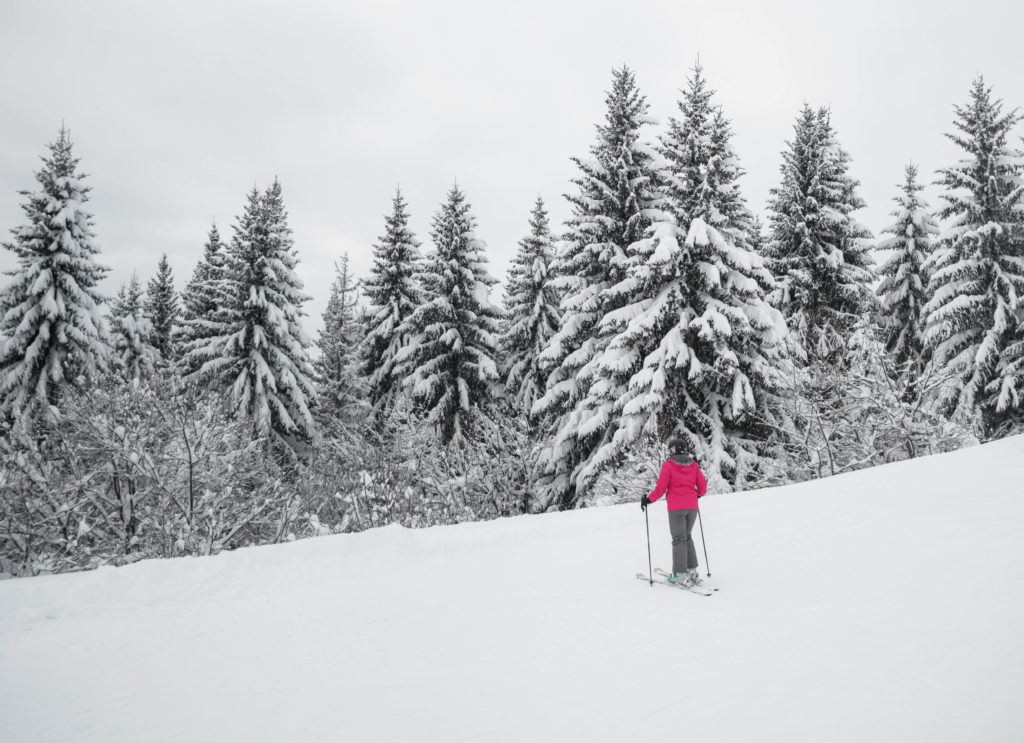 Once all fitted, we were good to hit the slopes for our first lesson. We were driven by one of the TG Ski drivers and dropped off right at the cable cars. We were meeting our ski instructor up the top – also organised by TG Ski.
Sally from The Snow Institute was our teacher for two hours and I cannot recommend her enough. The lesson was fantastic and by the end of it, we were all feeling relatively confident for our first morning on skis. I won't lie, I was super nervous to begin with. But Sally was a great teacher and I liked the progression of the lesson. By lunch time we were doing some basic runs on our own.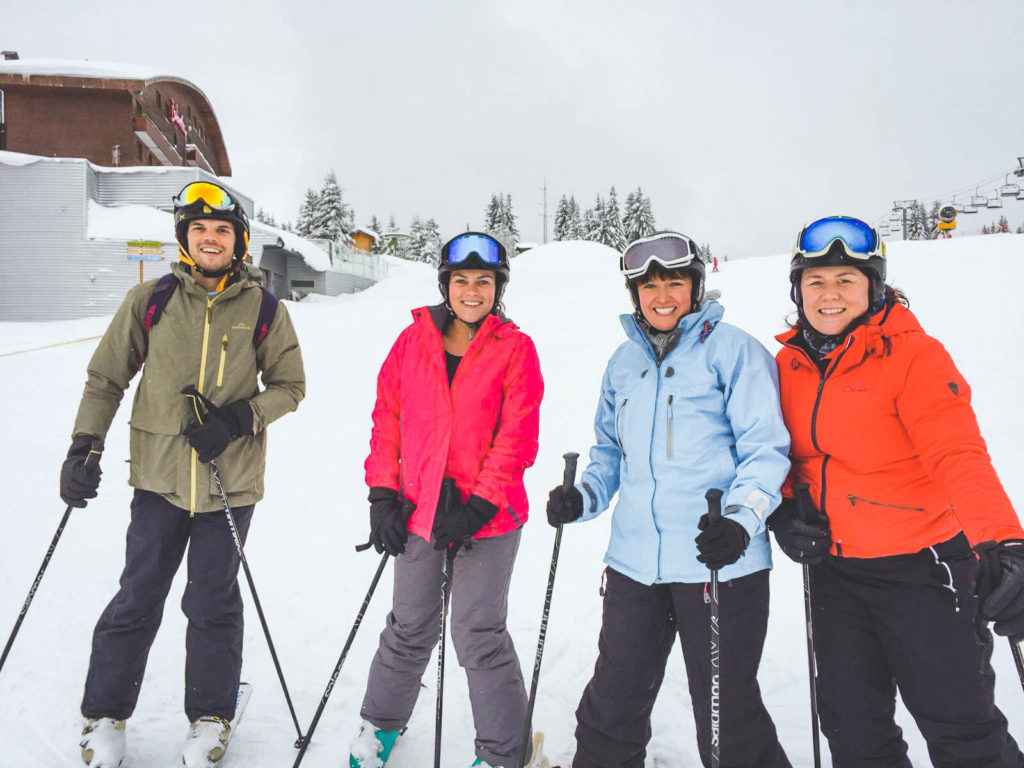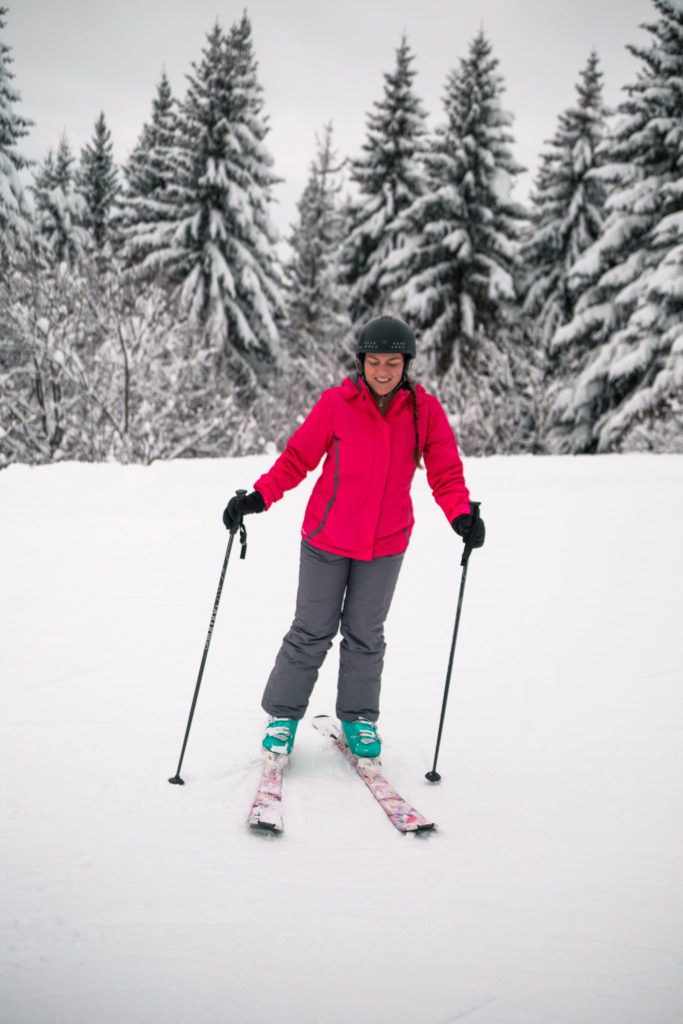 If you're not a beginner like I was, Morzine has various runs catering for all levels. You can take a lift to Avoriaz (a nearby area), or ski all the way to neighbouring towns. You can easily spend your whole day skiing or snowboarding among the beautiful scenery. It really is a picturesque landscape here.
Once it hit about 1pm we decided it was time to head back to the chalet. Calling a number we were given for the driver, we were picked up in about 10mins and taken back to our chalet. It's so great having easy transport like this which is included in the accommodation. It's just another thing we DIDN'T have to worry about… It's not often I get to say that!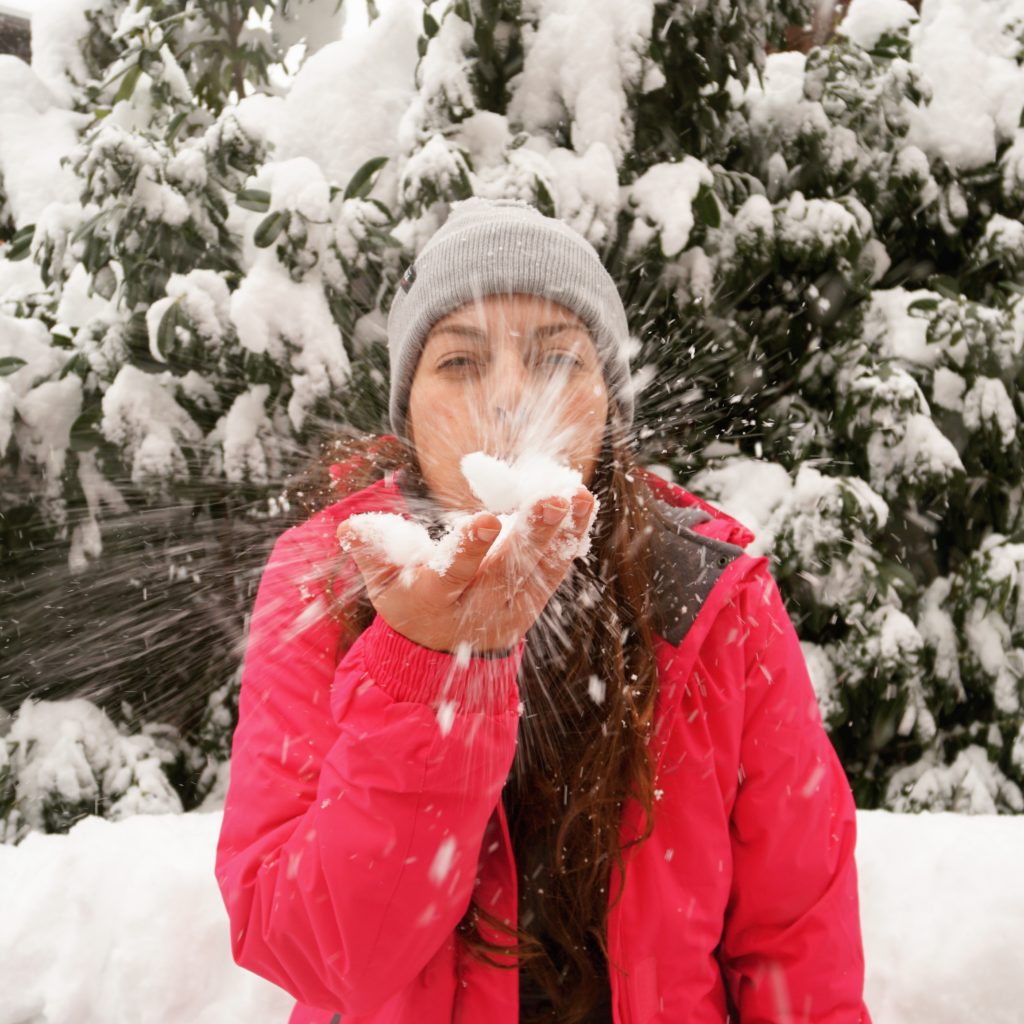 AFTERNOON TEA & HOT TUB
Some afternoon tea was left for us in the dining room (Pierre, Emily, and Ross break for the afternoon and arrive back at about 4pm in the afternoon each day). There was a loaf of French bread and portions of prosciutto, as well as tea, coffee, and a sweet cake which changed daily.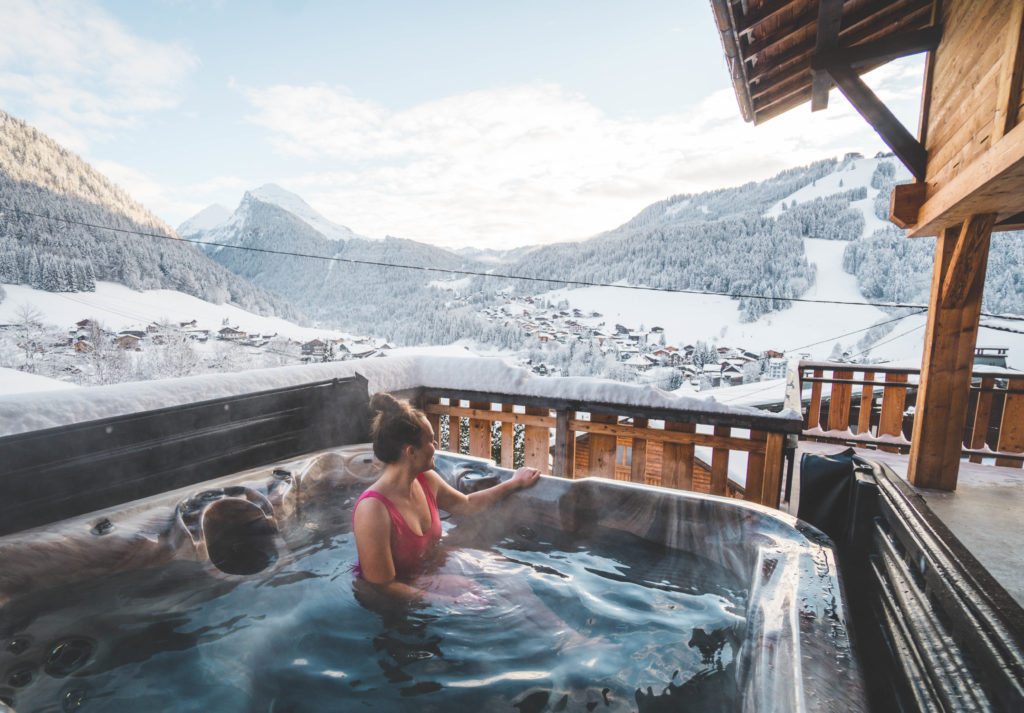 By now the tight muscles were beginning to set in and there's no better way to help relax than with a hot tub… And my god what a view we had from the hot tub on the balcony! You could spend hours in here just enjoying the view of the Morzine mountains. It's the best way to spend the afternoon after a ski.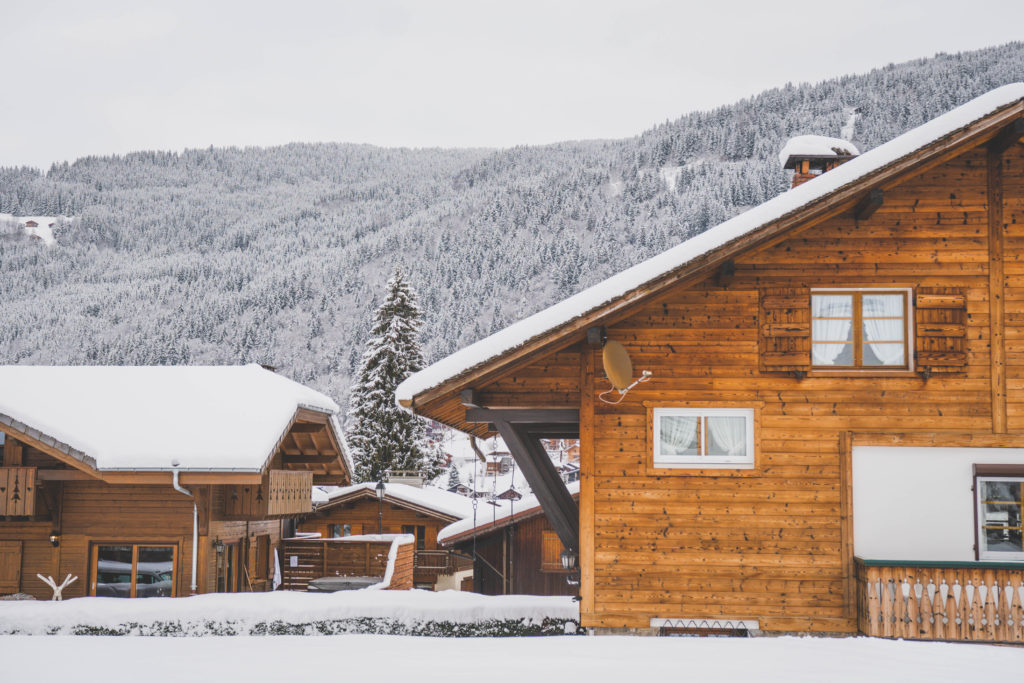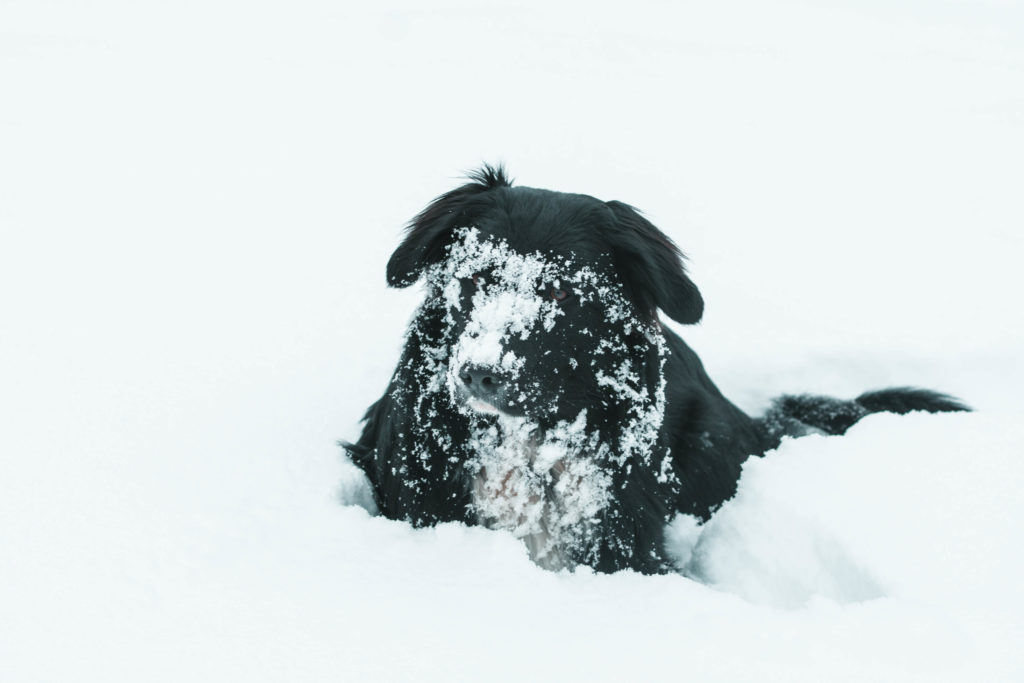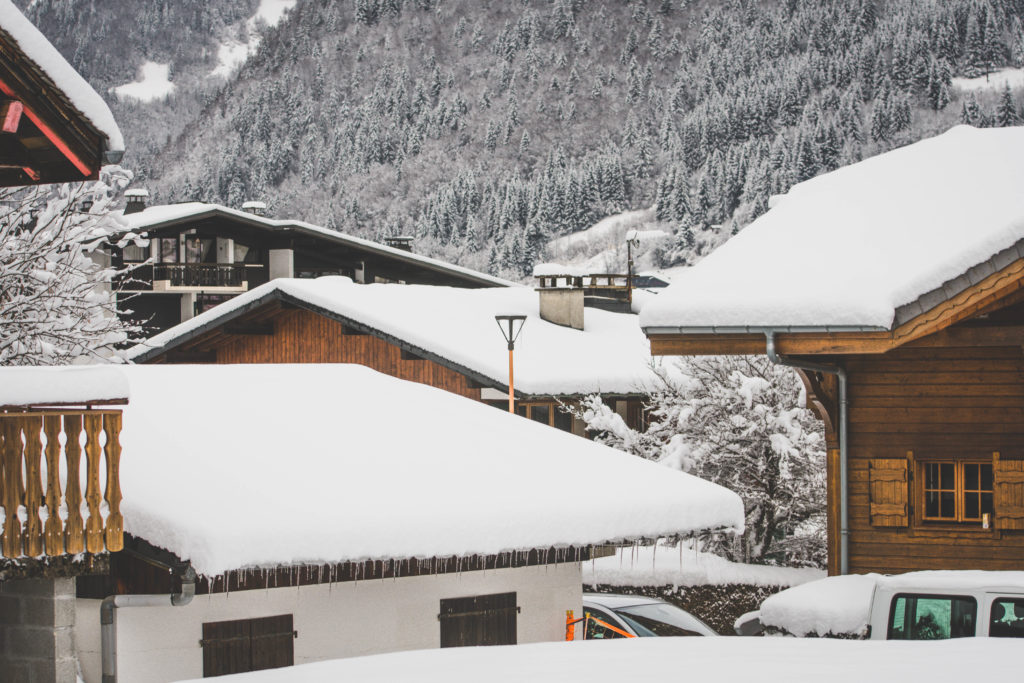 COCKTAILS, CANAPES & CHAMPAGNE
At 5pm each evening, Ross would set up a little cocktail station in the lounge and make us cocktails. Each night was a different cocktail, and he never disappointed with the taste!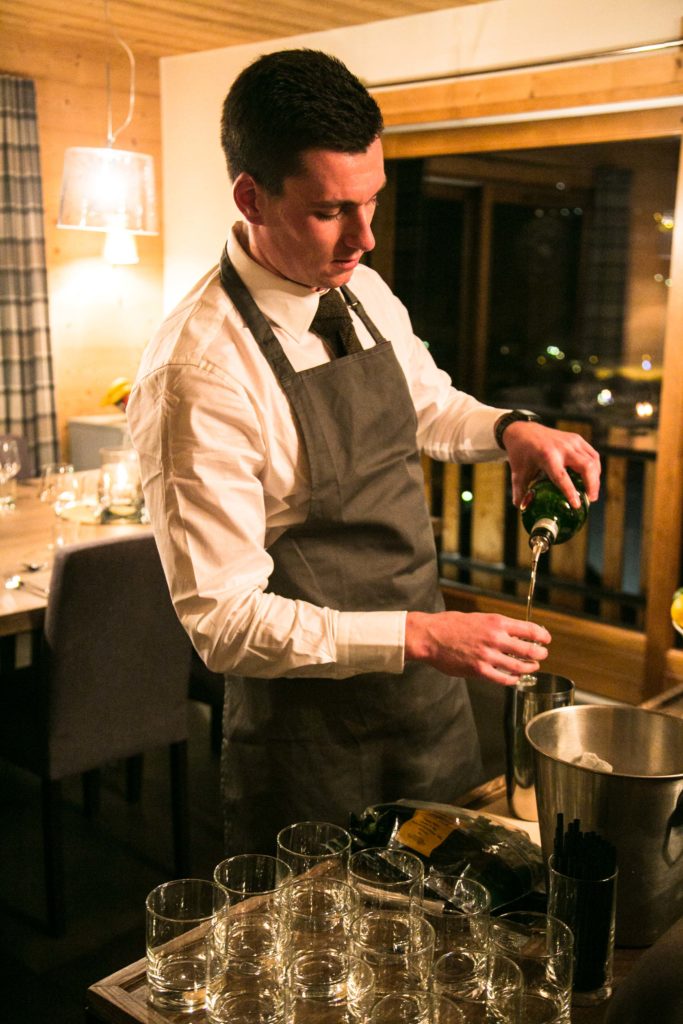 Then at around 6:30pm canapés were served by Pierre with champagne to match. This was a great way to socialise with the other guests and learn about what everyone did for the day. Ross and Emily were lovely, always asking how our day had been and up for a conversation.
DINNER
After canapés, we moved on to a 3 course meal. Each course was announced by Pierre and paired with a wine. I cannot express how amazing every evening was with the cocktails, canapés, champagne, and then a three course meal with paired wines. Luxurious and delectable are the two words I would use to explain it.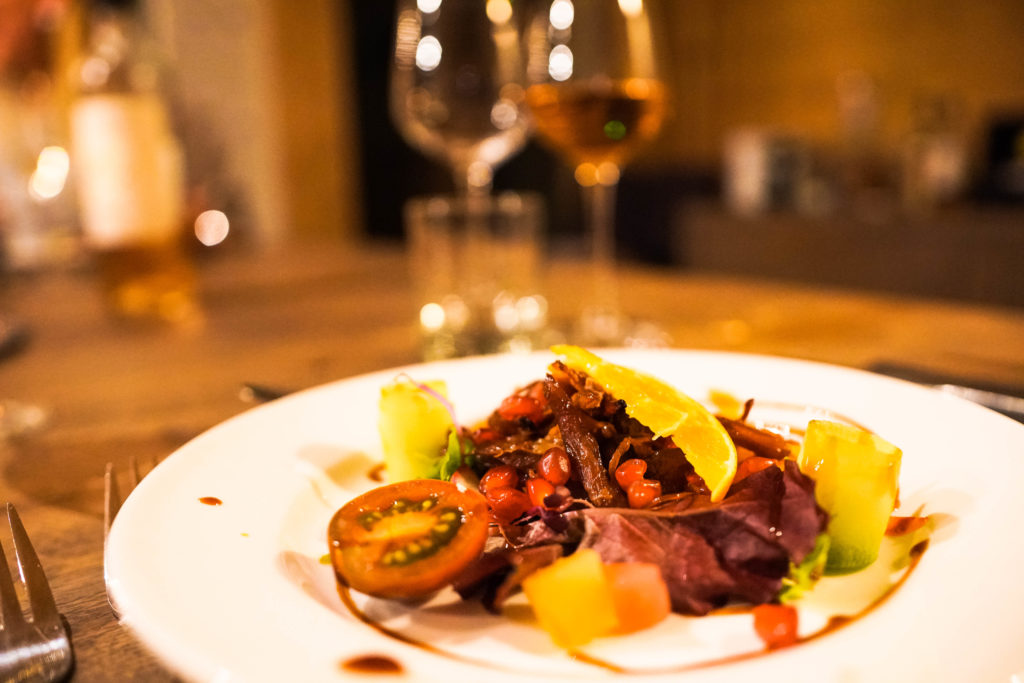 My favourite meal was perhaps the roast duck with mulled wine pear. I'm getting hungry just typing this haha. But I could not fault any of the meals at all.
After desert, a cheeseboard was served with port wine… And you tell yourself to stop eating, but you really do lose control with all this delicious food around you! I had to make the most of the experience 😉
If you're a foodie, then I highly recommend staying in a TG Ski chalet- you will not be disappointed with the meals.
THE CHALET
TG Ski has 10 chalet's in total, spread throughout Morzine (6 chalets) and Meribel (4 chalets). Our chalet was Chalet Les Pierrys from their Summit Collection which sleeps 12-14 people.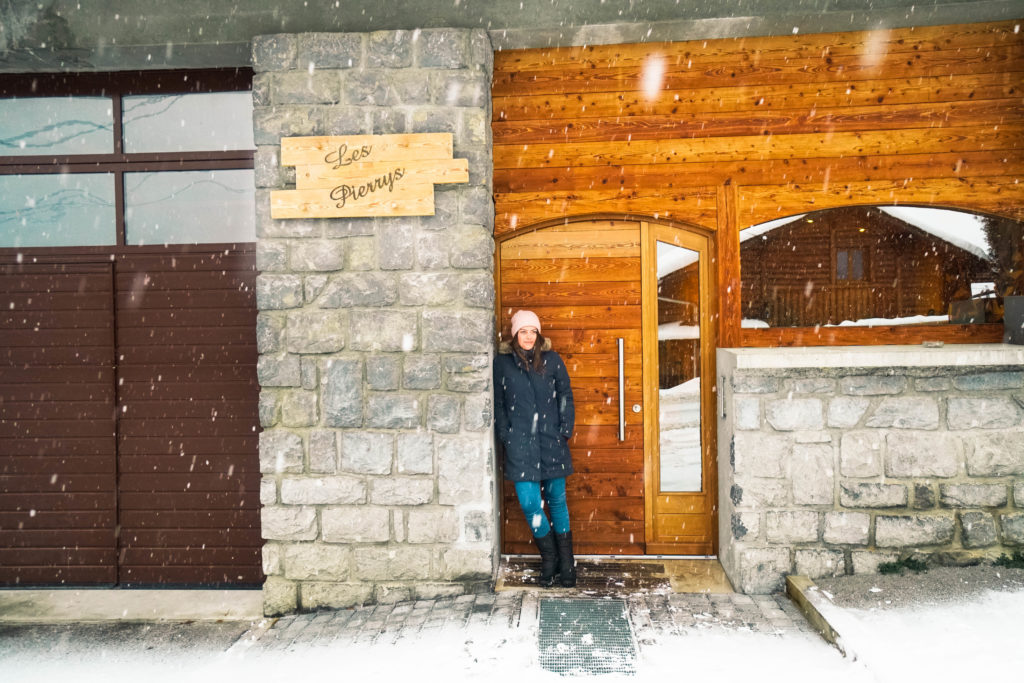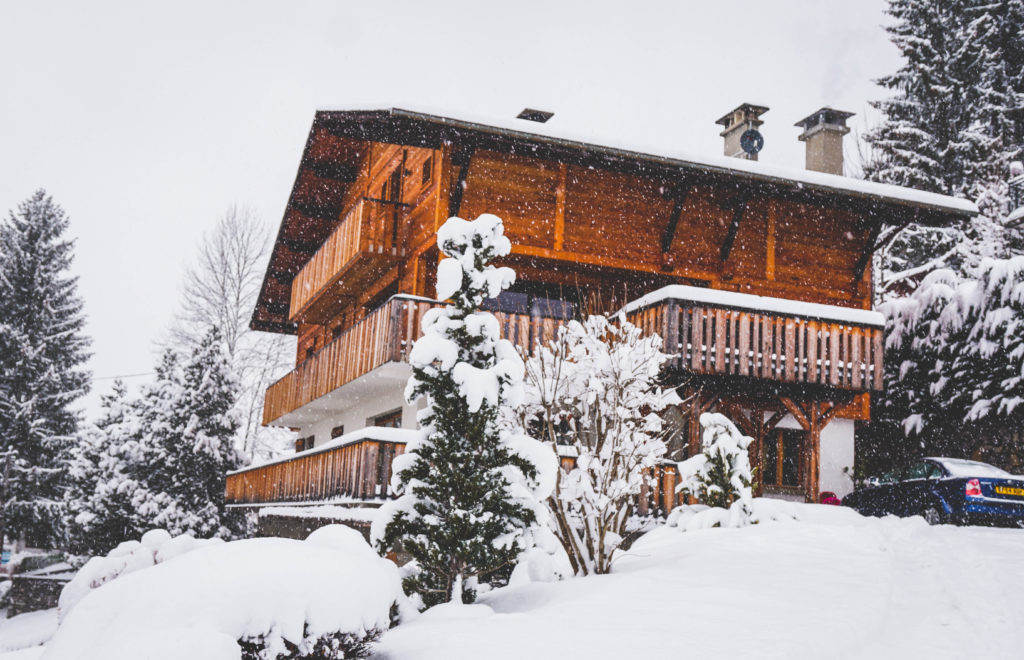 There were 3 accessible levels to our chalet. The first level was a large entrance area where you can hang your ski boots up on a warmer rack, and store your ski gear. The next floor is the open plan living room and dining room. The kitchen is also on this floor as well as several bedrooms with ensuites. The top floor were all bedrooms and ensuites. There's also an elevator to connect all the floors, which is definitely handy if you have sore legs after skiing!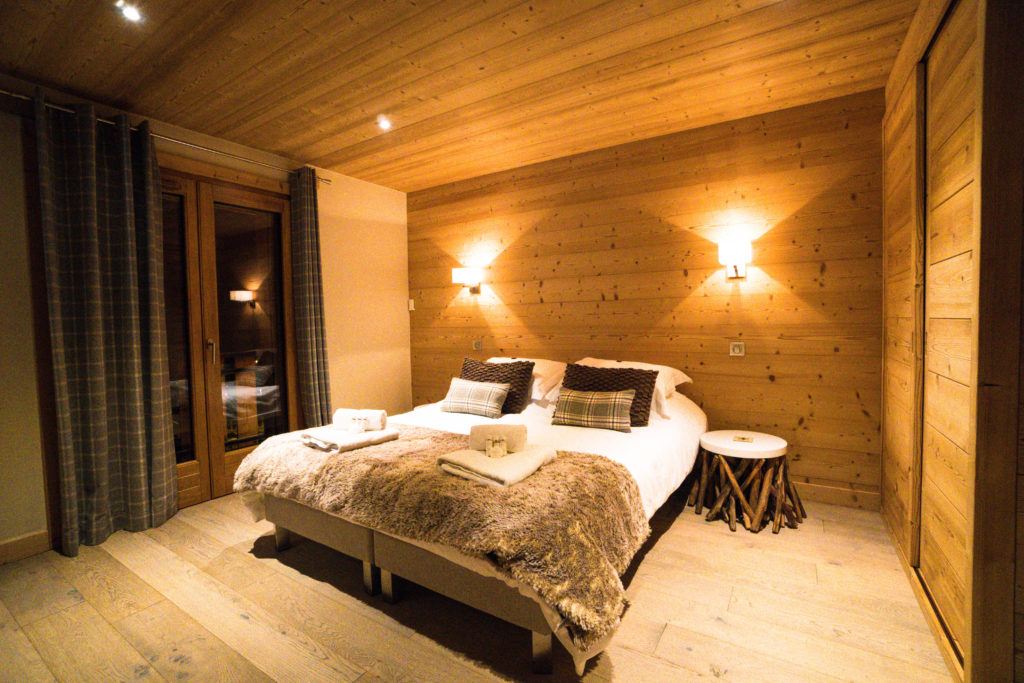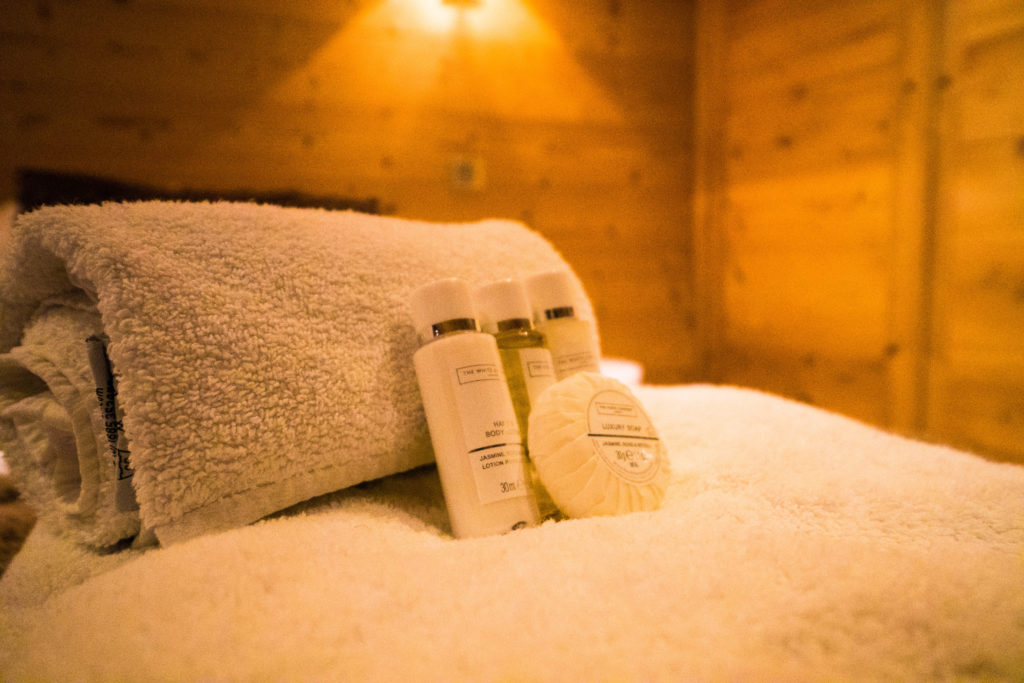 Our room was simply stunning. We had a top floor room with access to the balcony overlooking Morzine. The decor of the room is made up of warm tones and wooden features; creating a relaxing ambiance. The ensuite included toiletries from The White Company, and two big towel robes. I felt very at home in our room, and the view just made our time here all the more impressive.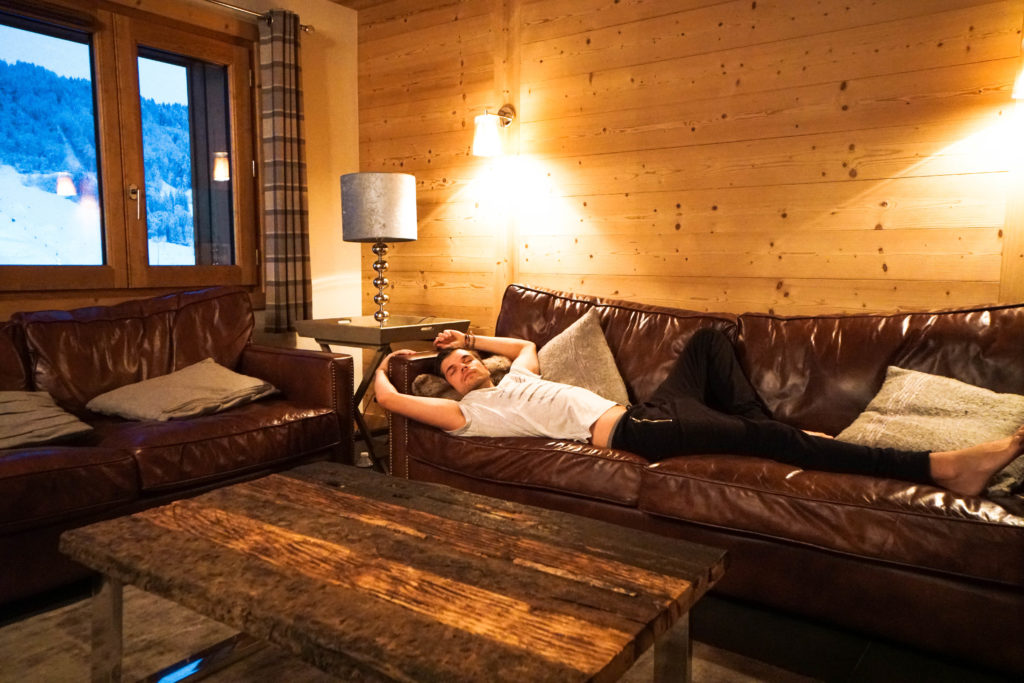 The communal dining and living room areas are beautiful. Large windows showcase the spectacular view over Morzine and the mountains. And the open fire and large brown leather couches create a relaxing environment; good for socialising over cocktails at the end of the day.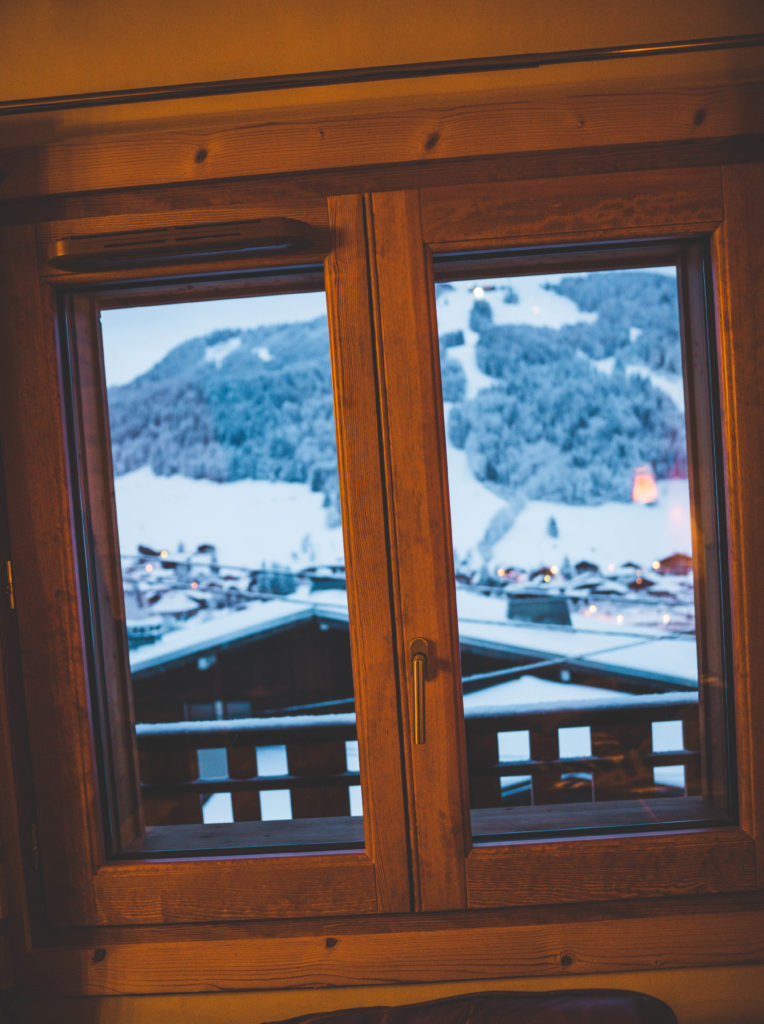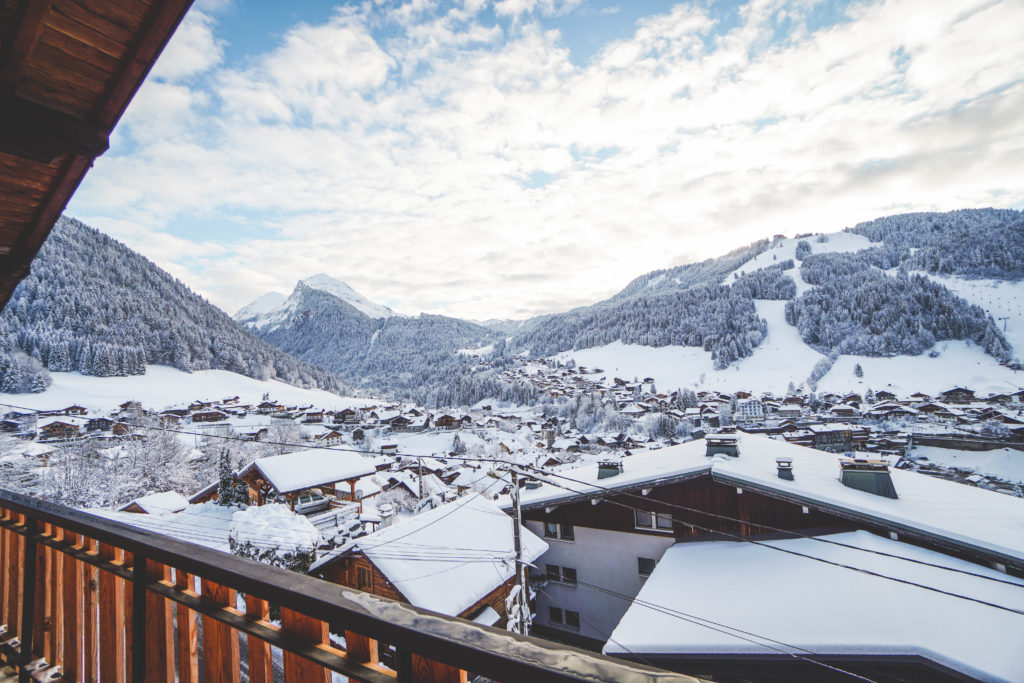 I cannot rave about this chalet enough, but perhaps the most outstanding element to our stay was the amazing service and hospitality of the staff; Emily, Ross, and Pierre, and everyone else from TG Ski. They worked efficiently and tirelessly to make sure our stay was as convenient as possible. All to allow us to maximise our time on the slopes, relax, and to not have to sweat the small stuff. Because often the small stuff can build up and actually make your day stressful. I didn't feel that at all during our stay here.
EXTRA INFO
TG Ski normally takes bookings based on a week long stay, except otherwise stated or organised. Whenever possible they will try to book you in with other guests looking for a similar experience. For example, if you are a couple looking for a romantic, quiet getaway, you will be in a chalet with others after a similar experience. If you are a family with children, you will be in a chalet with other families. Alternatively you may book out the entire chalet too! This is awesome for larger groups.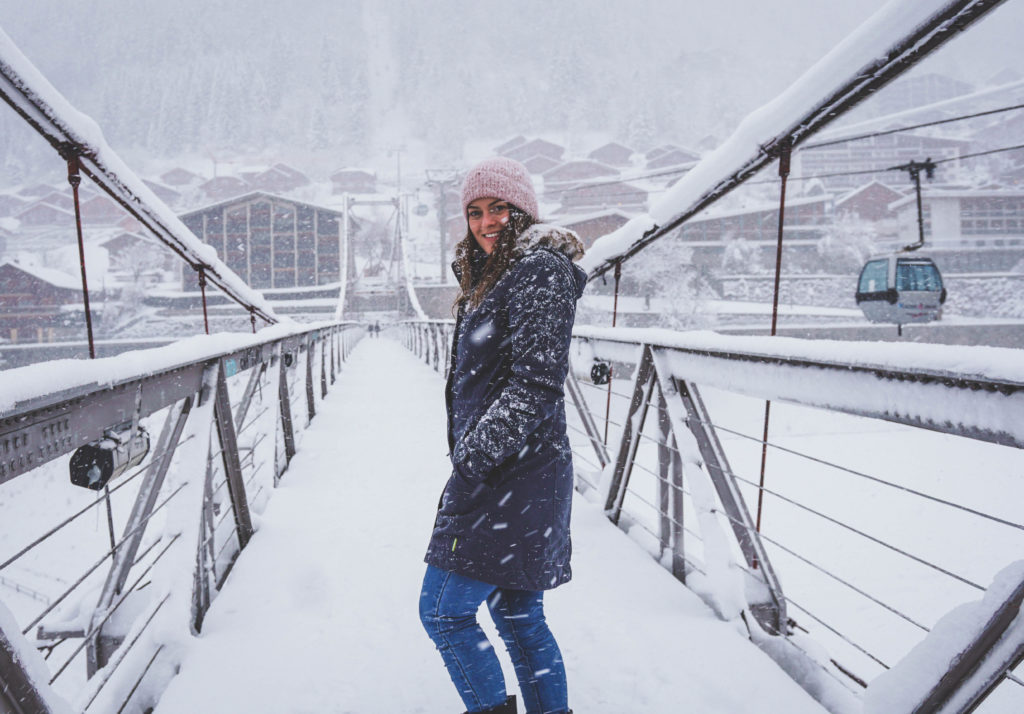 I know I'll definitely be back to Morzine and staying with TG Ski in one of the chalets. After chasing the sun for several years, perhaps it's time to chase the snow instead!
For more info on TG Ski, check out their site here or feel free to comment/reach out with questions!
Hannah 🙂
I was invited on a press trip with TG Ski in exchange for a review of my experience. All opinions in this post are my own. I 100% stand by my recommendation of TG Ski Chalets, Morzine.