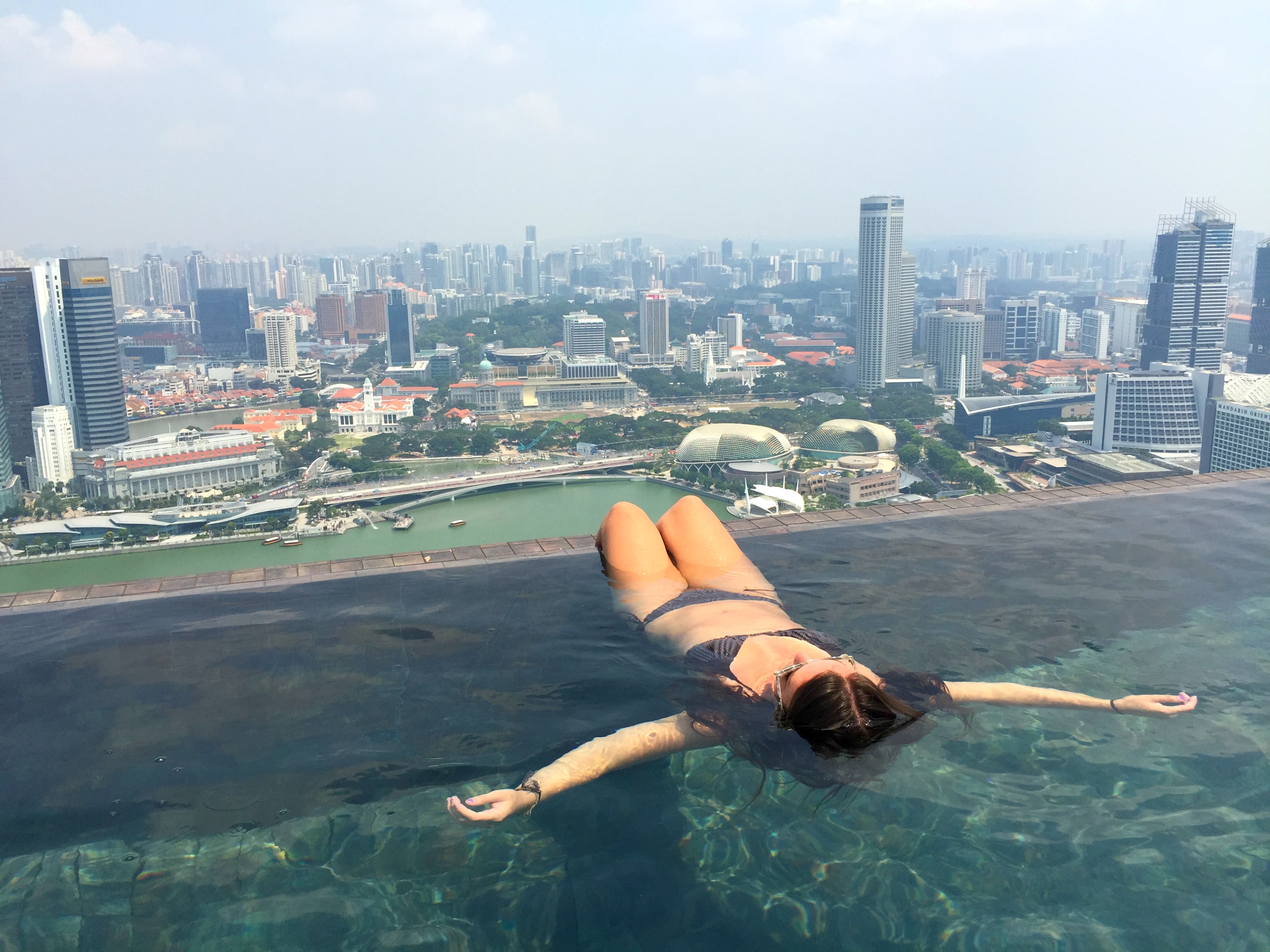 After a hectic month in Bali, our month long Visa was up and it was time for a visa run. Having just finished up a successful marketing event in Bali, and it coinciding with Nate's 25th birthday, we decided to use our visa run trip as an excuse to ditch the computers and relax in luxury. What better place than Marina Bay Sands Hotel in Singapore City.

Now this place wasn't light on the pockets. But it's something that was put on our bucket list after our first trip to Singapore. And with it being Nathan's quarter century birthday, what better occasion!?
Walking into the foyer of the hotel was a bit of a shock. I've ever experienced a hotel foyer of this magnitude… Even with a long line of guests waiting to check in, the entire process was efficient and we didn't need to wait long at all. The check in staff kindly gave us a free late check out for the next day as we had a later flight and gave us a room on the highest floor possible. Score!

Stepping into one of the many elevators assigned to our 'tower' we quickly ascended (probably the fastest elevator I've ever been in) to the 47th floor. The corridors were warm and inviting with a brown and gold colour palette.

Next came the room… My god it was huge! We were both expecting a small, typical hotel room but what we walked into was the size of most apartments in Singapore. Floor to ceiling windows with a grand view of Marina Bay and the city across the water. The Singapore Flyer, DNA bridge and the Merlion were all in perfect sight. I honestly don't think we could have asked for better. The gold and brown colours from the corridor continued in the room, with features of red throughout.
The room also had a living area and a work space to enjoy the view from. In all honestly, the couch seemed a little old. Maybe that was just my take on it, but it didn't seem to fit in with the décor. Small note though!

A large flat screen T.V sat on a cabinet with pull out draws of champagne and high ball glasses. Something I've never had come in a hotel room before. Opposite the T.V was a large bed where all the magic happens 😉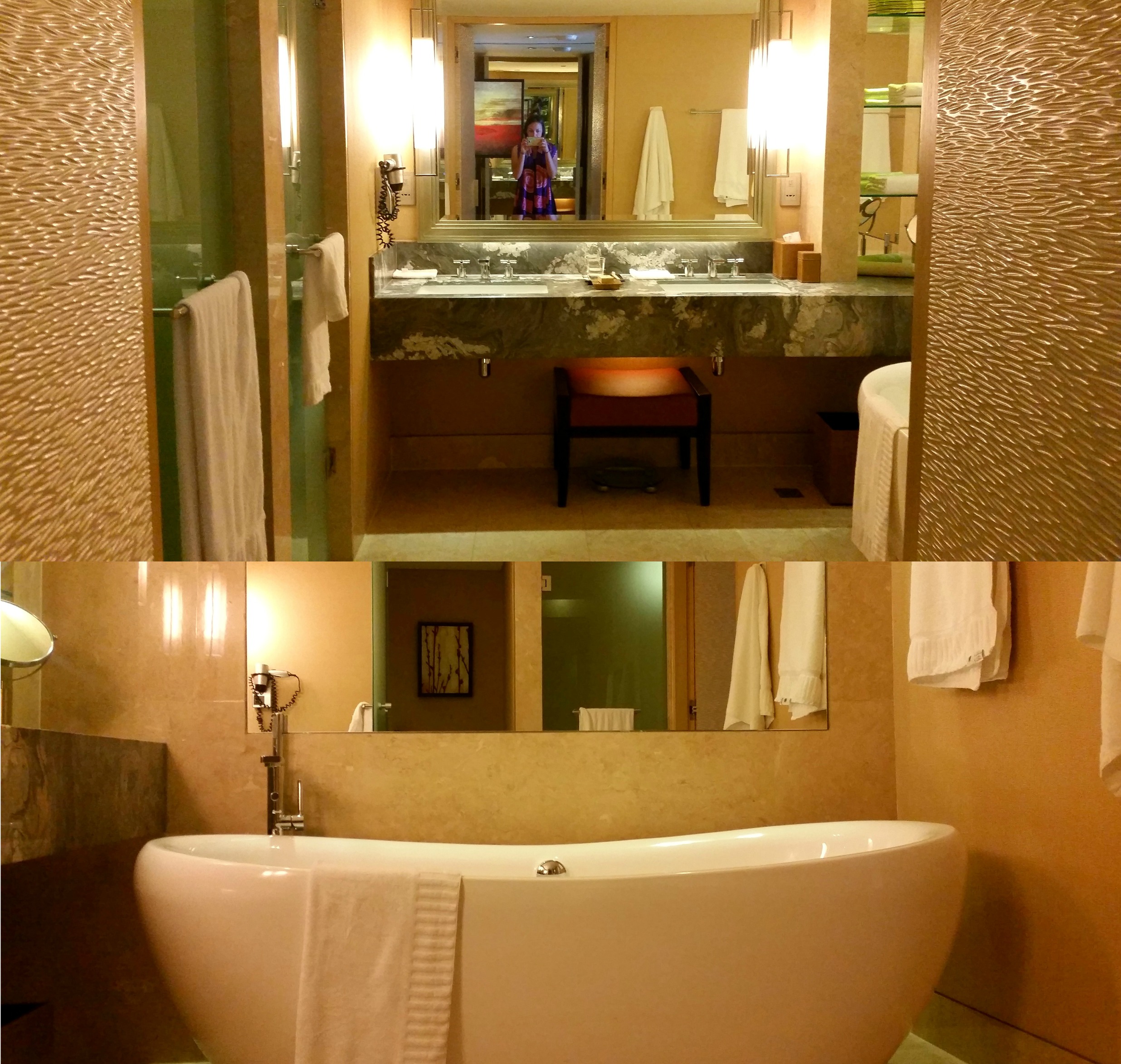 And finally, my favourite part of the room… The bathroom! This itself was the size of most other hotel rooms. A large stand-a-lone bath, his and hers sinks, large mirror plus two doors; one leading to the toilet and one into the shower. I loved the warm gold theme of the bathroom.

GYM:
I personally didn't use the gym but Nathan did get a quick work out there and loved it. Again, there was floor to ceiling windows where you could look out over the bay and the city while running on the treadmill. All the equipment was in great condition and was just as equipped as any other local gym. Oh and the gym is on the top 55th floor! Why didn't I at least just walk on the treadmill!?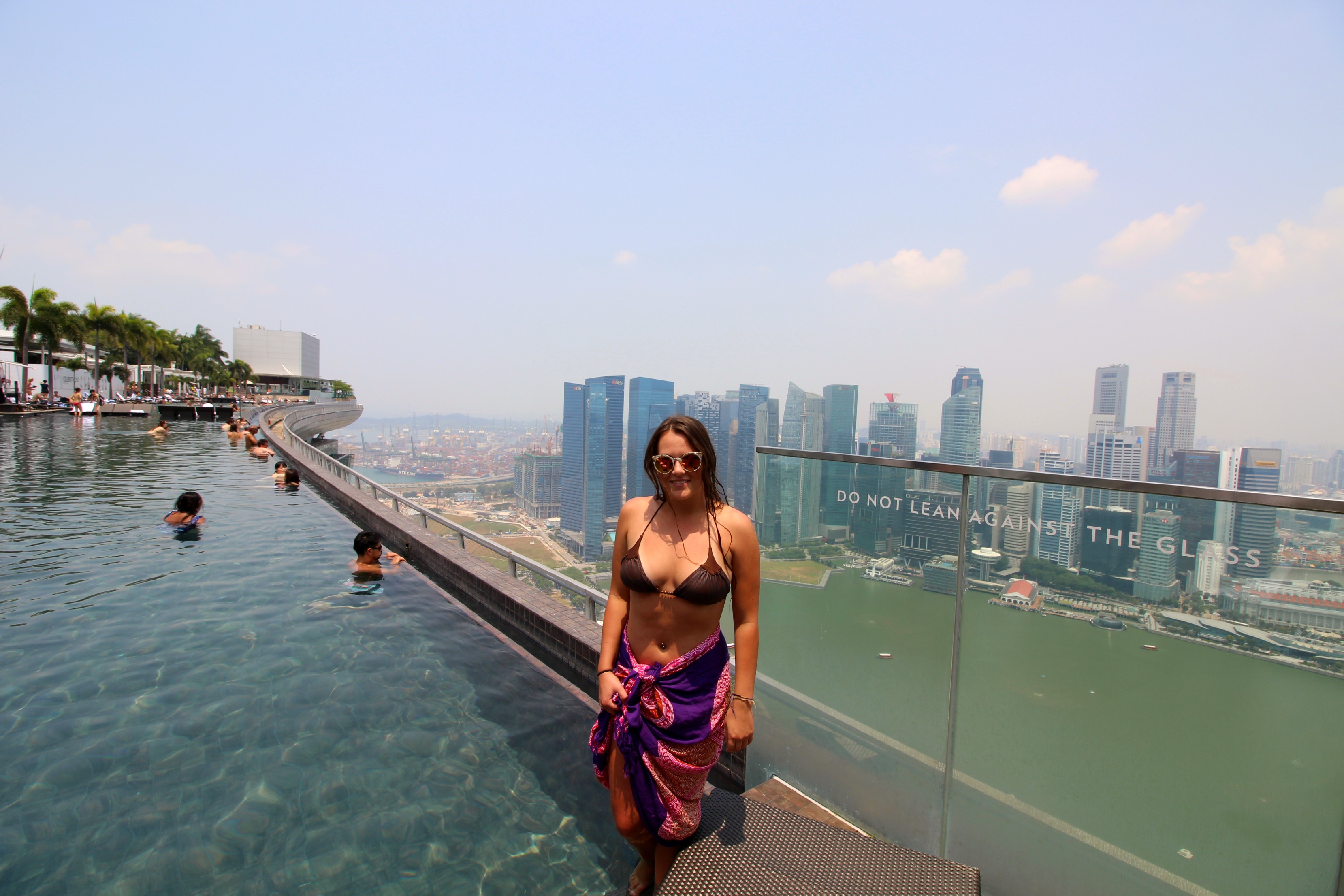 INFINITY POOL:
This is one of the main reasons why people stay at Marina Bay as only the staying guests have access to the rooftop infinity pool. I'm not exaggerating when I say you feel on top of the world up here. It's hard to beat an evening in the pool, a Singapore Sling cocktail in hand watching the sun sink down behind the city's high rises. There's plenty of lounges to lay out on and the pool itself is massive. We went right at the end of August and while the pool was fairly busy it wasn't too hard to get a spot on the edge for some photo opportunities. Everyone is out there with their selfie sticks so just amongst it!

Pros:
– Room size
– Amazing bathroom
– Double amazing views
– Infinity pool
– Lovely, helpful staff
Cons:
– Steep price
– For an expensive 5 star hotel it didn't come with any complimentary welcome 'fun stuff'… Maybe I just felt that way because Thailand does that so well and we had just been in Thailand a few months prior.


All in all our stay at Marina Bay Sands was an awesome experience and one I'll never forget. If you have the opportunity to at least go to the bar for a drink, the views are well worth it!