Having just arrived in Kuala Lumpur, Malaysia with no plans at all, we decided to try out one of the 'WithLocals' tours available in the city. We ended up choosing the Best of Kuala Lumpur city  tour (private) with Paul as our guide and away we went! Here's what went down…
Best of Kuala Lumpur City Tour  (Withlocals app)


We met Paul at the KL railway station where we began our walk through the city… When Paul says he's a walking encyclopaedia, he's not joking! Any questions we had, he had an answer for it!

Masjid Negara City Mosque
After walking a while and seeing some of the city's prominent buildings, we arrived at the Masjid Negara city mosque. Now, I've never been in or around a mosque before and I really don't know a whole lot about the muslim religion; so I had no idea what to expect. Before entering I had to put on a full long sleeve, floor length robe as well as a head scarf. Lets just say it got quite hot! The mosque itself was quite breathtaking. We weren't allowed to enter the prayer area as we aren't muslim, but we had a tour of the other areas and Paul talked of the religion and how the prayers worked and what they meant.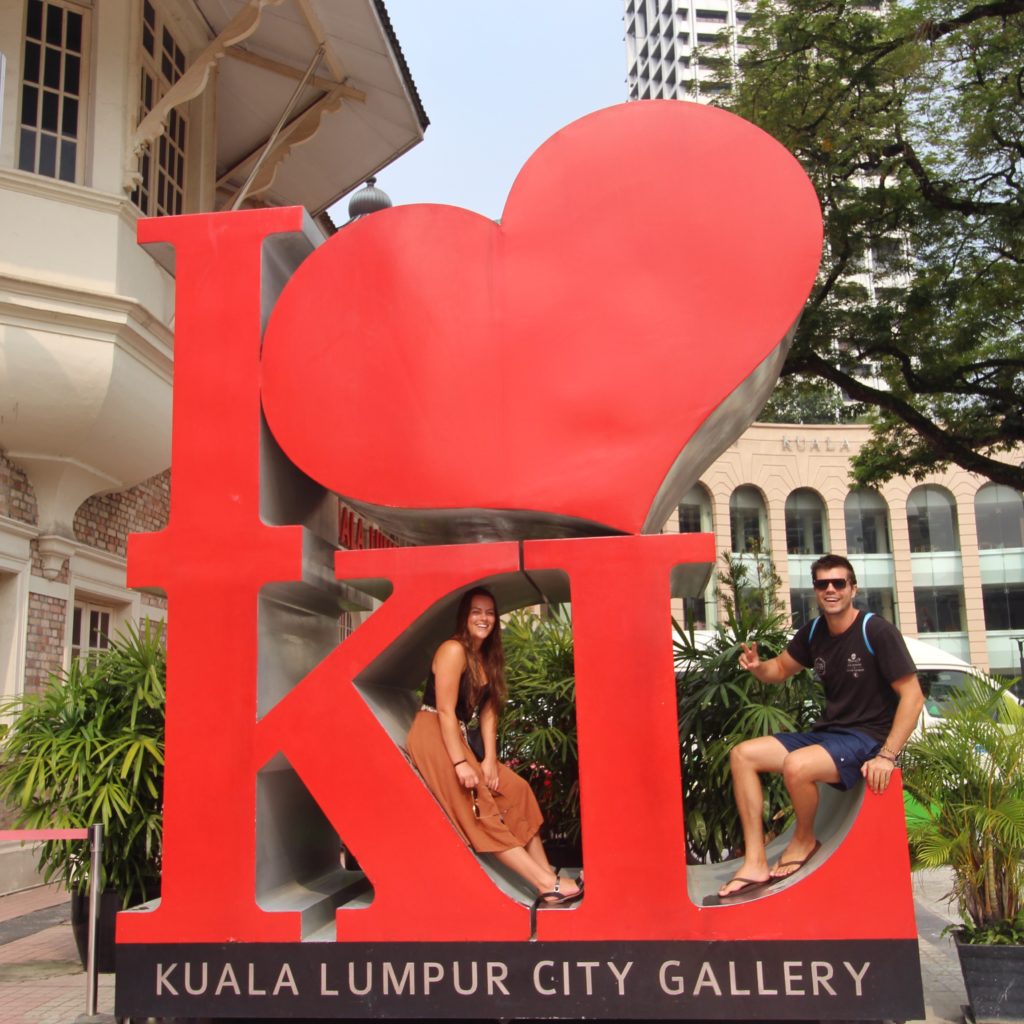 I Love KL Monument
Next stop… The classic 'I'm a tourist' I Love KL statue. This is where everyone comes for a photo… Because you have to really. Around the same area is a large field open for the public and Paul helped us get away with flying the drone without getting caught… Cheers Paul you champ!
Masjid Jamik Bazar
After a bit more walking through the city, we ended up through the back streets to get to Masjid Jamik Bazar. If you want to do some shopping, this place would be it! They're your classic SEA markets with fake brands and cheap price tags (which you can haggle for lower). We didn't stop to shop, but because it's a private tour, you can stop if you like and not have to worry about holding up the rest of the group.
Sze Ya Temple
After a quick fresh juice stop and a couple more twists and turns, we found ourselves at Sze Ya Temple; which is KL's oldest Chinese Temple. Paul told us all about the process of the Chinese prayers and what they do. I love Chinese Temples… There's just something about them that's calming. It might be the buddhist way of life, or the copious amounts of burning incense.., Either way I love the experience every time.

China Town
It only seemed fitting to go to China Town next. This is on Petaling Street and like Masjid Jamik Bazar, it has all the market stalls for shopping. Again we didn't stop, but instead we cut through the China Town meat market… If you're a vegetarian you might want to skip this part of the tour… Just a heads up. The smell here bought back memories of walking through a similar market in Sapa, Vietnam. Except this time there wasn't a cooked dog served up on a platter thank god.
Sri Mahamariamman Temple
To round off our temple visits for the day, we visited Sri Mahamariamman Temple. This is a Hindu temple and a brother temple to the one in the Batu caves outside of the city. Here, if you're a woman you will need to put on one of their sarong skirts before entering the temple. All the temples we visited on the tour were amazing in their own right, and I feel I now know a lot more about the Muslim, Buddhist, and Hindu religions.
Lunch
By now we had worked up quite the appetite so we headed to a local hangout for lunch. We got there just in time before the lunch rush as it's a hotspot for nearby locals' lunch breaks. This place had a selection of Malaysian, Chinese, and Indian food… I don't think you can go wrong with whatever you order. We ordered one from each and each dish was delicious. But the end of our lunch, the place was packed out with everyone on their lunch break… So try to avoid the time between 12-1pm. (I can't remember the name of the restuarant… It was in Chinese 🙁 )
Canopy Walk
The next stop for us was the Canopy walk… I'm not going to lie, I found this part quite underwhelming. Usually I love nature walks, but I don't think you can class it as a nature walk. If you want to shorten the tour or add in something else instead, I'm going to go ahead and say that this is the activity you could happily cut out of the tour haha. We just boosted through the whole thing and Nate got some drone footage at the end (as the canopy walk is smack bang in the middle of the city).

Petronas Towers
Okay so now's the part I had been patiently waiting for all day… The Petronas Towers! The tour didn't include a walk up the towers, but Paul took us to the best viewing spot where we could take it all in. If you've been to Singapore, the way I would explain it is that they're the Marina Bay Sands of Malaysia. And of course there is an up market mall at the bottom (called Suria KLCC) with all the REAL brands like Gucci, Calvin Klein etc… There's 6 floors of shops so if you're into that sort of thing, this could be a great end to your tour haha… Though sadly, a shopping spree isn't included in the tour price.
To say the least, I was super impressed with the tour of Kuala Lumpur  and with our guide, Paul. We fit a lot… and I mean A LOT into those 4 hours. But I came out of it with an entirely new appreciation for Kuala Lumpur and Malaysia as a whole. I feel like I learnt so much and i'm a little less ignorant about things than before… Woohoo! If you're looking for something to do in KL, definitely book the Kuala Lumpur city tour  and I recommend Paul if he's free! And because it's totally customisable, you can skip the things you don't wanna do and add in other things instead. Win-win!
Save this post by pinning the image below!