I would say choosing to live in Kotor for a month was one of my best decisions yet. Why? Because this place is friggin amazing! If you're on the fence about visiting Kotor or visiting Montenegro in general, please say 'yes!' and just do it! In my opinion it's better than Croatia but ssshhh it didn't come from me 😉
Here is my….
Kotor Montenegro Travel Guide
Where Is Kotor?
Montenegro is one of the Balkan countries, bordering Croatia, Bosnia & Herzegovina, Albania, and Serbia. The idyllic little old town of Kotor is found in Montenegro's Bay of Kotor, just next to Tivat. It has a small population of about 15,000 people and it was named a UNESCO World Heritage Site in 1979.
How To Get There?
If you're flying in, then flying into Tivat will be the easiest. From Tivat, it's only a 15-20 minute drive to Kotor. A taxi shouldn't cost anymore than 25 Euro. And even then you are getting ripped off… So we were told!
Another option is to fly into Dubrovnik, Croatia which is about 70km away. However, I heard the boarder crossings can be tough for some and add a couple of hours onto your trip.
If you're already in the neighbouring countries, it will be easiest and cheapest to catch a bus into Kotor.
Where To Stay?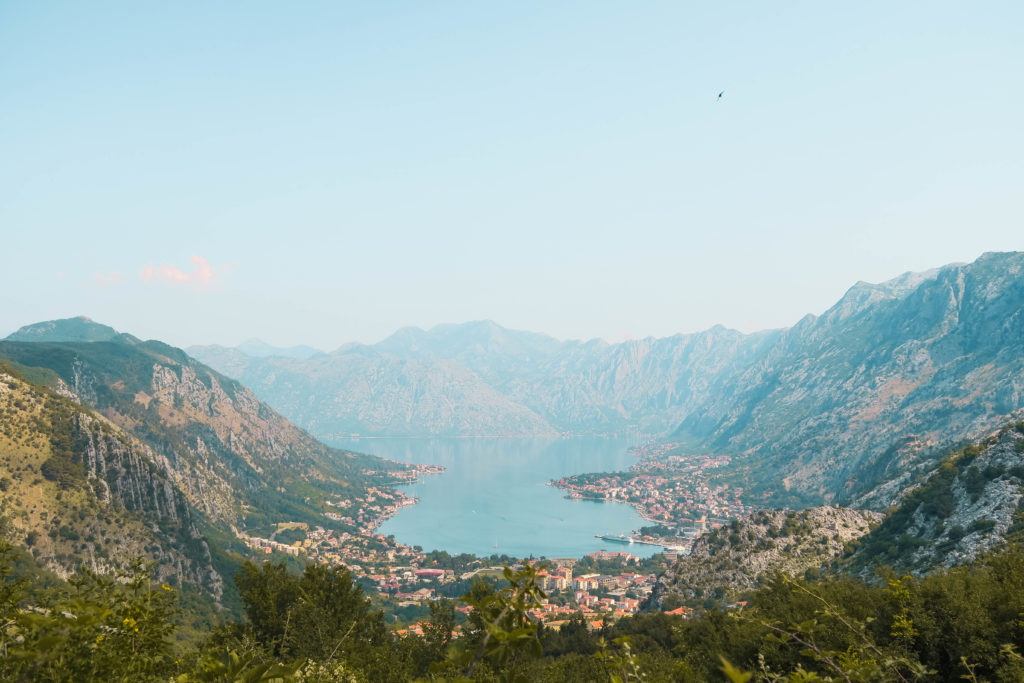 You have a few options of where to stay while in Kotor. You can either choose to stay in the Old Town or to stay outside of the Old Town. I personally recommend to stay outside of the Old Town.
Why?
Because the views of Kotor Bay are to die for… Like literally breathtaking. I was here for a month and every time I looked out over the bay it took my breath away. That feeling did not fade after a month as it sometimes does.
Within the Old Town are numerous hotels and several backpackers. I suggest to use Expedia  for finding accommodation. And also to use my E-Bates trick  when booking so you can get some cash back from your bookings. Hostel World is also a good one for Hostels. Airbnb is also another option with several listings located inside the Old Town.
If you would like to stay outside of the Old Town, don't worry, you can still be in walking distance to the Old Town. And like I said before, you'll get the better views!
I stayed in 2 different Airbnbs during my month long stint in Kotor.
The first two weeks was spent in this studio apartment. The hosts were lovely and the views were spectacular (even better than the pics in the listing). It was about a 10 minute walk to the waterfront promenade and then a further 10 minute walk to the Old Town. Not ideal, but you get used to it. We would always just taxi back home for 2 Euro. There's also a small supermarket less than a 5 min walk away.
Our second Airbnb was this 2 bedroom apartment closer to the Old Town. It was much easier being in this location as the mall was just next door too. The views weren't as great as the first Airbnb (still amazing though!) but we were much more in the mix of things here.
There are actually a lot of Airbnb options to choose from. If you don't already have Airbnb, be sure to sign up  and get at least $25 credit to go towards your first stay. You can sign up here.
For hotels and hostels, again I do suggest to check out Expedia  and Hostel World for all the options, reviews, and prices.
If you can't get accommodation right in Kotor, look into staying in Dobrota. It's a 5-10 minute drive from Kotor Old Town. And it's actually a lot more quieter. You still get restaurants and amazing views of the bay out in Dobrota.
What To Do?
If you get bored in Kotor, you're doing it wrong. There is so much to do here and in the neighbouring towns. Here are a couple of activities to look into:
Lovcen & Skadar Lake Tour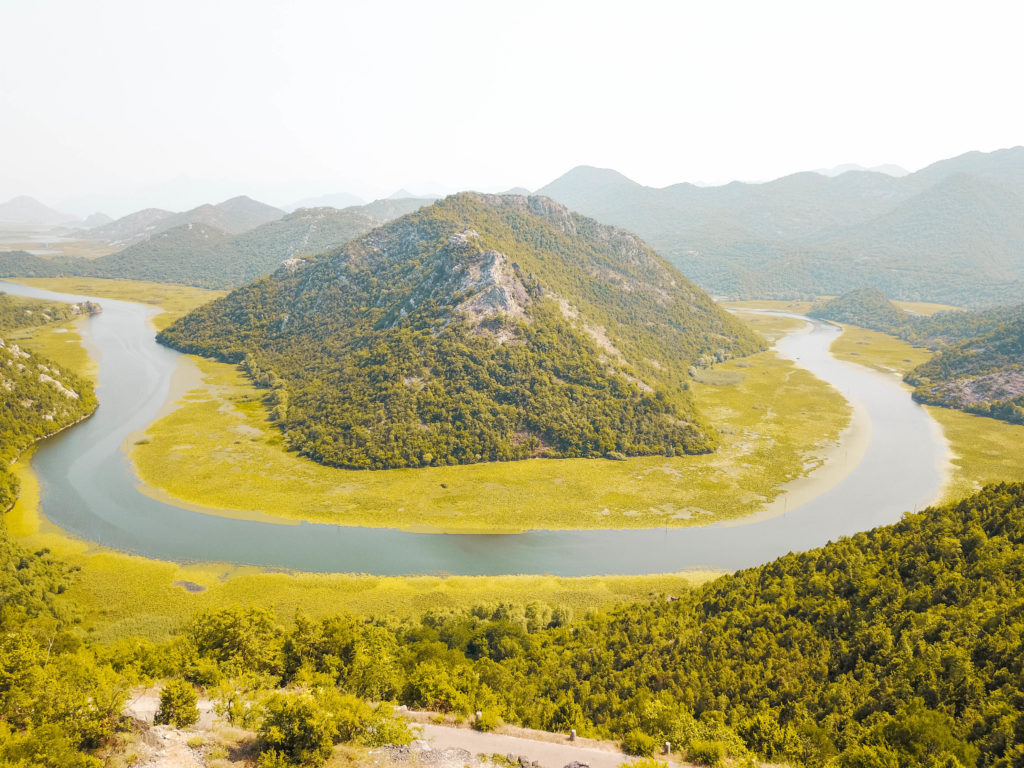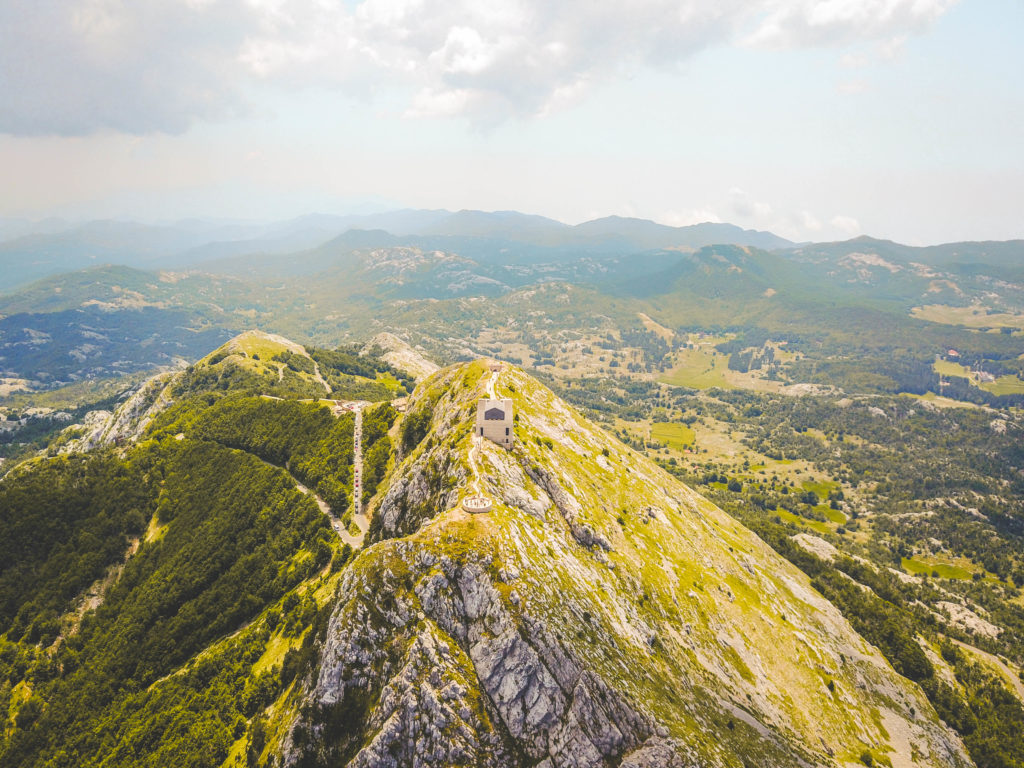 I highly recommend doing this tour. We went with Kotour Travel Agency and it was a full 10 hour tour. The views from Lovcen National Park are breathtaking, especially on a clear day. And Skadar Lake is beautiful with it's formation and colours. These tours might not necessarily come cheap, but it's so worth it. You can read my full blog post about the tour here or watch the vlog here.
Climb To The Top Of The Old Town Wall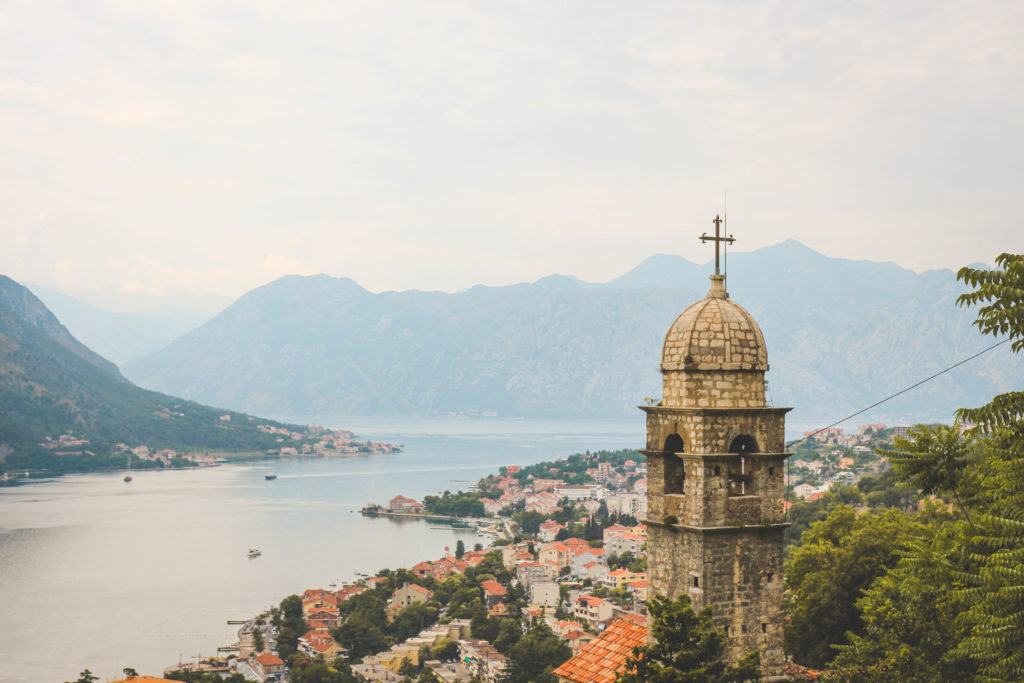 For one of the best view points over the Bay of Kotor, be sure to hike to the top of the Old Town Wall and make it to the fort at the top. This is a good activity if you want some exercise too. You can find the entrance at the back left of the Old Town. There is a small entry fee of 3 Euro (totally worth it!) and it takes about 40 minutes to make it to the top. During summer, I suggest going early morning or late evening when the sun isn't so intense. You really work up a sweat walking to the top. Wear comfortable shoes (I don't recommend high heels or sandals).  Check out  the video of us climbing the wall here.
Get Lost In The Old Town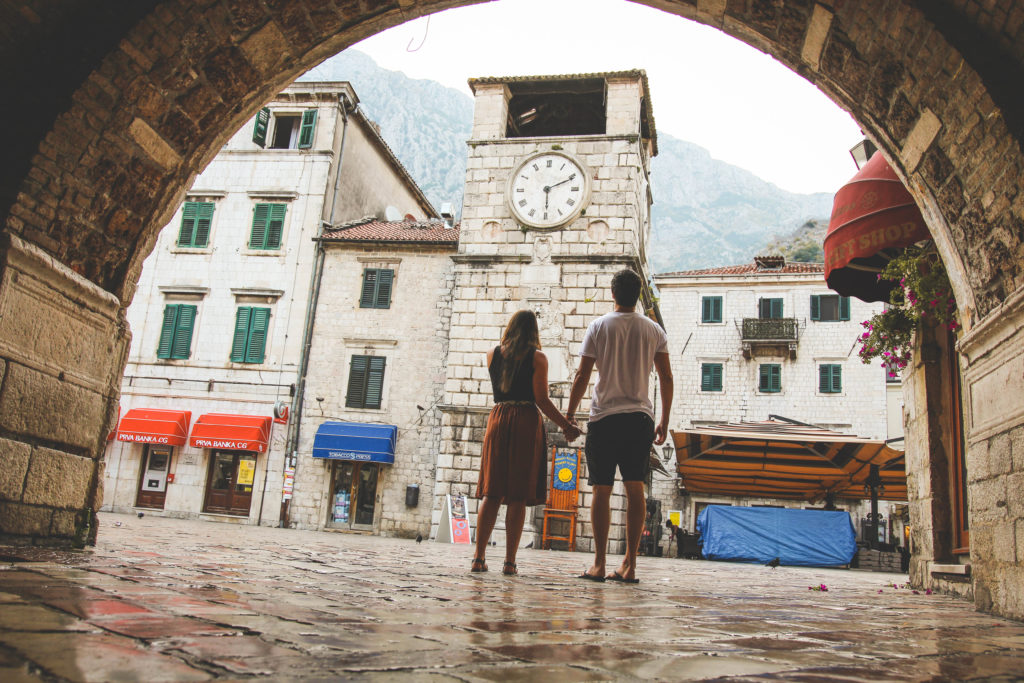 Kotor's Old Town is beautiful and has been well preserved over the years. There are so many little alleys it's easy to get lost in here… But that's all part of the fun, right!? You could easily lose a few hours in here, sitting at the cafes, eating gelato, looking in the shops, and admiring the churches and buildings. In summer it definitely can get a little crowded (no way near as much as the other popular European destinations though). If you want to have the Old Town to yourself, go at 6am and it will just be you, the cats, and the pigeons. You can get your Old Town pics with no one else in them! Totally worth it.
Tivat
Tivat is located in the next bay from Kotor. It's only about a 15-20 minute drive from Kotor or a 40 minute bus if you take the long bus route (which is really scenic). Otherwise there are other buses that take about 15 minutes. The Porto Montenegro area of Tivat, definitely has a bit more wealth to it… Amazing super yachts make Porto Montenegro a stop during the summer months. So it's cool coming here and walking along the docs, admiring the gigantic super yachts. There's also little beaches you can enjoy, delicious restaurants, and a few stores for shopping too. Tivat is worth a lunch trip if you have the time.
Perast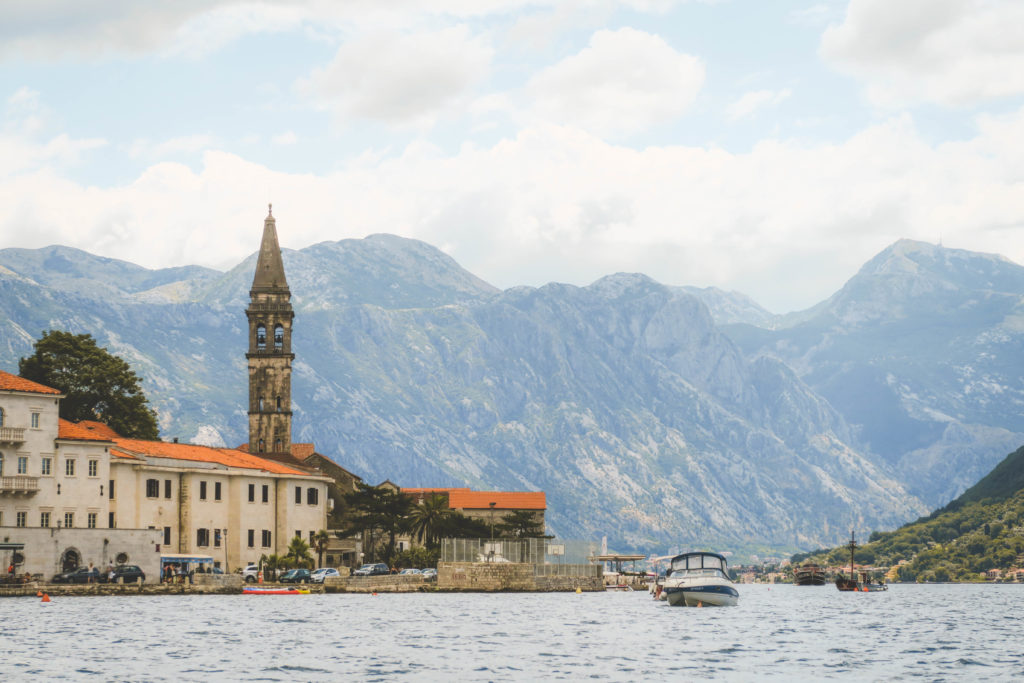 Perast is a gorgeous little old town only 15 minutes by bus from Kotor. Here is the well-known Lady of the Rocks. You can catch a return boat to the Lady of The Rocks for 5 Euro per person. You get 20-30 minutes on the little island which is more than enough time. Perast also has serval restaurants over looking the water, making it a great little stop for breakfast or lunch. Here's a vlog of our time in Perast!
Boat Ride
Why not jet around to all the surrounding bays of Kotor? Everything is stunning here, and from the boat, you will get a much different perspective of all the little bay side towns. Kotor bay is lined with boats that you can hire for the day. Walk along the waterfront and message the WhatsApp numbers on the boats. Otherwise a quick Google search will bring up many options for you.
Where To Eat?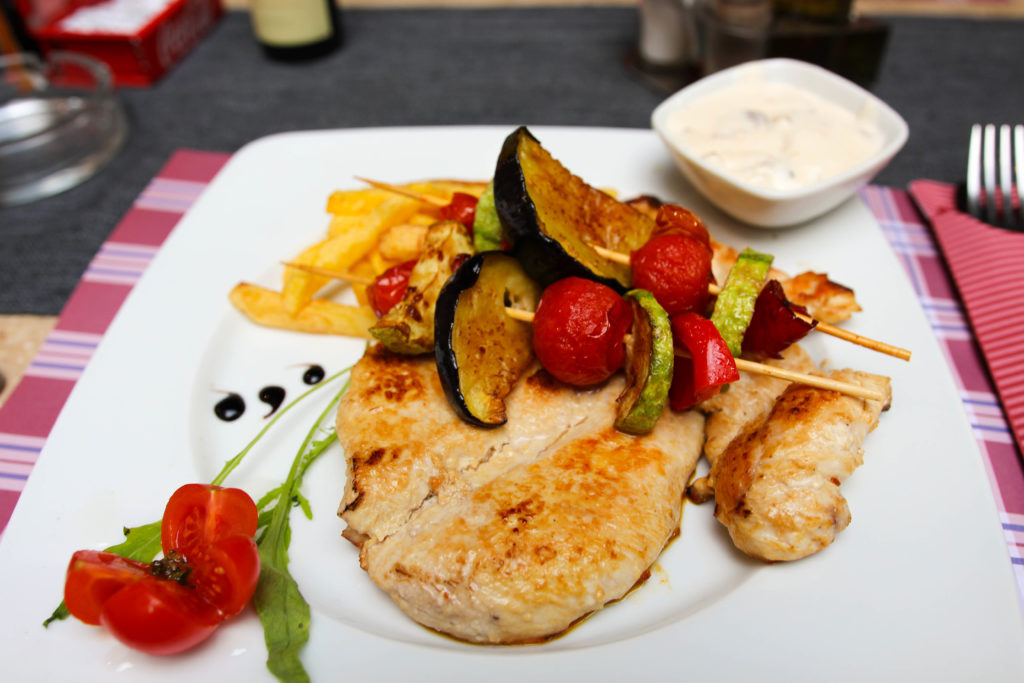 Trust me when I say you will be spoiled for choice when staying in Kotor. This little town is filled with cute cafes, and restaurants. My favourite in the Old Town was Ombra Restaurant & Cafe. They have two spots right next to each other. One under the large tree next to the Cat Museum. And one just around the corner. Go to this latter once and sit outside in the courtyard. It's so cute!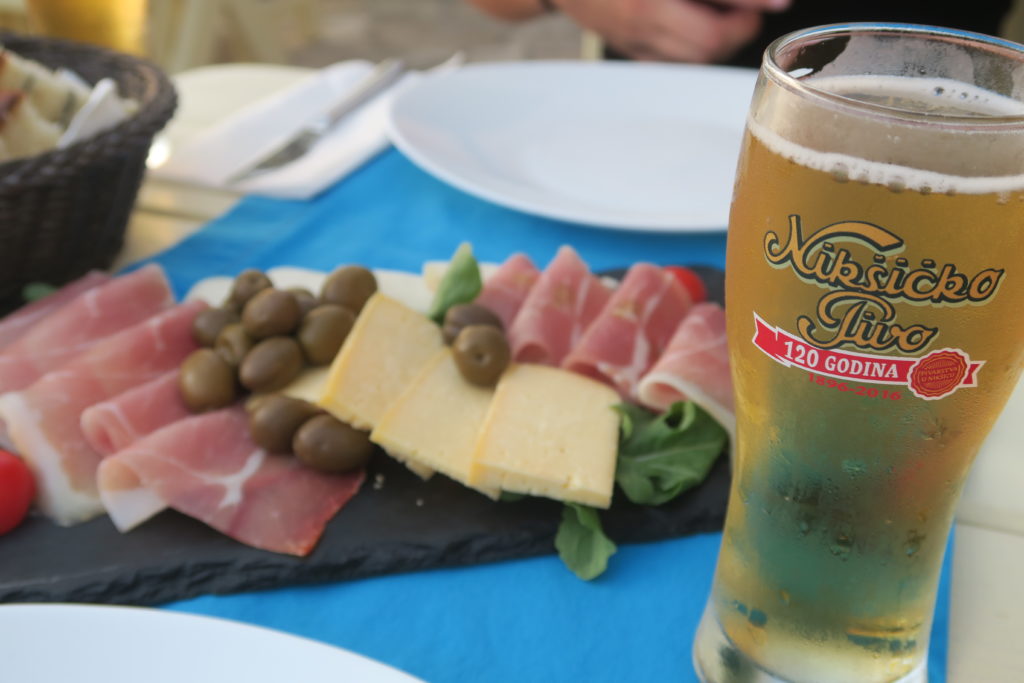 My favourite places outside the Old Town were the ones along the promenade, overlooking the bay. Sunset here is so beautiful and you can't beat the views! Che Nova is great, as is Cafe Del Mar…. Basically all those ones along the water are fabulous. Except Konoba Akoustik. Our food was terrible. Obviously go there if you want, but the ones further down the promenade are much nicer.
If you continue down the water line towards Dobrota, there are several beautiful restaurants right on the water. Plus it's a little less busy further down.
I suggest heading to Premier in Dobrota for sunset and drinks. Take your swimwear and you can jump off into the water from your chair!
Shopping
Unless you're loaded, Kotor may be a bit of a disappointment for you in terms of shopping. The Old Town has many sunglass stores with the top tier brands with top prices to match. There are also several boutique and jewellery stores with high price tags. The majority of stores are actually souvenir stores! There is a small mall called Kamelja. There's much better shopping for guys in here than for women (in my opinion). However, there is a good sportswear store with a huge range of shoes!
People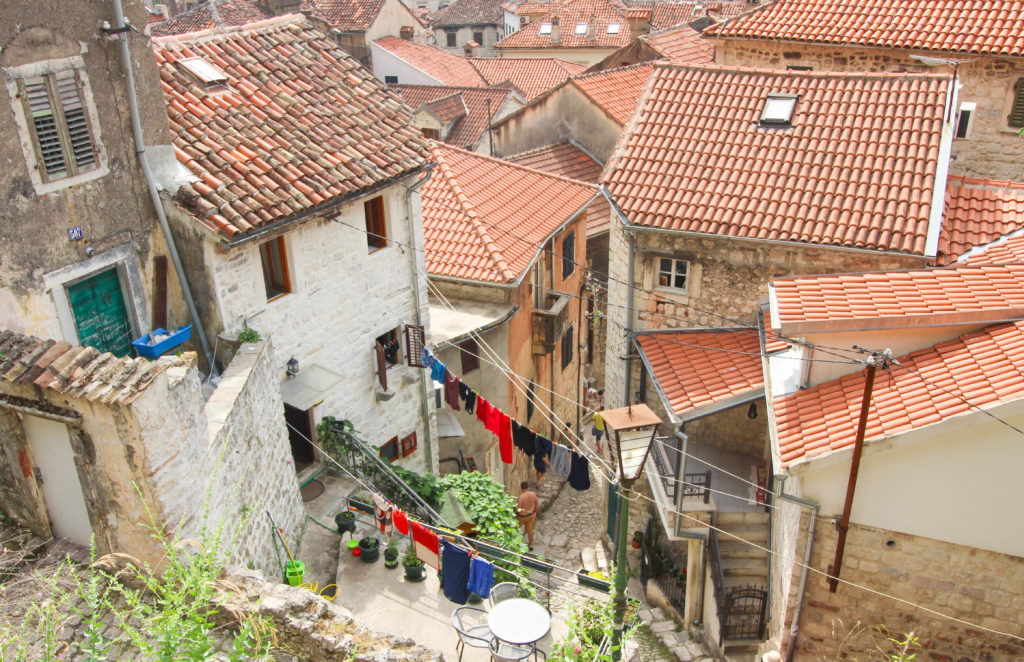 At first impression, I thought everyone sounded really grumpy… But then I just realised that the guys here have deep voices and speak rather animatedly. If you're not used to this (like me), it comes across as grumpy, but don't worry, everything's probably all good. In my experience, everyone was lovely. Most people could speak English and in the few cases where there was a language barrier, gestures and Google Translate pull through every time.
I noticed the majority of people in Kotor dressed really nicely. They place value on their appearance, and love to drive nice cars. The men love their white polo shirts and Ray Bans, with the slicked back hair. But they're also very outdoorsy. Local kids are constantly out playing in the water during summer, and entertaining themselves. This is definitely one place I would love to raise kids.
Overall, everyone we came across in Kotor and in Montenegro in general, are very hospitable. They were keen to offer tips of where to go and were proud of their country's beauty.
Transport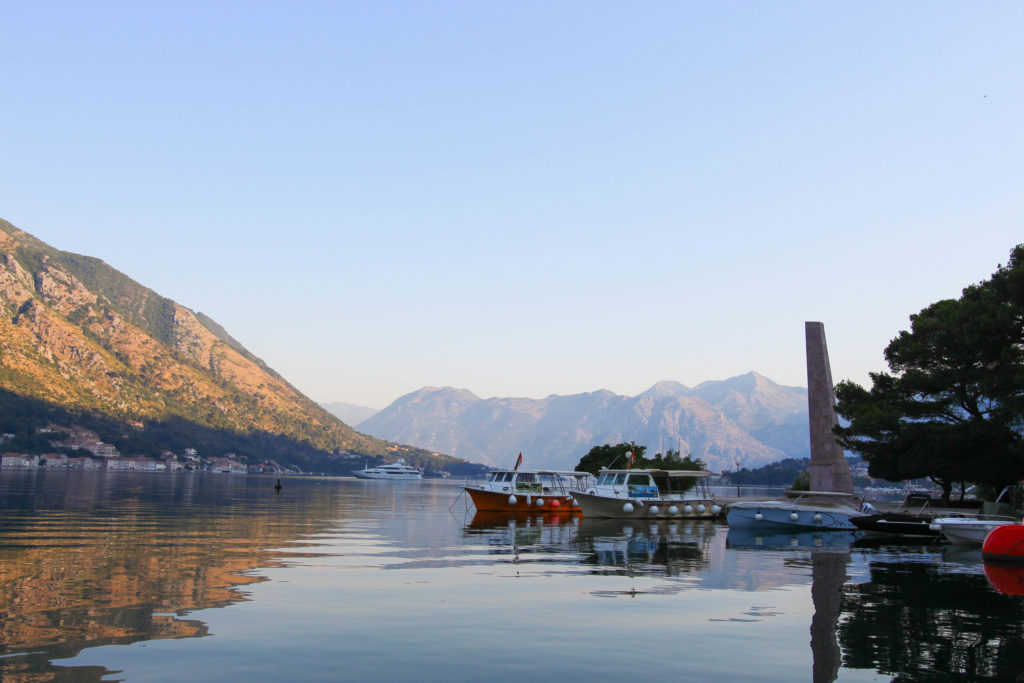 Taxis and buses are the best way to get around Kotor and the neighbouring towns if you don't have a car of your own. Taxis run pretty cheap. Just please be aware of the sneaky ones that try and rip you off after a late night out. One late Saturday night after a few drinks in the Old Town, our usual 2 Euro taxi became 7 Euro in the space of 2 minutes…. And that didn't even get us half way home! (It was one of the darker grey taxis, so avoid those!).
Buses run regularly to Tivat and Perast and are inexpensive. There are bus stops outside Kamelija mall. They run every 15 minutes to Perast and about every 15-30 minutes to Tivat . Sometimes the schedules don't run on time. Don't freak out though, the bus will turn up!
Safety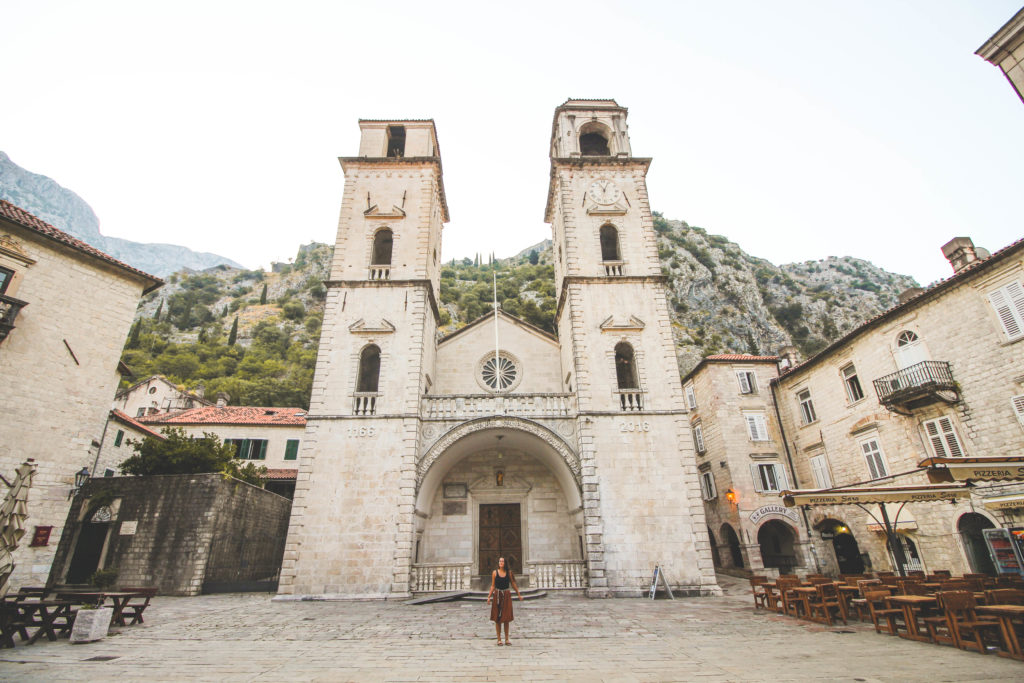 I can honestly say I felt very safe in Kotor. I would happily walk around at night and not feel any sense of unease (though I am always aware of my surroundings, and I suggest you to be too… No matter where you are in the world). If you're a solo female traveler, I would say this is a nice destination to be in without worrying about harassment of any kind. For families, this is a great place to travel to with children. Many parents would leave their kids to run free for the whole day!
If anything, just be aware of your belongings. I read several blog posts of beggars in the Old Town pick pocketing tourists. I never saw any 'beggars' in the Old Town, and was never a victim of theft. But with that being said, I always have my hand bag zipped shut and resting on the front of my body so it's always in my vision.
Tipping
I am so clueless when it comes to tipping (we don't tip in New Zealand) so I always make it a point to learn about a country's tipping etiquette. For Montenegro I heard two different opinions. Blog posts say to tip 10%. Locals say to round up. So if a bill comes to 27 Euro, give 30 Euro. See which one suits you best and roll with that. We always tipped at least 10% because that's what we felt comfortable with.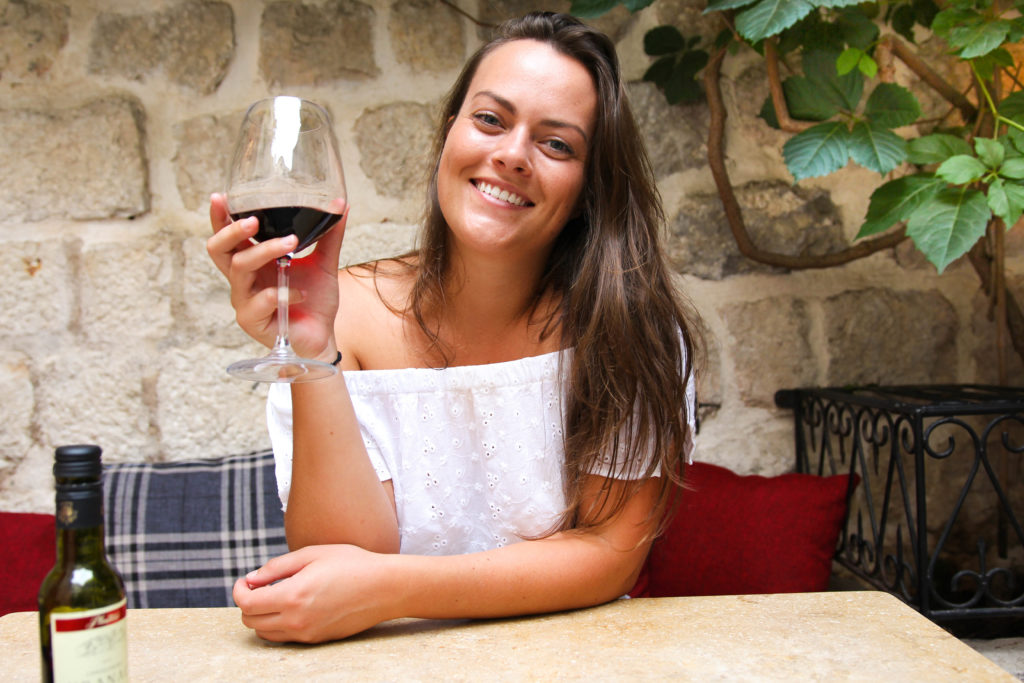 Language
The language of Montenegro is Serbo-Croation. However, many speak at least a little English. You won't have an issue in restaurants or in your accommodation. If anything, the taxis will be the most difficult in terms of a language barrier. Learn the word of where you need to go or have it written down, and you should be fine.
To say hello, everyone just says 'hello' or 'Ciao'. The formal way of saying hello is, 'Zdravo'.
Thank you is 'Hvala'.
Montenegro Tourist Tax
Now I found this whole tourist tax thing really confusing… Since we were in Kotor for an entire month, we didn't rush to the tourism office to pay our tourist tax. We turned up on our 11th day instead. It turns out you actually have something like 24 hours to go to the office and pay… Whoops my bad…
The tourist tax is 0.50 Euro per day in the winter and 0.70 Euro per day in the summer (these rates are per person).
But here's the weird thing… Every time you spend a night in a new town in Montenegro, you have to register there as well. So in Kotor, you can only pay the tourist tax for your nights in Kotor. If you then spend a night in say… Budva, you then have to go to the office there, and pay your tourist tax relevant to your stay in Budva. Super inconvenient… But it's their rules.
You can choose to not pay it at all, and don't even go to the office. But if you go to leave the country and they ask you for the papers/receipt to show you paid the tax and you come up empty handed, you will get a hefty fine. We never got asked for it at the border crossing to Bosnia… But yeah, it's up to you.
If you're staying at a hotel, I believe the hotel collects the tax from you, so you don't need to worry about going to the office yourself. We were in an Airbnb so we had to go to the office. Check with your accommodation for more information. There's also more info over on the Montenegro Travel Service website.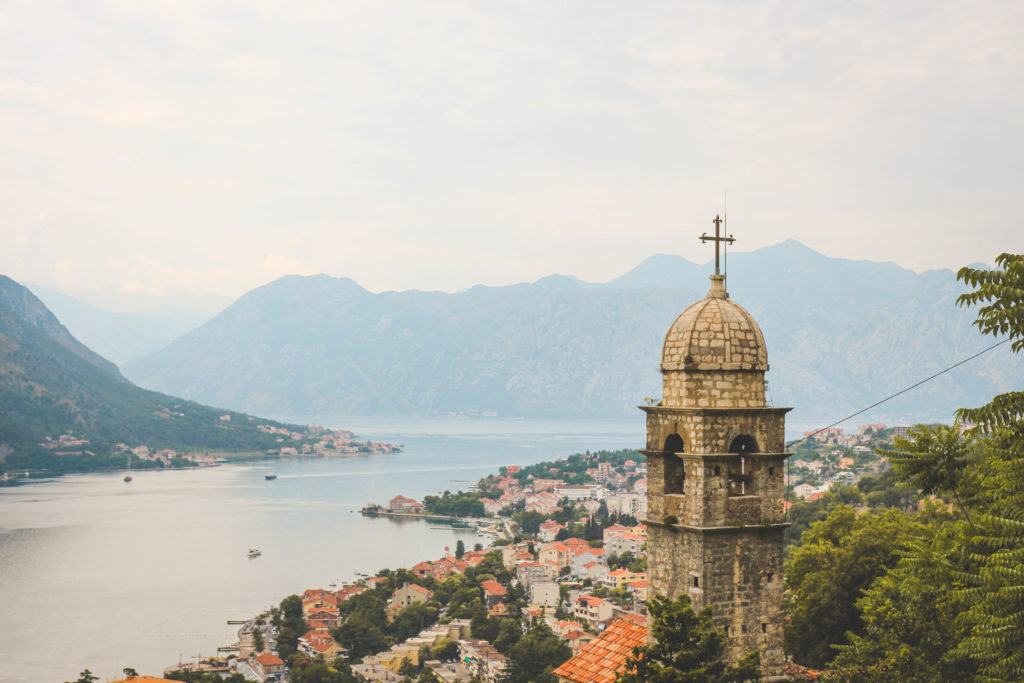 Women's Medical
There's a really good gynaecologist practice in Dobrota called Vita Feminae.  I went and the doctor spoke English very well. The receptionist may not however, so if you could ask your accommodation host to book you an appointment, that will be best. Just make sure you request an English speaking doctor… If you speak English. Which I'm assuming you do since you've gotten this far down the post! A consultation costs about 20-30 Euro here.
So that is your Kotor Montenegro Travel Guide!
I hope this post has helped you in some way for your trip to Kotor. You will have an absolute amazing time there. This place really left a mark on me, and I hope it does for you too.