Gorges du Verdon, (or Verdon Gorge if you rather), is France's best kept secret in my opinion! During my 10 day road trip in France, Gorges Du Verdon was hands down my favourite destination. Which was a surprise to me, I mean I knew it would be beautiful, but it's also a hell of a lot of fun too. Here's a guide to some Gorges du Verdon activities, and also some tips about a trip here in general!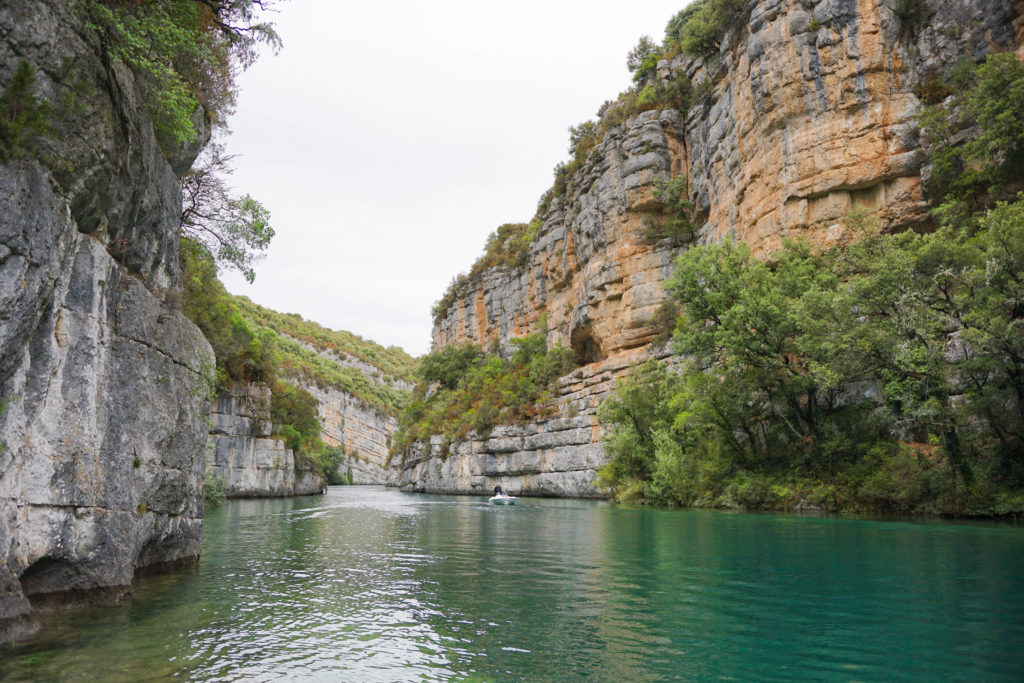 Note: I think 2 full days in Verdon Gorge is ideal. I could have easily stayed here longer so if you have the time, definitely consider tacking on a few more days here. Otherwise try and plan for 3 nights and 2 days.
Gorges Du Verdon Activities
Known as the 'Grand Canyon of Europe' Verdon Gorge is loved by many for its camping, hiking, boating, and overall beautiful scenery. It's perfect for the adventurous, outdoorsy travellers who wanna get out and into nature. I recommend 2 days here so you can experience a range of the Gorges du Verdon activities and still have time to unwind and relax. Here's a few of the activities we did during our 2 days in Verdon Gorge:
Hiking in Gorges Du Verdon
There are tonnes of trails you can choose from to hike at Verdon Gorge. They come in varying lengths and difficulties too so there's something for everyone here. I suggest to pick up a hikers guide from the tourism office (or your hotel) which lists all the different trails, the difficulty, length, and map. You can choose which ones will best suit you.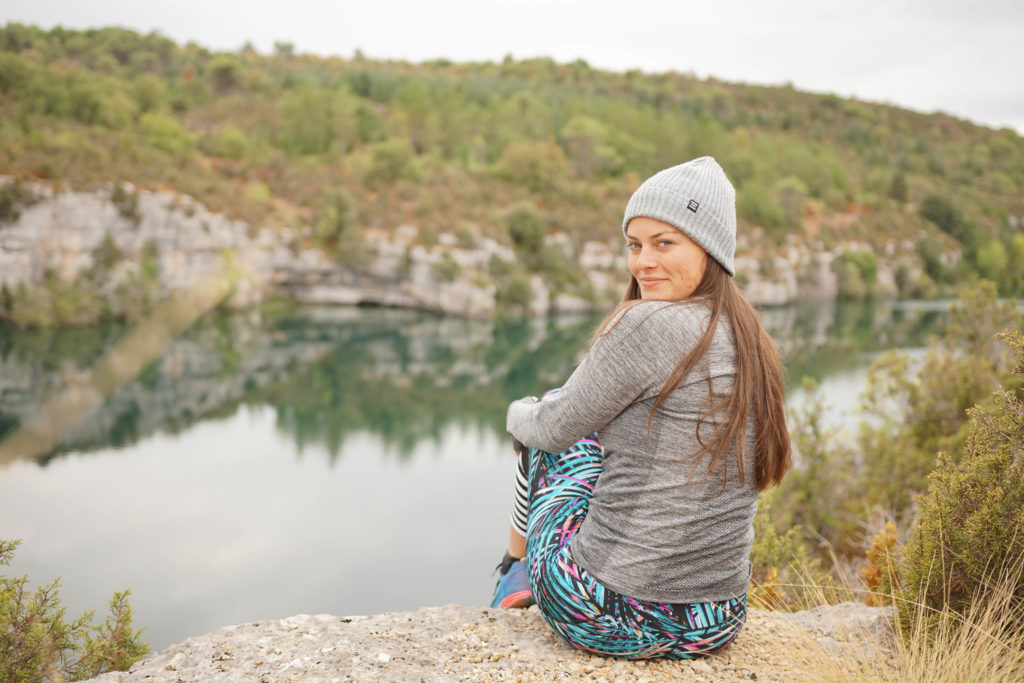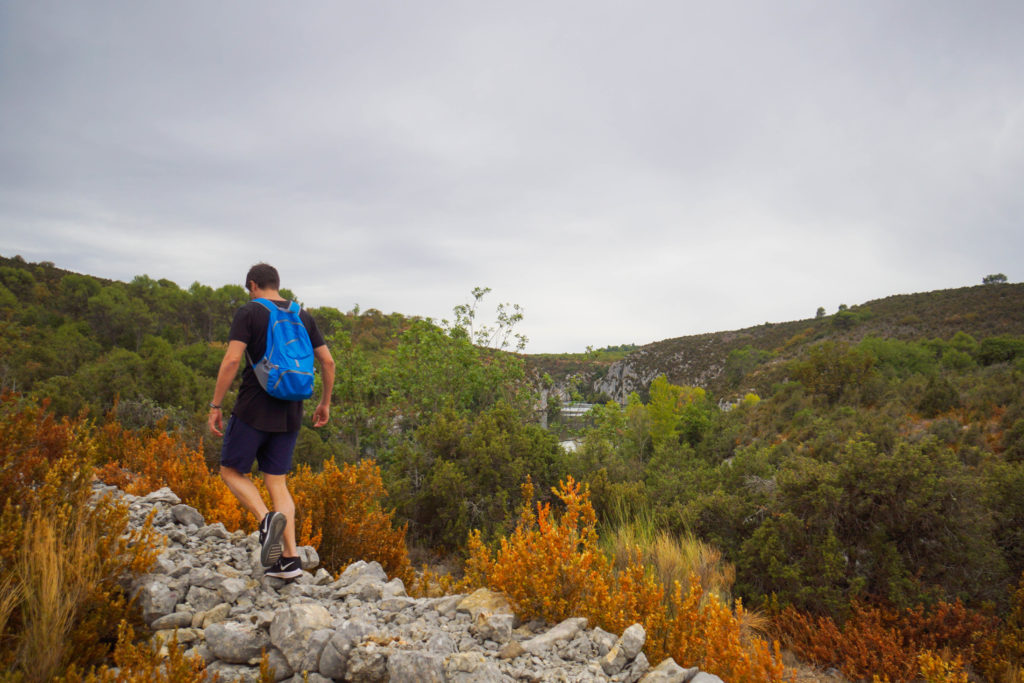 Some popular hikes are the Notre Dame trail and the Point Sublime trail (junction of GR4 and GR49). We did a short 2 hour flat walk near our Belambra hotel, you can see the video here!
You can spend the first day here hiking and relax in the evening with a glass of local wine!
Gorges Du Verdon Boat Hire
This activity is an absolute must do when in Verdon Gorge! You can hire an electric boat and take it out without a guide. It cost us 50 euro for 2 hours which I thought was an incredible deal. We hired it directly from our hotel; but scattered all throughout the gorge are different places you can rent one from; all with similar prices… Just don't get lost haha!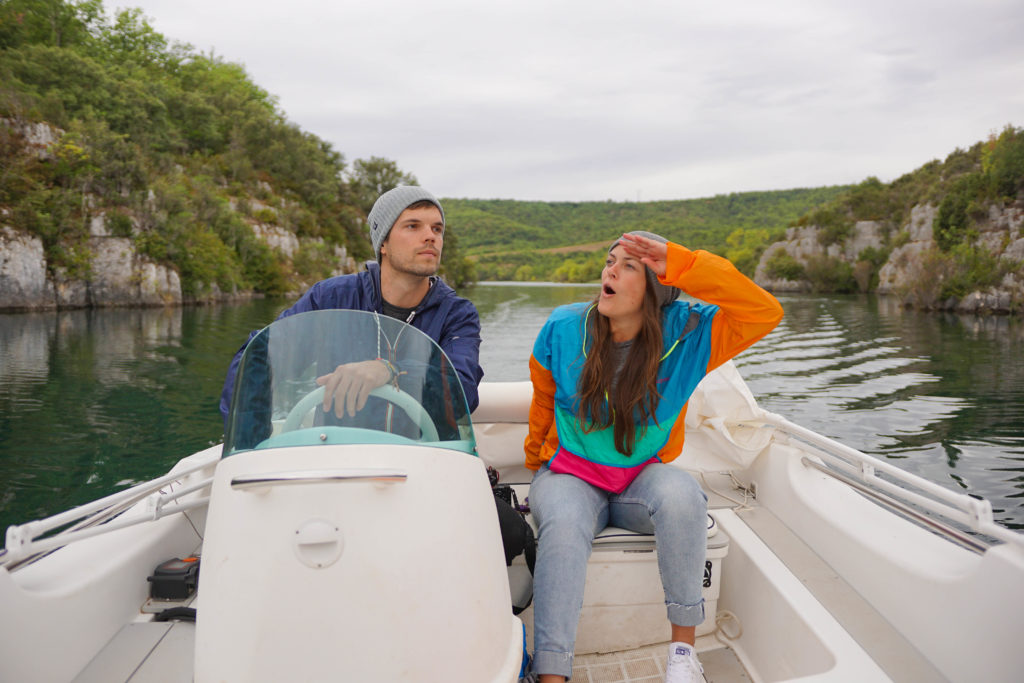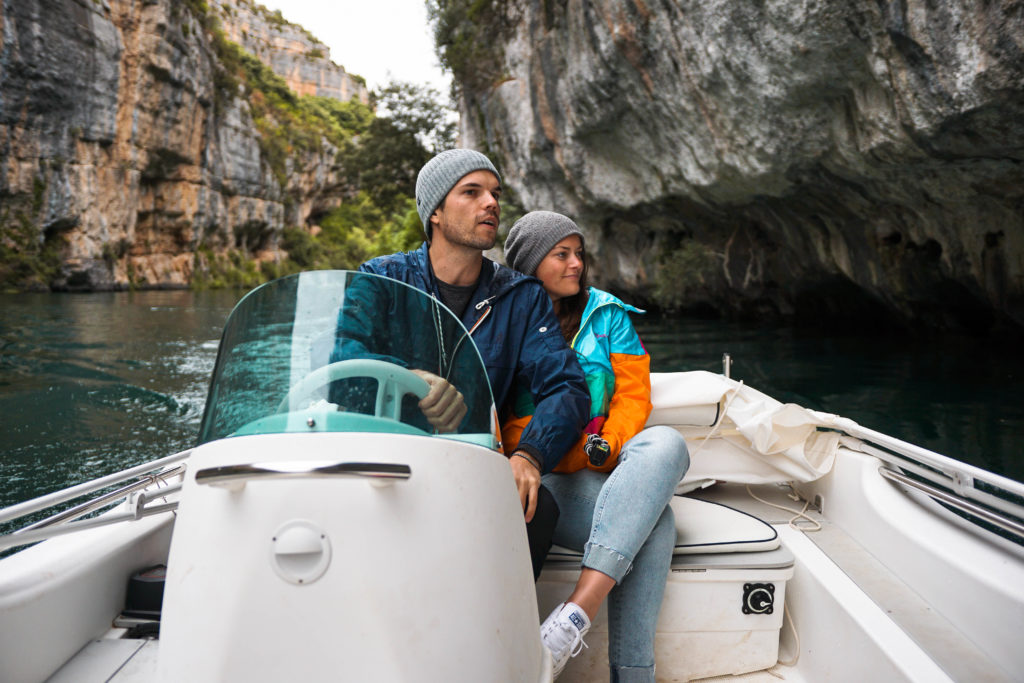 Because we went here mid September (after the crazy summer period), it felt like we had the entire gorge to ourselves. Everything felt completely off the grid, it was an incredible experience. And one that you should definitely do on one of your days here. We show our boat trip in the same video as the hiking, just on the second half.
Verdon Gorge Lavender Fields
That's right, you know all those amazing pics on Instagram of people running through lavender fields? You can do that all here! Well, as long as it's in season of course. As I mentioned earlier we went in mid September, but by then the fields weren't in bloom. I believe the season for the lavender is from mid June to beginning of August.
You'll have copious amounts of fields to choose from as we drove past hundreds of them in this area. Gorges du Verdon is in France's Provence region, where lavender fields are famous and aplenty.
Bungee Jumping In Verdon Gorge
You'll find Europe's highest bungee jump in Verdon Gorge! It's located on Artuby Bridge, and the jump is 182 metres (it's actually the highest bridge in Europe too). The company is called Latitude Challenge, but I booked tickets through the Adrenaline Hunter website where there's also a bunch of other activities in Verdon Gorge that you can book on the site too.
Adrenalin Hunter seems to be cheaper with prices starting at 90 Euro (per person and the price will change with dates). Whereas booking through the Latitude Challenge website itself will cost 130 Euro pp… So it's worth checking out the prices on both before booking.
Note: I didn't personally do the bungee jump, I booked Nate in for his birthday present. You can check out the video here!
Drive The Gorges Du Verdon
No doubt you'll probably be doing this anyway. But the drive is seriously stunning. We came in Autumn where there was a beautiful mix of green, gold, red, pink, and orange. All the colours were coming out for the turn of the season. If you have the chance to come to Verdon Gorge during this time of year I highly recommend it. The colours add an entirely new dimension to this landscape.
Your time here will fly by, especially if you're only here for 2 days. I didn't want to leave this place! I could have happily stayed here a full week; mixing the outdoorsy activities, with some R&R at our hotel…
Which brings me to accommodation!
Where to stay in Gorges du Verdon
We stayed at Club Belambra Hotel & Resort in the Montpezat area. It's not in the main part of the gorge. Instead it's tucked away about a half hour drive out. But it still looks like the gorge in this area too, with the canyon and the river running through.
The rooms were huge, the facilities were amazing (there was a huge pool, tennis courts, basketball courts, petanque ect). Don't even get me started on the dinner buffet… Wine on tap 😉 It cost us $450(NZD) for 3 nights for 3 people including breakfast; a deal I found on Expedia. Which was a great price compared to some other hotels I saw online.
There are several other towns you can find accommodation in, one popular one is Castellane.
Getting Around Verdon Gorge
It's definitely going to be a lot easier for you to have your own car when staying in Verdon Gorge. Verdon Gorge is a big place, and you may need to drive to get to your hiking track or to restaurants, and activities etc. We had a car for our whole trip through France. I always use the Auto Europe car rental site for my car rental bookings. They find the cheapest deals, plus have good insurance and cancellation policies. 
A Day Trip to Gorges Du Verdon From Nice?
I advise against this. Why? It's about a 2 hour drive from Nice to Verdon Gorge, meaning, you won't give yourself enough time in a day trip to really experience this place with all the hikes, and the boats. I can 99% guarantee you, you will leave at the end of the day wishing you had stayed here for a couple of nights.
That is all the basics you need to know about Verdon Gorge to start planning for your trip. I hope you have an even more incredible time than I did!
PIN IT!