It was by chance I found out about the Werfen Eisriesenwelt Ice Cave; but I'm bloody glad I did!
The Eisriesenwelt Ice Cave is the largest ice cave in the world. It runs 42km deep, with the beginning 1km totally covered in ice. Having never explored something like it before, I found this place truly mind blowing.
When traveling through Austria, I highly recommend putting the caves on your to do list. It makes for a fun day out with some of the best scenery you may experience while in Austria!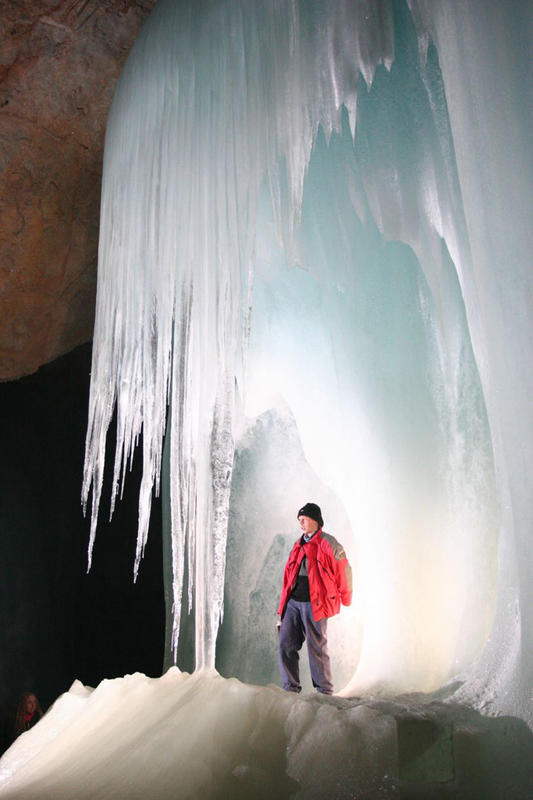 Here's a few things to know to plan your trip here!
Where Is The Eisriesenwelt Ice Cave:
The caves are located right up in the mountains in Werfen. Werfen is near the small towns of Golling and Halltstatt. And it's about a 1 hour drive from the city centre of Salzburg.
Where To Stay:
This depends on your own preferences! We decided to stay in Golling. Our hotel was Gastof Pass Lueg Hohe. I don't recommend staying here if you don't have your own mode of transport as it's quite remote. The caves were only about a 15 minute drive from the hotel, and Rolling town was a 10 minute drive the other way.
Other options could be to stay right in Golling town centre. It's a super small town but there are shops and restaurants to keep you entertained. Otherwise stay in Salzburg and catch a bus/train to Werfen.
Parking:
When arriving at the Ice Caves you may be allowed to drive right up to the top parking area where the main ticket entrance is. Or you might be directed to the lower parking area (depending on how busy it is). If directed to the lower parking area, you have to catch the bus to the top entrance. The bus is only about 3 Euro return per person and is about a 10 minute drive up a windy road.
If you are directed to the top parking on arrival, do note it is a windy narrow road, so only park up the top if you feel comfortable with the drive.
Tickets:
The entrance at the top parking area and where the bus drop off point is, is where you buy your tickets to the cable car and ice cave. There is the option to walk to the cave and not catch the cable car, but I heard it's super steep and when I was there, I barely saw any walking tracks. Just a lot of loose gravel up a steep mountain. So get the cable car for sure!
Tickets for both the cable car and cave tour is 24 Euro per person. For all the rates, check out the official site here.
Do note that the only way to enter the cave is through a guided tour, you cannot go in on your own.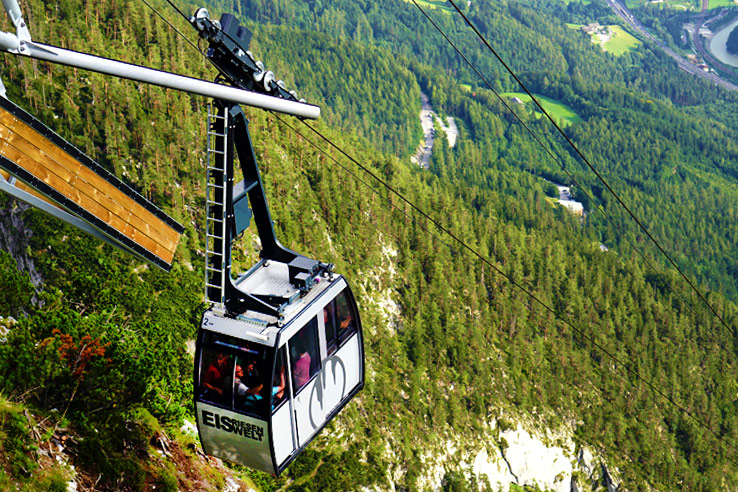 Getting To The Entrance:
After getting your tickets, there is about a 15-20 minute uphill walk before reaching the cable car. Thankfully, if you're going peak summer (when the heat is scorching) there's a tunnel shortcut which definitely helps cool you down.
Be prepared to wait in line for the cable car for about 30 mins if you visit here during peak periods. They run as efficiently as they can but there are only several cable cars operating.
After the cable car, there is another 20 minute uphill walk to get to the cave entrance. This walk has such amazing views. You have to stop now and then and admire it all. Just don't look down if you're afraid of heights!
Once you make it to the cave mouth, you jump in whichever line you wish for the tour depending on the language you prefer. Get bundled up in your warm clothes here and then set off on your tour!
What To Pack:
I personally didn't know how many warm clothes I should pack for the caves. It was peak summer in August and over 30 degrees outside, I just couldn't imagine how cold it would get in there.
Let me tell ya, it gets COLD! Like below 0 the entire way through. And remember you're in the cave for about an hour so your body has a long time to cool down in there after the hot hike up.
Every time the cave entrance door is opened, and icy cold draft blows through which can be felt even when you're 1km inside. So be sure to pack winter jackets, long pants, and warm and durable  shoes. I also suggest a beanie. Plus some gloves! You get given a cave lamp during the tour and your hand gets super cold carrying it through if you don't have gloves (my hands were numb by the end!).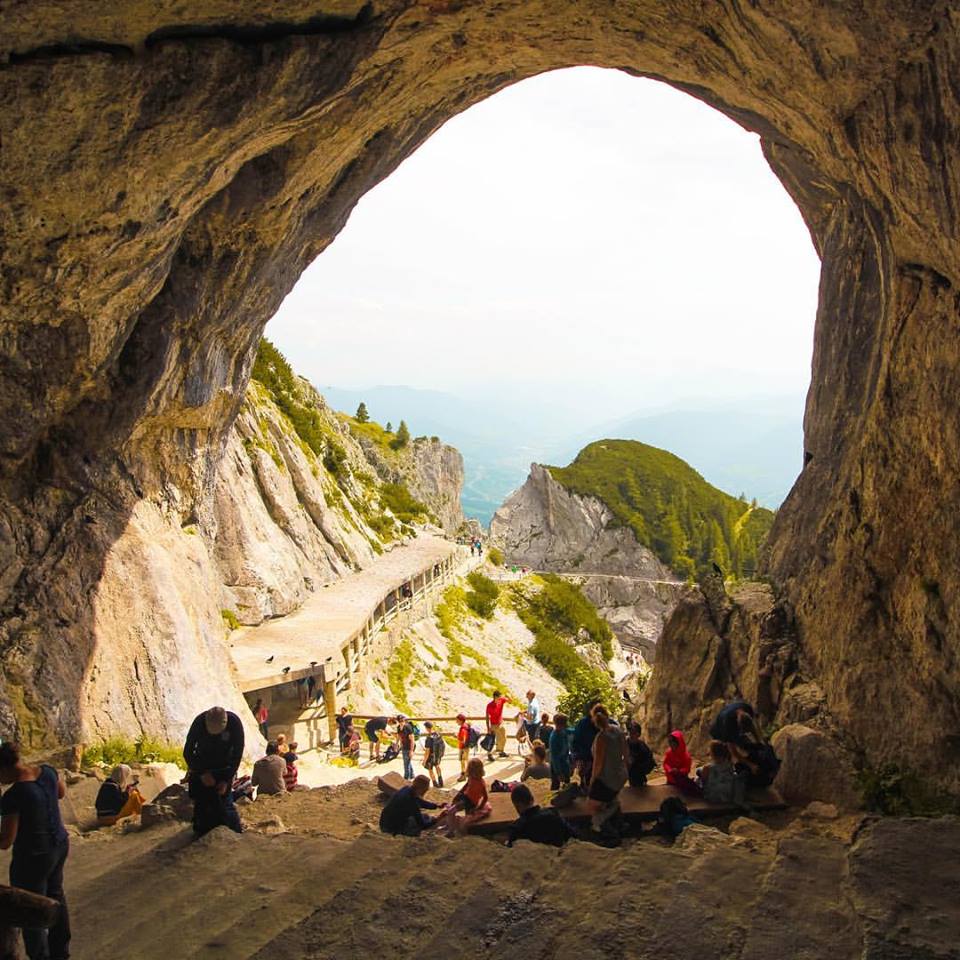 Overall is visiting the Werfen Eisriesenwelt Ice Cave worth it?? Absolutely!
The ice formations within the cave are amazing. Some sections of the cave were completely filled from floor to ceiling with ice. You can only imagine how many thousands of years it took to get this way.
But it's not just the ice cave itself which makes the experience so great. It's also the walk to the entrance where you get the beautiful views over the alps. It really is a stunning place to come and visit and is 100% worth the trip.
You can watch the full VLOG of our day at the Werfen Eisriesenwelt Ice Cave here.
* Heads up, you are not allowed to photograph or film while inside the cave. So most photos here have been from other sources. All are credited.