A weekend away in Guatapé (Gwa-ta-pae) is something that you must experience when in Colombia… Think culture, food, outdoor activities, and beautiful scenery. Guatapé doesn't fall short of any of these.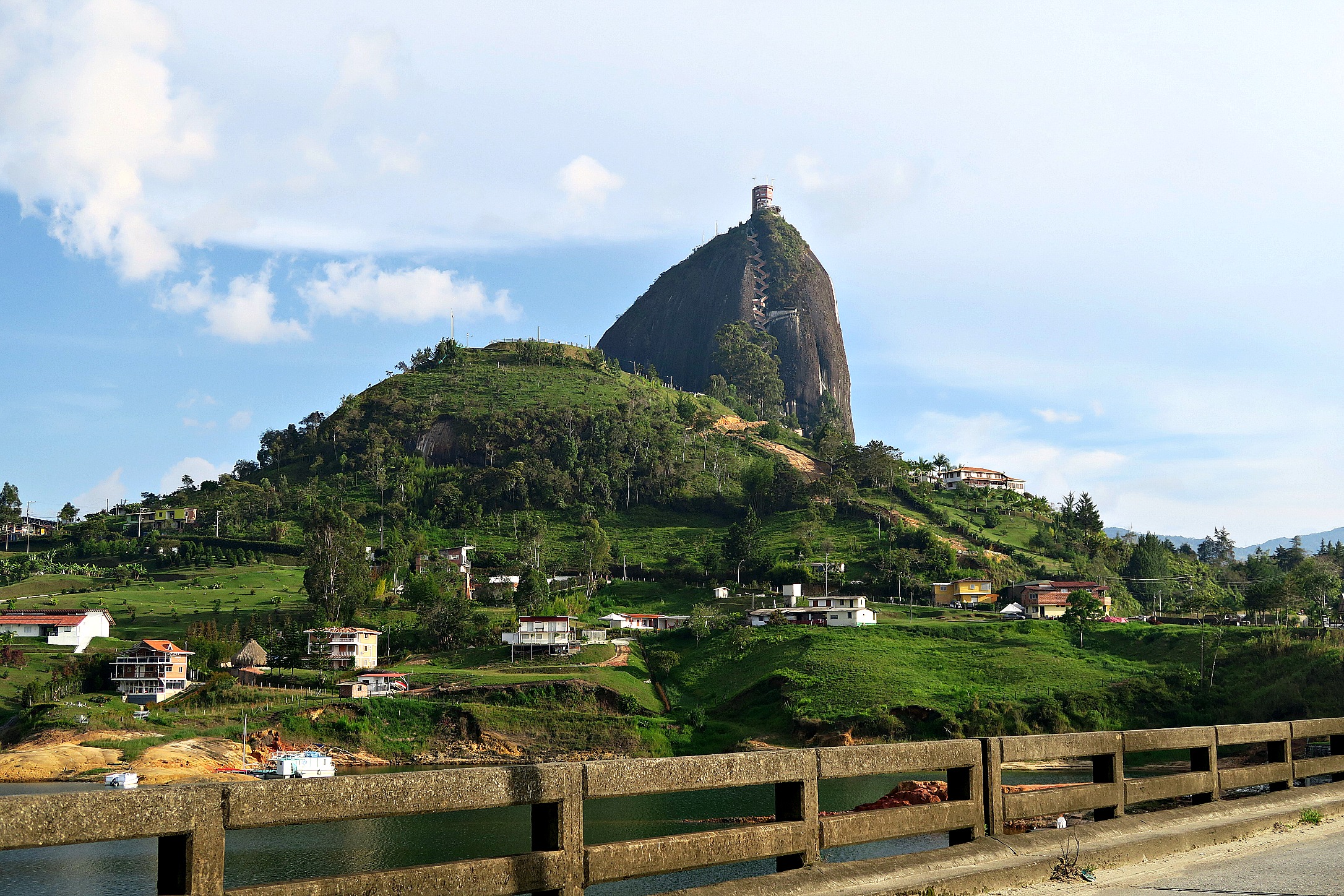 A bit about Guatapé…
Guatapé is a small Colombian town bursting with colour and culture. What makes this town so amazing is the man-made reservoir to help bring electricity to local areas. They flooded the dam to create the reservoir, meaning hundreds of homes lie beneath the water. Guatapé is also home to the second largest rock in the world, El Peñol. A combo of the rock and the scenic reservoir has turned Guatapé into a must see destination among both Colombians and tourists.
Where is it?
Guatapé is about a 2 hour drive from Medellin City. You can take the bus from Medellin or organise yourself a driver. There are also tours which run to Guatapé from Medellin for a day trip (here's one tour company for a day trip)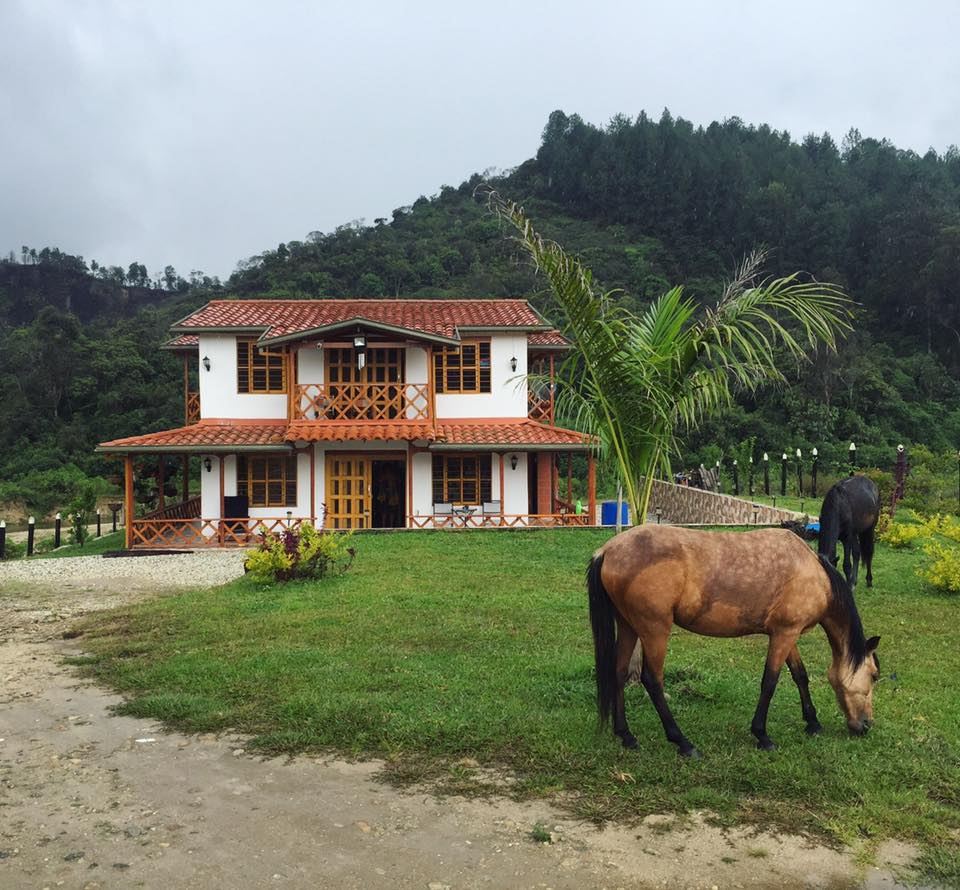 Where to stay?
Don't turn up expecting to have an abundance of accommodation to choose from. Remember Guatapé is a small town with a few hostels to choose from, a few mid-range hotels, and about two luxury hotels. We used Airbnb for our accommodation (get $25 Airbnb credit here) and it gave us a much more authentic experience! Wild horses would come on to the property to graze, and it was situated next to a creek a little ways out of the town. I recommend looking at Airbnb if you want secluded accommodation. Otherwise The Luxe Hotel is very secluded and has an amazing view over the reservoir.
What to Do?
You won't fall short of activities in Guatapé. There's a tonne of water sports to choose from whether that be fly boarding, jet skiing, boating, or going to the water park.
There's also a zip line which runs along the expanse of the waterfront street. You actually get a great view of the town and the reservoir from the line's highest point.
On Sunday's the waterfront street is lined with carts of local food and drinks. It's fun to make your way down the line tasting all the different foods.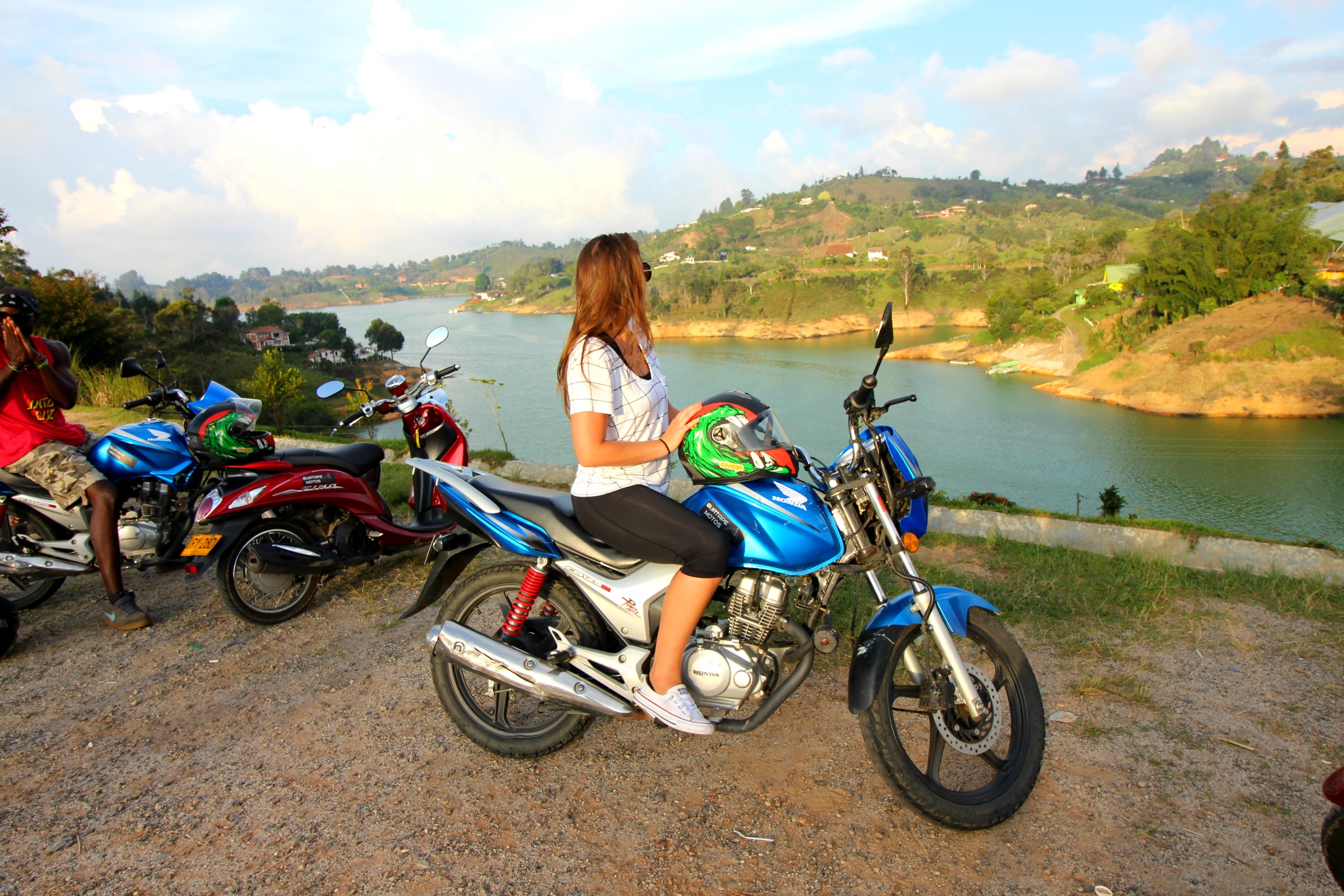 Here's my three favourite Guatapé activities though:
Hire a motorbike and ride through the mountains. There's lots of low cloud so you literally feel like you're riding through the clouds. You can make your way to a few lookout points and waterfalls.
Climb El Peñol rock to get the best 360 degree view of Guatapé. There's 740 stairs to get to the top and even though that might sound hard, it isn't hard at all. There's lookout points along the way and then once you're at the top, there's some souvenir stores, fruit stands, and restaurants and drinks. If you go later on in the day (at the top around 5pm), you might have the whole 360 degree lookout tower to yourself. The second time we went, it was around 2-3pm and the lookout was jam packed.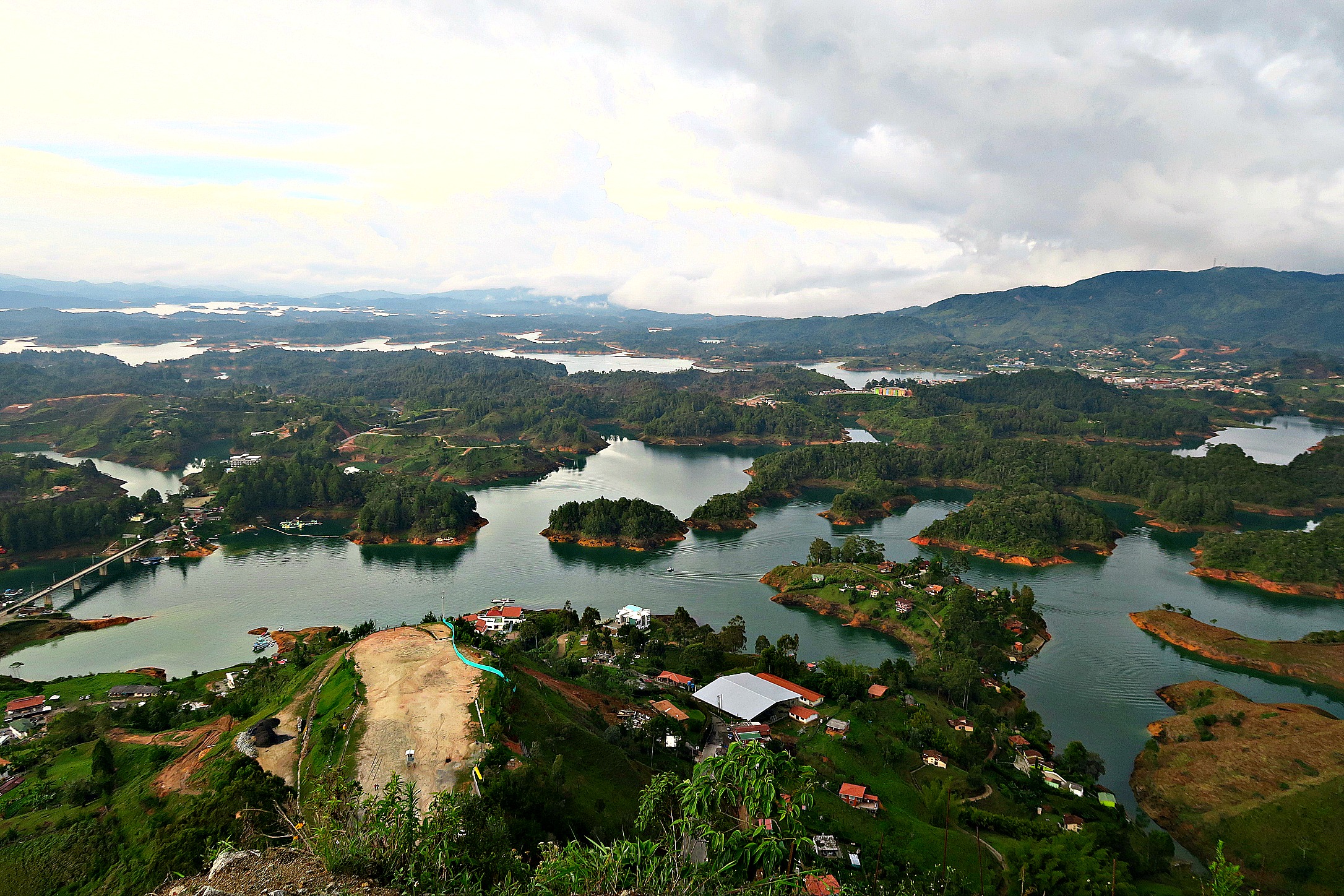 Just wander the cultural streets of Guatapé! This was my number one thing to do… All the buildings are so colourful with pieces of artwork on the outside walls to showcase what each store specialises in. The cobblestone streets are lined with flowers hanging from the street lamps; everything about Guatapé is picture perfect! Also make your way to the church next to the town square, and to the colourful steps for some more photo opportunities.
How to get around?
Chances are you won't be seeing any taxis around here… Instead, they use tuk tuks to get around. The transport costs are a little more expensive than in Medellin… For a 10 minute ride, it could cost you around 7,000COP. But who cares? Tuk tuks are a lot more fun than taxis.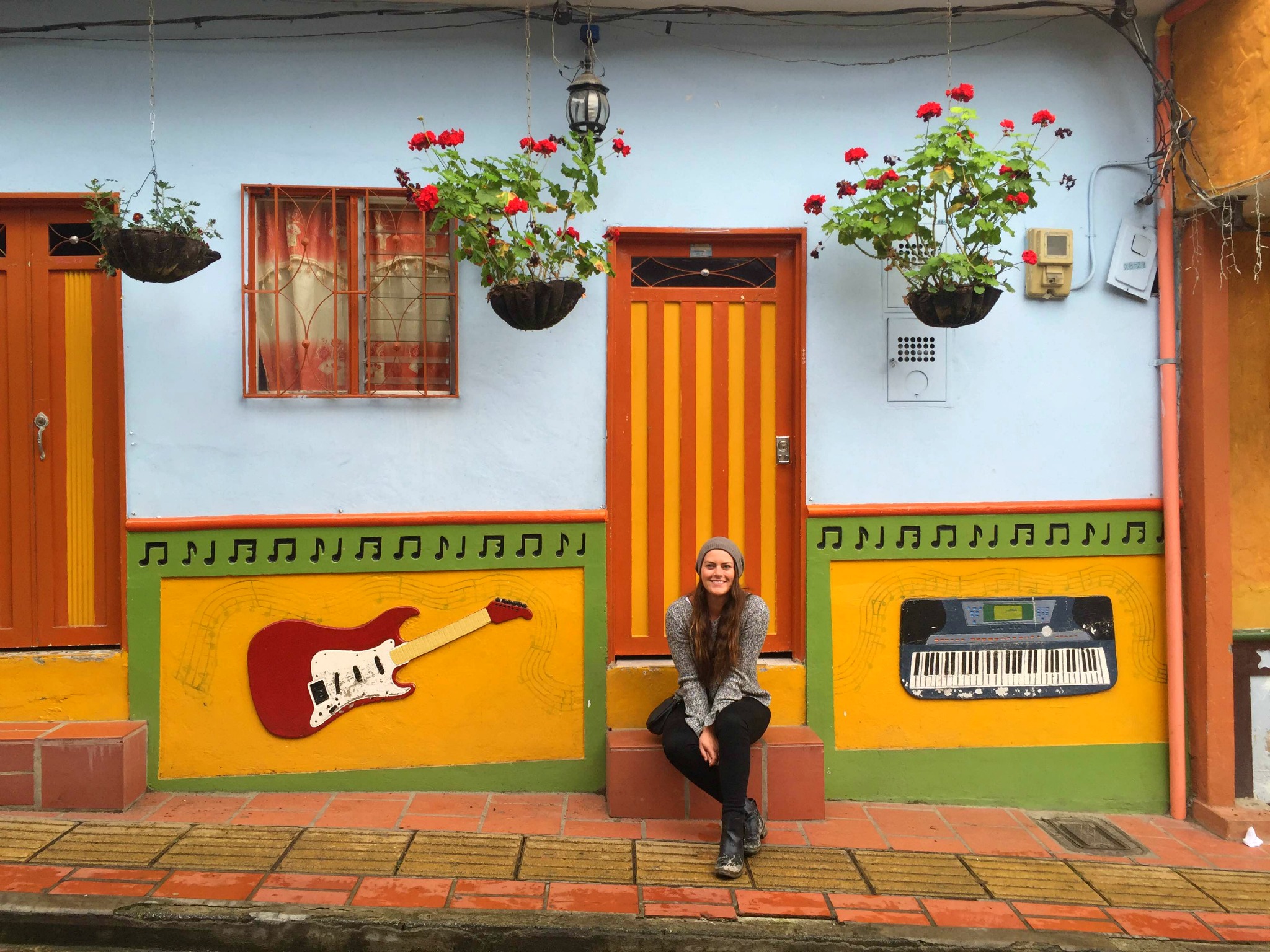 Where to eat?
The waterfront street is lined with restaurants, both local and international, so you won't have a problem with finding somewhere to eat. The centre of the town also has many cafes and restaurants as well as street vendors during the evening. Guatapé might be a small town, but you won't fall short of food options here. Just note though, that there aren't any supermarkets/grocery stores here. Only mini markets. So if you were planning on cooking your own food, it will just be a little more difficult to find the ingredients… But not impossible!
So there ya have it folks! The ins and outs of Guatapé, Colombia! I only touched on a fraction of it, but this place really does have a lot to offer. So if you have the time, you will want to spend about 2 nights here to really get your fill!