Medellin is a city you can quite easily feel comfortable in and end up staying for a little longer than planned… But not many people have the chance to really experience it, using the city as a quick stopover point before moving on to the next destination.
So, if you if you haven't planned much time in Medellin, not to worry. Here are a 5 things to do in Medellin during your short stay.
Metro Cable Car & Parque Arvi:
Medellin was the first city in the world to put in a gondola as a form of public transport. It was to help get the residents from the communas on the outskirts of the city, into the city where they can work. It rides right up and on to the mountain and has some of the best views over the city; so it's no surprise that it's ended up being a tourist attraction.
If you take the cable car to the end of the line, you end up at Parque Arvi. In the weekends, they set up food markets where you can buy delicious fresh fruit cups or empanadas etc. There's a national park to explore among other activities.
Graffiti Tour:
This was one of my highlights! We did the tour of Communa 13 with Casa Kolacho and highly recommend them. You are guided through the communas and learn about how the art of graffiti and the culture of hiphop helped turned this once notoriously dangerous neighbourhood, into an artistic, community driven place. It was eye opening learning about the history this Communa (and Medellin as a whole) went through… I definitely shed a tear more than once. And then I can't forget to mention the talent of these graffiti artists. Their work is jaw dropping!
Parque Lleras:
This place is great for 3 things… Nightlife, shopping, and eating.
It's a park surrounded by bars, restaurants, and funky boutique stores. The park itself has market stalls around it where you can pick up some jewellery or artwork.
You can easily spend an afternoon here then finish off with drinks and dinner at one of the many restaurants/bars.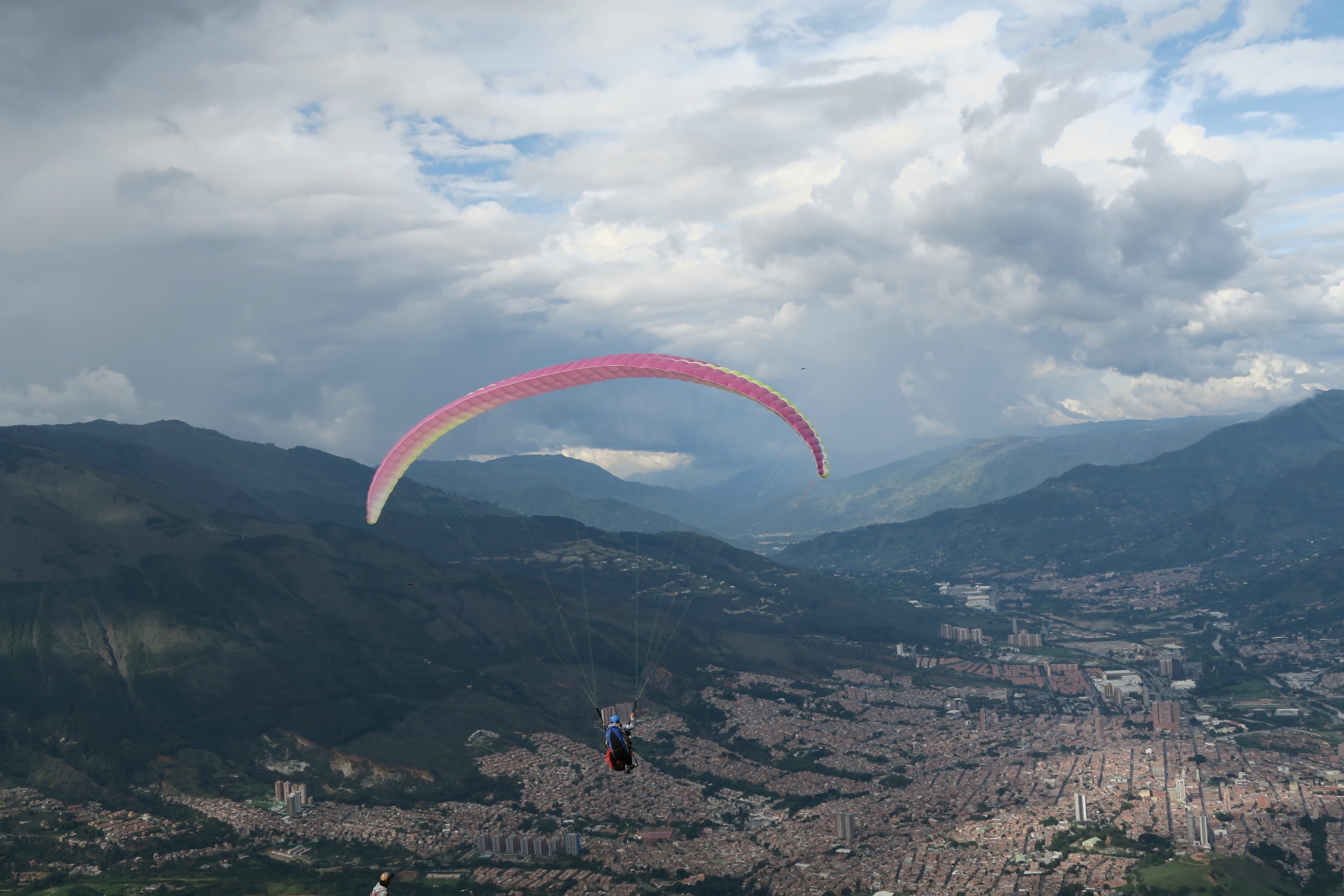 Paragliding:
Medellin was the first place I have been paragliding and it wasn't a disappointment. Medellin is in a valley, nestled between mountain ranges so it really is a beautiful sight to behold when flying over it all. We paid 125,000COP for a 20 minute glide, and it's actually rather relaxing!
The Charlee:
The Charlee is a hotel but they have an awesome rooftop bar with a swimming pool open to non hotel visitors. It makes for a great view over Medellin, especially at sunset. If you want to go here, dress to impress as I have seen people get denied at the door for being underdressed. You should be fine if it's early evening during a week day though. The Charlee is also in Parque Lleras, so it's a perfect place to wind down after an afternoon of shopping.
There are many more activities that Medellin has to offer, but these were my favourite and memorable 5 things to do in Medellin! Enjoy your trip!
PIN IT: