You'll really want to make the most of your 3 days in Penang. Why? Because there's so much to do on this vibrant island (more so than Kuala Lumpur in my opinion). Basically Penang has a bit of everything for everyone; which is why it's a hot spot for tourists traveling through Malaysia and South East Asia.
Here are some tips and suggestions for your 3 days in Penang, Malaysia

Accommodation
Before booking anything, think about what kind of trip you want to have and where you want to be located. Like I said before, there's something for everyone here. When you go to Penang, you can opt for luxury vibes, island vibes, city vibes, cultural vibes, old town vibes. Vibes vibes vibes haha. And there's specific locations for each of these things.
For the island laid back kind of trip, you will most likely want to stay in Batu Ferringhi. There are a few resorts here along the beach. Just take note that Penang's beaches aren't as nice as the beaches that you can find on the other  islands of Malaysia such as Langkawi or the Perhentian Islands.
For luxury, Tanjung Bungah is a popular area for luxury apartments. But really there are beautiful new apartment buildings popping up everywhere in Penang. Airbnb is a good place to hunt for them. We stayed 3 nights at the Maritime Suites apartments just on the outskirts of George Town (you can read my review here). These apartments are seriously AH-MAZING!
If you're backpacking and spending your nights in hostels, the popular George Town is packed with hostels and budget hotels to suit your needs… As well as nice high end options too! George Town is like the tourist hub, so if you're after a super convenient location, this will be the area for you.
Activities
Your 3 days in Penang can fly by quite easily. As it seems to go with all great destinations, it seems as soon as you really start to get a feel for the place, it's time to pack up and leave again. Unless you're a digital nomad and can have the time to stay here longer (I definitely recommend you do! Check out my post on it here).
Some Activities to put on your list are:

Street Art Hunting
People from all over the world travel to Malaysia and more specifically, Penang, just to lay their eyes on these amazing pieces of art work. A few years ago, just after George Town was announced a UNESCO World Heritage Site, an artist called Ernest Zacharevic from Lithuania was invited to Penang to create street art. He made the walls come alive and has completely changed the face of George Town with his art. His work has turned the old town into a museum of sorts; depicting life on this multicultural and historically rich island of Malaysia.
Get a map loaded on your phone or grab a free one from an info desk and spend the day walking the streets to find these pieces of art. They're everywhere!
Chew Jetty
This Jetty is pretty damn gorgeous. All these small wooden homes have been built over the water, running along the length of the jetty. Now these homes double as stores and local food stalls. So while you're walking along you can shop at these markets and try some food too. It's very picturesque with the Chinese lanterns and old washed out weather boards. During the evening it feels like a totally different experience too. Everything is closed up and its rather peaceful to just sit at the end of the jetty in the night's silence.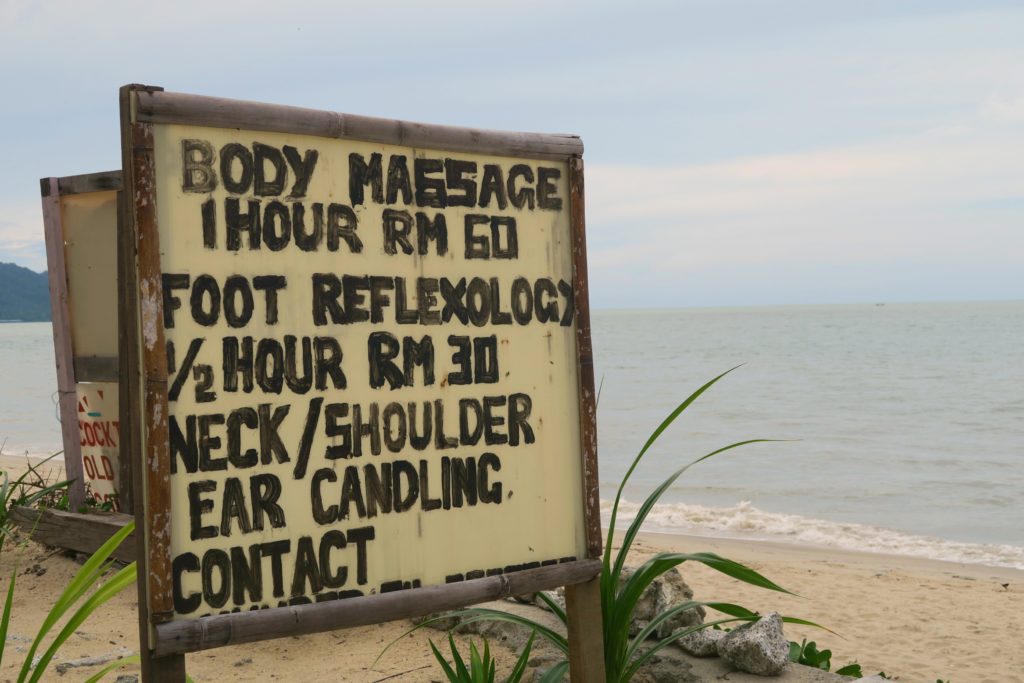 Batu Ferringhi & Monkey Beach
We spent a nice lazy afternoon at Batu Ferringhi. If you're keen to do some water sports like jet skiing or parasailing etc (no surfing though), then Batu Ferringhi is the place to go. If you're staying in George Town area, it's easy enough to order an Uber and it will come to about $4 for the 20 minute ride. Otherwise there are buses leaving every 15 minutes that you can catch. To get to Monkey Beach is a different story. At some point you have to catch a boat to get to the beach. You can still take the bus to the boat point though. Since we didn't make it to Monkey Beach this time around, I can't provide you with more info on that one sorry!
Entopia
If you love butterflies, then you'll absolutely love Entopia! If you go to Batu Ferringhi, then after the beach, catch an Uber or taxi to Entopia. It's about another 5-10mins up the road. Basically it's a giant butterfly farm that makes you feel like you're inside some wonderland. After you've made your way through the farm, they have an exhibition where you can see all the caterpillars as well as all the chrysalises; taking you through the whole sequence of how the butterflies come to be. This actually made for a really fun day. Even Nate liked the butterflies and he's a boy haha!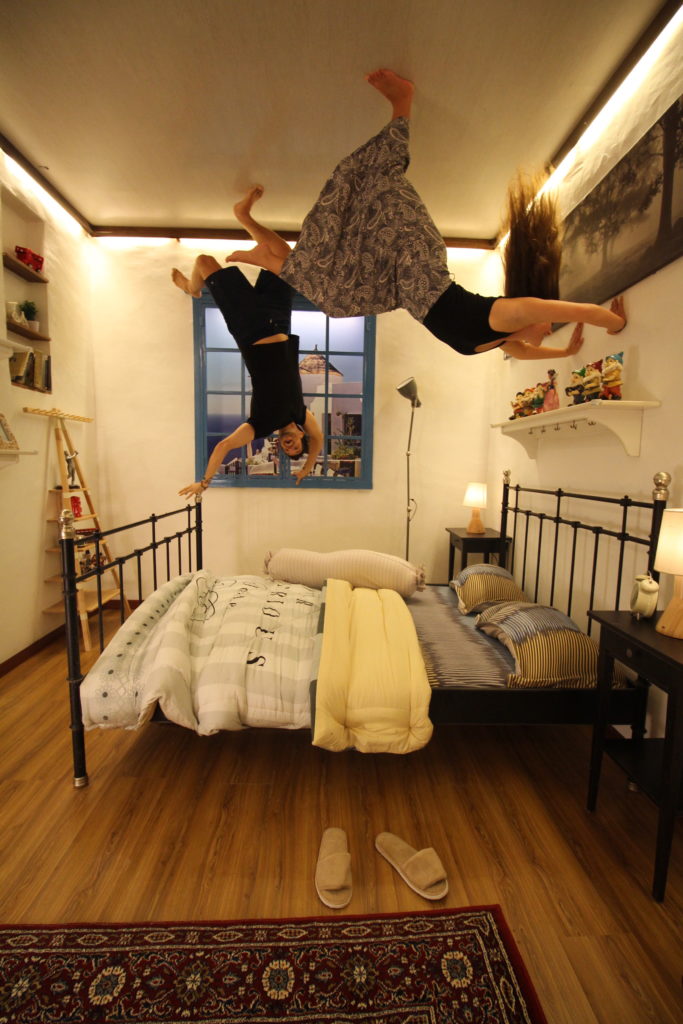 Upside Down Museum
If you're up for a laugh, make a trip to the upside down museum in George Town. To be honest, I usually find museums to be pretty boring, but I wouldn't exactly call this place a museum. It's all laid out like a typical house… Except everything is stuck to the roof and the walls. You move through room to room, progressing through the house and the different scenes. In each room/scene, there are staff helping to take your picture and offering suggestions of good poses to do with the furniture. Once the picture is taken, you flip it upside down and bam! It looks like you're hand standing around the room or defying gravity somehow. It makes for funny photos anyway!
Food
Penang is renowned for it's amazing food. So what you have to do a lot of while you're here is EAT! Ask any of the locals of things to do in Penang and most of them will say eat haha.
One of the best way to get amongst the local food and also the local scene in general is to go to a hawker centre. It's like a local outdoor food court lined with mini kitchens and stalls and then in the middle is all of the tables and chairs. You can go round and order a little something from multiple stores, paying minimal prices. I recommend the Char Kway Teow (or it might be spelled Char Kuey Teow) with pork. So goooood!! My favourite hawker centre in Penang was called CF food court. It comes up if you put it on Google Maps. It's just across the road from the Chew Jetty entrance. At nights they have live music (which seemed like glorified karaoke to me haha but it's fun to watch!).  
If you love Indian food, head to little India and go to Restoran Kapitan. This had amazing food! It can get super busy and it seems a little hectic. But everything is well organised even though it doesn't appear that way. Don't worry, your food order won't get lost, and your meal will be delicious.
Oh and one of those Do it Yourself BBQ places make for a fun experience too! That is, if you don't mind cooking your own food when you're out at a restaurant…
If you're just after some western food, you'll find it here too. Especially in George Town area. Lots of hipster coffee cafes are popping up as well as patisseries with mouth watering pastries and impressive cakes. I noticed many people in Malaysia have a sweet tooth. I swear every 50 metres was a cake or dessert shop.
(Sadly I don't have any food pics… As soon as my food is in front of me, I eat it. No time for photos haha)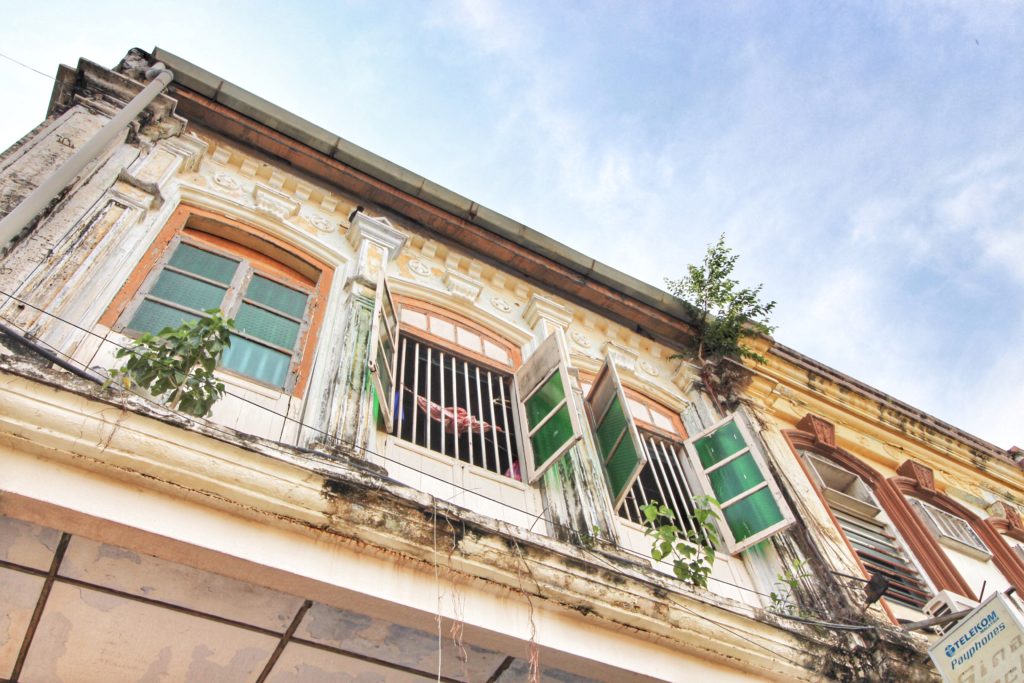 Shopping
There's great shopping all over Penang. Here you have markets where you can find some great bargains and souvenirs. Or you have the impressive 8 story malls with all the flashy brands. And of course, everything in between those two options.
For the mall scene, I recommend Gurney Plaza. This is the big 8 story one with all the fancy brands (as well as mid range brands too). Plus as a bonus, there's a hawker centre right next door so you can grab some good local food after a big shop.
George Town has some cute boutique stores and markets. Otherwise Batu Ferringhi has a good night market starting from 6pm daily.
There's more than enough to do to keep you busy for 3 days in Penang. But even if you wanted to use Penang as a place to chill out in after some intense travels, this is also a great place for it. Penang's convenient, easy, and has something to suit whatever it is that you might be looking for during your visit.
Have a blast!